Goodness... Stop Telling Me My Horse Is Skinny!
---
Sorry, mini rant..
My new barn is awesome. The people are friendly. The arena is spacious. There's a roundpen to work in. Trails nearby. My best friend boards her horse there. I have affordable group trailering to shows. The hay is good quality. It really is a wonderful place!
But... the owner is driving me up a wall with his comments about my previous barn.... and because they grow their own hay at the new barn they are SUPER proud of the condition of all the horses, who range from being 6-7 on the standard weight scale (out of 10).
He keeps making little comments about how skinny my horse was and is, and he keeps saying how my horse looks "like he's gaining weight" and how "he'll get there" ... maybe I'm just a little sour, but it always feels like he's always throwing my old barn under the bus when he comments.
I love my new barn.... it's just these little comments driving me nuts.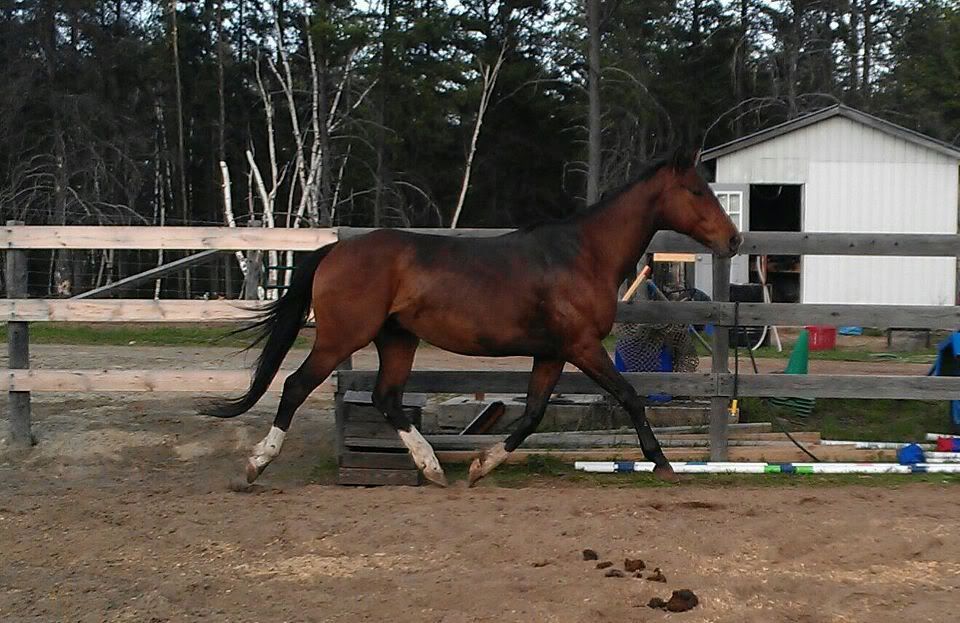 ---
A canter is a cure for every evil. ~Benjamin Disraeli
Well it sounds like his heart is in the right place. He is proud of the care they provide, that says alot. I would simply say something like "I am so glad to be here, but I prefer not to put down my old barn, since I learned so much there, just as I wouldnt let anyone put this place down. Lets leave it in the past."
Start calling all his horses by the nickname "chubs". Your horse looks in good shape, anything on top of that would be fat really, judging from this pic alone.
---
Mods, grant me the serenity to see the opinions I cannot change, courage to change the ones that should change, and the wisdom to spot the trolls.
If you decide to talk to him then letagrlshowu had the right avenue of conversation. Other than that, you'll just have to ignore the BO. Eventually, the boasting should die down.

Nice horse! Doesn't look skinny to me. Very athletic.
They really are wonderful people at the new place, and I suppose I would rather have them worrying a little too much about how much weight my horse has than not caring. It's just a little irritating because my old barn was where I learned everything, and I'm still really good friends with the owners of that barn. The new barn actual admit to a lot of their horses being fat - and are proud of this.

I do understand the concern - they use to take in a lot of rescues as they worked with the local spca, so they got used to horses coming in really skinny and "fattening them up".. but now every horse is "too skinny" in their eyes.

I think I will mention to the new owner that it bothers me when they keep comparing to my old barn.

It just really rubs me the wrong way sometimes.
---
A canter is a cure for every evil. ~Benjamin Disraeli
Have to agree with Chiilaa, by that picture your horse looks in really good shape.

People going around and calling in shape horses skinny is one of my pet peeves. If the horse isn't a couple hundred pounds overweight they think it's being starved.
It's funny how people frown on fat people, but everyone LOVES a fat horse...

Human models are on the verge of emaciated .. while everyone LOVES fat horses ..

lol
Your horse is in amazing shape, tell him his horses are fat ;)
Posted via Mobile Device
Your horse does not look skinny to me
---
Country Woman


there are fat horses and skinny horses
like there are heavy people and thin people
---
Country Woman