halloween costume
---
Hey,
As you know halloween is coming up soon and this will be my ponys first costume show.I need some costume ideas that are easy to make, he is a 13.2 fjord, he's fine with pretty much everything including trash bags covering his head.any ideas?
I saw two cute ones last year... Alice in wonderland (rider) with the horse as the rabbit (bunny ears attached to the bridle and a "clock" around his neck.

Red riding hood (rider) with the horse as the big bad wolf (grey fur leg wraps, wolf ears, wolf tail).

Both were simple and cute. :)
Posted via Mobile Device
A fireman(Rider) with a Dalmation (Horse). Always wanted to do that.. Think it is super cute!
Re: Costume
---
I did Red Riding Hood, I made the cape myself and put a covering over my breast collar, then I went to the dollar store and purchased white tube socks, cut the bottoms off and sewed lace on the top to make bobby socks & Painted his hooves black. I took the left over red satin material and made a big bow for his braided tail with long streamers to match his tail length, We won 2nd place in our local parade. It was SO much fun...
Subbing. I love the fireman idea!
A pumpkin!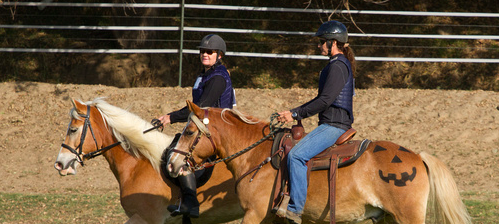 I saw these two at a fun Halloween hunter pace last year. Super cute! :)
---
The hills were bathed in moonlight, the shadows not so stark;
Silver light reflected off his brown hide as he held me in the dark
– I love you, Mudpie!
Lovin the ideas guys, the pumpkin one is really cute and love the picture of the red riding hood:)