Happy Bday to my 25 yr old TWH
---
No cakes or hats for this fella but he did get a dose of Banamine literally two hours before these pictures because he colicked
He is also the horse in avatar, at age 16. Duke (Bonafide Genious) turned 25 October 3rd. Being a TWH and the fact that TWH breeders have been known to stretch the truth about age like the TB breeders do, he was probably 25 by June - lol
Duke is my horse with Equine Metabolic Syndrome, hind gut ulcers, and lipomas in the GI tract. It's the lipomas that contribute heavily to his colic episodes. He ended up colicking again at 12 midnight. I alternately sat a stool in the paddock with him and walked him until 1:30 AM.
He's fine now and I still have one full tube of Banamine in the refrigerator but I still am having Mr. WTW to the vet's on his lunch hour for two more tubes. Temps will peak at around 84 today and not get out of the low 60's by Sunday. If I have all that Banamine sitting in the frig, nobody will colic on me
Anyway, this is my heart of horse of 22 years who has never made a mistake, never bit, bucked reared or kicked. The vet loves him because he has always stood still and tolerated the most unsavory of pokes and prods into his cavities and eye socket.
His alpha-dominant-stand-offish-self picked me all those years ago, and we've been a perfect match. We used to delight in being gone 8 - 10 hours, come slidin' in sideways and say "that was fun, what's next?!" Neither of us can do that anymore so, when he colics and I'm waiting for the Banamine to kick in, we talk about the Good Old Days
Happy Happy 25th Birthday Duke, for however many more years we have----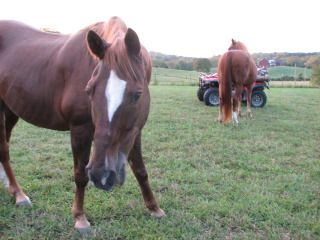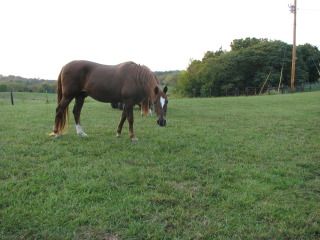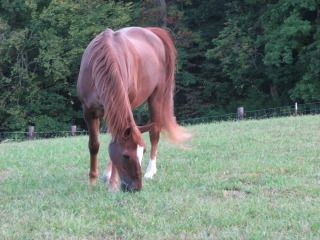 What a beautiful boy, Happy Birthday Duke! That is awesome!!! I have a TWH that's around 16, have had him for 12 years and love him to peices. He's full of personality and I know he loves me too. I hope I get as many years with mine as you have with yours and wish y'all the best of luck in the years to come:)
---
"Dream big, Work hard and Have FAITH"
"When my story's told, I hope he'll say well done and welcome home." ~ Templeton Thompson
Wow....he's really nice! Happy birthday to him!
---
For we wrestle not against flesh and blood, but against principalities, against powers, against the rulers of the darkness of this world, against spiritual wickedness in high places.
Happy Birthday Duke!
Sounds like you two share a very special bond. =)
A very Happy Birthday to Duke. Your love for him shines through your words. It's nice he has a forever home w/his best riding partner.
Happy Birthday!!!

---
We grow too soon old, and too late smart.

More birthday wishes from Digby and Lockwood!!
How has he been since the colic? Hoping all is ok.
Thank you all for the birthday wishes
Quote:
How has he been since the colic? Hoping all is ok.
Duke's been good so far, thanks for asking
After the first two colics in March/April (there's been 7 or 8), they seem to be minor. The Banamine snaps him right out and two hours later, like in these pictures, one would never know he'd colicked.
I believe he is so used to them by now that he just drops like a lead balloon in a place where he can watch the house and waits for me. He seems to know I keep a close eye on him and if he stares at my "stall" long enough, I'll be out with the magic medicine.
With this drastic weather change we have, I am armed to the teeth with Banamine. I hope that means it will be uneventful at the barn
Happy birthday, Duke! He's definitely looking great for his age, which I'm sure is due to his very dedicated, and loving owner.
You really do seem to take excellent care of him, I'm sure he knows how lucky he is and it sounds like it's mutual.
---
Forever loved, never forgotten; my beautiful Indie. <3 Hoofprints on my heart.
Similar Threads
Thread
Thread Starter
Forum
Replies
Last Post
Happy Bday Mrs B, DHenson, xDressageDivAx and Hxc Spazz

TaMMa89

General Off Topic Discussion

0

02-26-2011

03:06 PM

Happy Bday irydehorses4lyfe, JumpingTheMoon, TequilaSunrise, kryptonitepbr...

TaMMa89

General Off Topic Discussion

1

10-25-2010

04:47 PM

Happy Bday ilovesonya, donagh and ThatGuyRob. Happy Mother's Day all moms here

TaMMa89

General Off Topic Discussion

2

05-09-2010

11:04 AM

Happy Bday tawariel, BackInTheSaddleAgain, G and K's Mom, english_rider144, the rest!

TaMMa89

General Off Topic Discussion

1

02-18-2010

07:42 PM

Happy bday stormy and trobby

englishrider

General Off Topic Discussion

1

02-15-2010

12:02 PM