Happy days are here again! ;)
---
Lately, I've been getting really tense and anxious when I'm riding. It doesn't have anything to do with Mudpie, but just me, being stupid. I lost my lower leg and seat while riding with a certain trainer for a period of time, and it got to the point where I was dreading riding, which is something that just doesn't happen to me! I know you guys don't even care about the details, but long story short, I stopped riding with this trainer and found another really good one who's been helping us a TON!
It really doesn't help that I'm now at a public boarding barn, with a group of people who can be really critical and judgmental. Everyone has an opinion, and a few specific people aren't shy about letting me know just what they think. Mostly, it just feels like I'm back in middle school dealing with a bunch of bullies, but I know that's not what they mean. They're all grown adults, but they can be a little bit rude and off-putting sometimes. :\
Anyways, I decided that I should get back to just hanging out with Mudpie. I love him more than anything else in the world, and it's not fair to him when I'm all panicky and insecure. So, yesterday, I decided I would ride him bareback for the first time in a long time. I rode him in a bridle, and it went well. Except for a bit when one of the ladies walked up the arena fence, gave me a sort of patronizing look and said, "Really? Bareback? With spurs?" I tried to just let it go in one ear and out the other and said, "Yup." before bopping off on my merry way. And today, I decided to do something I've wanted to do for a long time... RIDE BAREBACK AND BRIDLELESS!
I just put on my helmet, took him to the arena, and then held the lead rope in a circle around his neck, if that makes sense. He was such a good boy! :) We walked and trotted around for about an hour and a half, just having fun! We were doing little serpentines over trot poles, and he was a super star! (: I'd never done that with him before, so I was super happy that he was listening to my seat and legs, and sort-of-kind-of doing an, er, interesting form of neck-reining. ;)
And I felt SO GOOD! All of a sudden, I was SECURE IN MY LOWER LEG, and I was sitting the trot again! He did some really great half-passes, too, and he was STRAIGHT through his body! And I felt so happy with him, and we were just being close, like we always used to.
The only people who showed up were a boarder and her daughter, who don't really talk to me too much, and a farrier who only said that Mudpie was cute and had a "kind eye." ;) It made me feel good!
I think I've realized that while it's perfectly fine to pursue our dressage and eventing, I should always take some time to play, and relax. I think it's important for me to remember that none of those women's opinions matter, and that all I need is my Mudpie! :)
PICTURE TIME!!!!!! (I was there alone, so I don't have any pictures of me riding, but I do have a few pictures from Wednesday)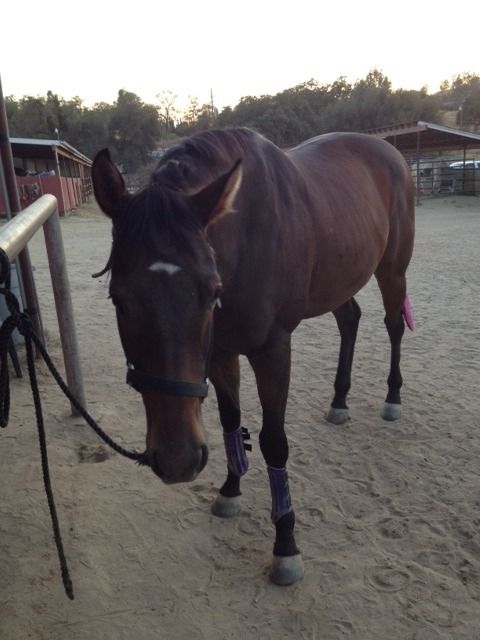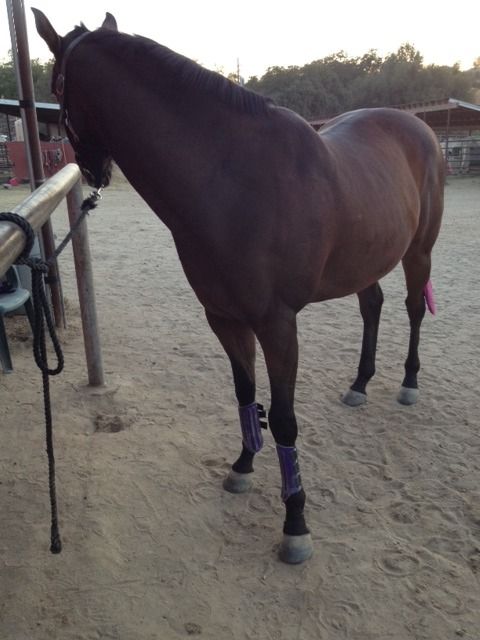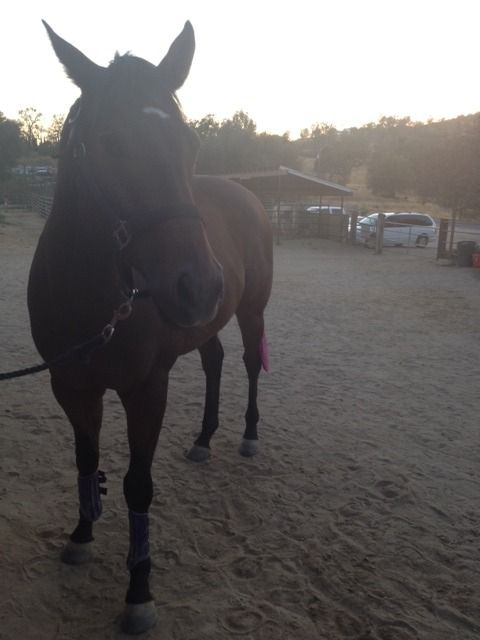 He's growing up so fast!!!!!
---
The hills were bathed in moonlight, the shadows not so stark;
Silver light reflected off his brown hide as he held me in the dark
– I love you, Mudpie!
cutie I love hearing stories like this.
---
Don't Flatter yourself Cowboy I was looking at your Horse

LORI

Everybody needs days like that. I have had a few great, confidence building rides lately too, and I just glow with happiness afterward. For days!
congrats :) i am glad to see you two are having fun together and being able to enjoy eachother once again.

keep it up ..ps more pictures are always wanted :P
I feel like this barn change is going to be good for you. Even though you mentioned that some of the people who board/ride there are very critical, just keep your head held high and don't let them get to you. There are a lot of people out there that feel like they know everything. Of course, they could just be trying to help but are incapable of getting their point across in a polite manner.

However, I'm very happy to hear that your lower leg is become more secure. I can only imagine how much that boosted your confidence. I can only believe everything will go up from here. =)