Have you seen this Horse?
---
I'm adopting a new horse soon, but I can't stop thinking about the horse I used to have.
This is a long shot, but I had to give it a shot. I had a horse a couple years ago, named Todd. My father adopted him at 4 months old in Colorado for my 17th birthday. He was adopted out, or brought to auction by someone other than myself in late 2007, and I am desperate to find out where he ended up. I would like to know how he is and where he is. I need to know if he is OK, I think about him every day, he was my best friend and my baby.
He could be anywhere, which is why I am posting here. Someone E-mailed me a couple days ago saying they saw him about a year ago in Trinidad. She remembered his huge blaze and tri-colored nose (hopefully it WAS him).
Here's two photos of him: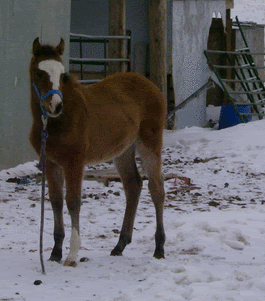 These other pictures are a bit large, so I figured to leave them in their link form.
http://i17.photobucket.com/albums/b82/Krysty90/Tod3.jpg
http://i17.photobucket.com/albums/b82/Krysty90/Tod2.jpg
I have posted on various websites, hoping to find something leading to where he is. I do not want to give up. If you know of any websites I might have missed that I can post on, please let me know, also, if you could pass this on to anyone you might suspect would possibly know where he is, it will be greatly appreciated!
I'll watch for him at any shows coming up that I go to and such, I'll also tell my horse friends about him for you.
Good luck on finding him, and don't give up!
---
He knows when you're happy.
He knows when you're confident.
And he always knows when you have carrots.
Thank you so much!

I also forgot to add that he's not registered and is a Paint X Arab Cross.
Awww..he's gorgeous. If I lived in you area I would look out for him, but sorry i don't. Goodluck finding him and seeing if you can find out what happened with him. :)
---
Horseriding- The art of keeping a horse between you and the ground.
Started
Join Date: Mar 2009
Location: Middle-of-Nowhere, Illinois
Posts: 2,225
• Horses:
1
---
"A musician must make music, an artist must paint, a poet must write, if he is ultimately to be at peace with himself.
What a man can be, he must be." Abraham Maslow, 1968

Have you talked to the owners? How is he?
---
Where did you find him??? How is he doing???

Congratulations on finding him!