:headdesk:
---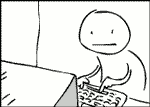 That is how I feel right now. Because of these spammers. There was even one that LOOKED legitimate, or maybe was, and then popped up with some spam crapola.
-sigh-
I hope you all enjoy my gif...I love that thing.
lol, I know what you mean. Would you like to buy some shoes? a t-shirt? I've got neuticles half off!
LOL that little person looks like me when I get angry with the computer. =x
---
passion is when you put more energy into something than is required to do it. it is more than just enthusiasm or excitement, passion is ambition that is materialized into action to put as much heart, mind, body and soul into something as is possible. // <3 starlite - dream - lady - georgia
Ha, that's how I felt when I bought my new computer and had to transfer all my data!
. Ewwwwwwwwwwwww.
.
I always feel bad for that poor little guy. Haha!
---
There comes a point in every rider's life when he wonders if it's all worth it. Then one look at the horse, and he realizes - it is.
Similar Threads
Thread
Thread Starter
Forum
Replies
Last Post
-headdesk- (rant)

QHDragon

Horse Talk

9

07-11-2010

09:41 PM