I am 5 feet tall and weigh about 120 pound (I know, I am a chunk) but I ride a 14.3 horse (now that I think of it, every single one of my horses so far have been 14.3!) I don't think you look to tall for your horse, but I can't honestly say whether or not you are because I don't honestly know.
---
RIP Minnie, 1981-January 15, 2010
RIP Maggie Mae I miss you
I'm 5'3 and 154lbs.. I've ridden a 13.3hh pony before with no problems. He can walk, trot, canter, and gallop with me up there. However, I always use a mounting block to mount, even though I can just step over him. :P
Razz, however, is 15.2, so no issues there!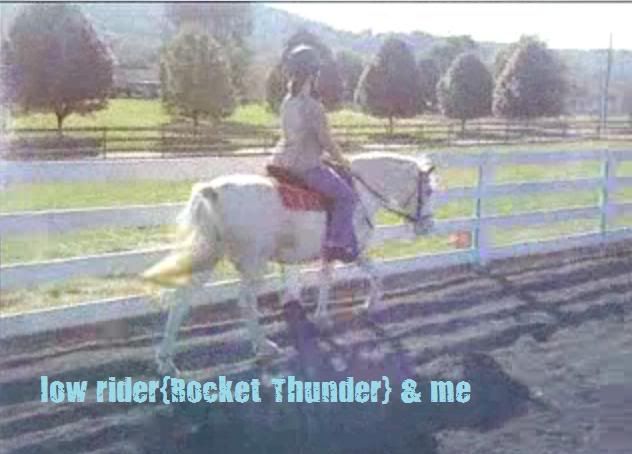 I am 5'7" and around 165 lbs. My horse is a 14.3 hh arabian, built like a tank. She carries me just fine and I don't feel out of place sitting on her either. I have always preferred taller horses...my favourite lesson horse ever was around 17 hands. But Lilly is perfect. :)
i think you guys look great together !
---
Gypsy & Scout <3
Everybody is a genius. But if you judge a fish by its ability to climb a tree it will live its whole life believing that it is stupid. ~Albert Einstein
I am five foot five and 104 pounds. There are quite a few horses in my pasture, but the main ones I ride are High Five, 15hh, and Vega, 16.3hh. Oddly enough, I fit on both of them perfectly. High Five is a very stocky, foundation built Quarter Horse, and Vega is a lanky Appendix.

Honestly, as long as you aren't overpowering the horse/pony, you should be fine. You two look fine together, but if you are worried, consider getting a Quarter Horse. Typically one that is 14 hands or so can handle a pretty decent amount of weight up there as long as they are built well.
---
Red Money Maker (Red) - 2004 Sorrel QH Gelding
You definately aren't too large for her for trail riding. Now if you were looking to show jump you might look silly
You'll have an easier time getting on and off on the trails on a smaller horse. It looks as though the horse you are on in the pics could use some weight anyways, so you'll look even smaller when he fills out some.
Wild Spot, thanks for putting it in perspective! Didn't realize so many activities can be done on the smaller horses.
I truly don't care a bit how I look unless the horse seems to be having a hard time carrying me.. thats really only my concern! As stated I'll take her on a long ride this weekend the kind I plan to ride once I purchase her so long as she performs on that then I do believe I'll call her mine :)
Thanks again!
---
In riding a horse, we borrow freedom.
~ Helen Thompson
Paintluver - thanks you aren't far off from my size so thats a good comparison!
Vivache - Wow, very close to my size as well - thank you very much for your comparison on your 13.3 pony. I do like the 15hand size but I due to our connection do believe I can overlook a one hand height difference. Thanks again.
Thanks Cheshire appreciate your info - you sound like me. Fell in love with a small horse but have enjoyed the larger ones in previous years.. same here!!
Thanks Gypsy Girl and Tennessee
I appreciate it!
Horselover - really all I plan to do is trail ride, overnight camping excursions, and potentially team pinning.. IF they start it back up where we will board her. They said its alot of fun and really anyone can do it :) So really I'm looking for a companion and one that I can trail ride.
I feel also that for a first horse having a smaller one that I might easier control on the ground would not be a bad thing to gain confidence and get comfortable working around them.
Thanks again to you all for all your information - I really appreciate it!
---
In riding a horse, we borrow freedom.
~ Helen Thompson
It often depends on the horse's build as well. Highlands can carry up to 15 stone! Also, if you have longer legs you may look a bit stranger on a smaller pony, as opposed to if you were longer through the torso. I'm 5'6ish and i weigh about 9 1/2 stone. Dougal is 14.2hh and is extremely deep through the girth, so can often look taller than he is when i'm on him.
I think you would be fine on your horse. You and look ok in the picture.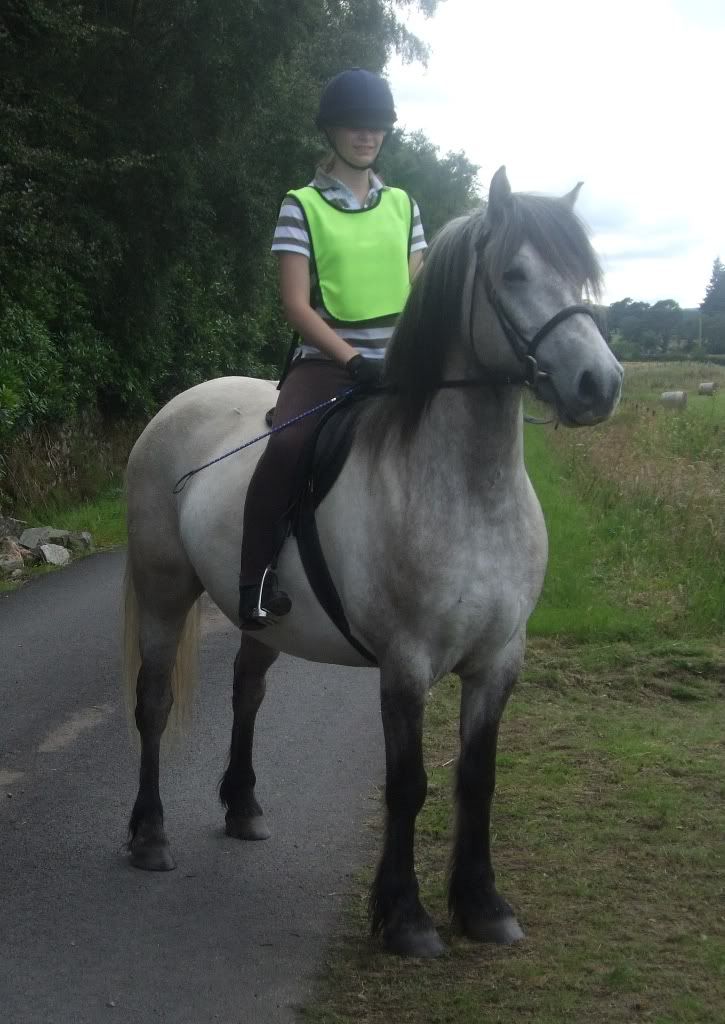 I am 5'3" and my mare is 14.2h (maybe 14.1 shes small) she's just a dainty arab, and was never a "tank". I rode her while I was preggo, and weighed 165lbs! My mare didn't care, but its not like I was running barrels or anything lol. I think as long as you are comfortable (I know some people don't feel comfy on a smaller horse... I'm the opposite lol) you two look fine.
This picture was when I was 125lbs and my mare was 26 years old
---
♥ Gypsy gold does not chink and glitter. It gleams in the sun and neighs in the dark ♥