Home made slow feeder ~pictures~
---
Hey all since it's all the rage lately,
and I'm going to be doing self care boarding soon and have more control over how, what, and when I feed my horse...
My dad and I have been working on this today he did most of the work, therefore deserves the credit
... His craftsmanship was superb he even made it out of reclaimed wood any design flaw is my undoing. But, it's very heavy and quite large so I doubt it's going to be knocked over unless she's pretty determined. I'm going to be stopping by home-depot or something to find four inch plastic trellis or something. Anyone have any suggestions?
It has handles, hinges, and a part for me to put a padlock on it so it can't be easily opened by her.
It's big enough for a regular 65lbs bale
heres some pictures!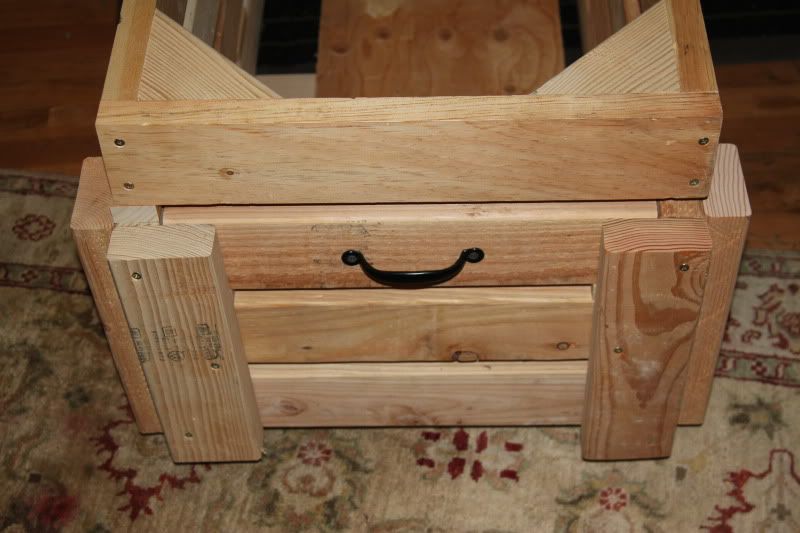 ---
life has no remote control hitch them up and drive them your self
---
Last edited by Ashleysmardigrasgirl; 01-21-2013 at

01:19 AM

.
I'd take some aluminum flashing (like they use for roofing) and cover all the wood bits that she could get her teeth on. Otherwise, she's liable to make like a beaver and eat the slow feeder, just cos she can. LOL!

Very nice looking, and very handy for you.
---
Showing
Join Date: Jun 2011
Location: Cariboo, British Columbia
Posts: 11,775
• Horses:
3
I see some good craftsmanship there, nice job!
Posted via Mobile Device
Love it! What are you going to use for the top, slow feeding part?
---
"Horses donít have hard mouths, they have hard, stiff bodies. The softer you can get the horse through his body, the softer he will be in your hands." Clinton Anderson





thanks all. i was thinking 4inch plastic trellis. I've read good things about it. anyone have any better suggestions?

LOL, dreamcatching I don't doubt she will eat with or without the corners covered X-D... She loves to find sticks and bark to nibble on.
---
life has no remote control hitch them up and drive them your self
forgot to mention, if she does eat it. The design is cellular and screwed together so all I would need to do if I wanted to bring it back to new condition in unscrew, cut a 2x4, and rescrew it back in.
---
life has no remote control hitch them up and drive them your self