That Horse Ain't Thin!!!
---
I've seen a lot of people post pictures of there horses up here... and then suddenly explain that their horse is kind of thin... and need to gain weight. Over half of them... I must say I agree with that statement. But the rest... I have to wonder. Does that horse REALLY need to gain weight? Or are you just trying to make it seem like it does?
I'm going by this when I say all of this:
http://www.habitatforhorses.org/resc...dyscoring.html
I see a lot of horses on here, where the people say that the horse needs to gain weight. The horses are happy and healthy, the horse's coat is gleaming with health. The eyes are bright. And as for the fat... well... no ribs are visable, the flanks are fine in roundness, you can easily see that the horse is in absolutely no NEED to gain weight! That (according to the Body Scoring chart above), the horse is at a 5 or a 6. If anything... the horse needed to LOSE a bit of weight. And yet... several people begin saying that the horse is EXTREMELY thin and needs to gain weight.
No... I can't go up and examine the horse. It's impossible through a computer. But picture-wise, the horse was absolutely fine compared to ALL standards!
Personally... I don't like huge horses. I like Drafts... but that's different. When it comes to Arabians, Thoroughbreds, Standardbreds, and other such LIGHT horses... the horse's aren't supposed to look like drafts or ponies. And yet... I see a ton of people, who think that a horse with a tiny bit of rib showing, is going to die, so they stuff it with food, to make it as round as a fat old pony that doesn't do much of anything. Those light horses are naturally light. Think about Arabians in the desert. HEALTHY horses... YET... they're slender and graceful, not fat like little ponies waddling around.
If you put a horse out, so that it had enough food at it's readiness (not sweet feed, not specialized hay, but grass, grass hay, and FOOD that horses naturally eat), you won't find horses lumbering around, with giant butts, and that are a 5 or a 6 on the body scoring. Normally... you'd find more like a 4. That's what many healthy, natural horses are at. Not all. But many.
Honestly people. Putting up a horse and saying it's thin when it's not... :roll: That horse AIN'T thin!!!
Please post your comments. I'm really not trying to say that people should starve their horses, or that they shouldn't feed their horses as much as they do. I'm just saying, unless the horse is certified as "thin" by a vet (or farrier), and it's not something that's natural to a breed... then don't start going around screaming "THIS HORSE IS EXTREMELY THIN AND NEEDS TO GAIN A TON OF WEIGHT!". It just gets me annoyed... :P
It might annoy you but I haven't seen a circumstance yet (especially in the critique section) where someone has said a horse needed more groceries and it wasn't true.
---
Unless it weighs a ton... it's just a horse.
Draft horse motto.
I'm with Solon. I haven't seen one post yet suggesting that the horse could do with more groceries that hasn't been true.
Especially coming into winter, a horse NEEDS the little extra weight - a lot of protein is going into building a good winter coat.
There is a difference between "thin" and "fit."
---
The lovely images above provided by CVLC Photography cvlphotography.com
Mozart and that bay are THIN!
Maybe it was a different forum... but I HAVE seen quite a few times where people have said "This horse is thin and needs to gain weight! How do I put weight on this horse???"

And the horse has been absolutely fine for the breed, age, etc.

Now... I'm not saying that the truly thin horses DON'T need to gain weight... but when a horse is fit, happy, and healthy... and the current feeding plan is great... why suddenly ambush the horse with even more feed just because someone likes horses that look like ponies?
According to the pictures, I would have to say that my Ruby is a 3.

I belive that she should have weight put on. If she doesn't, I do not belive that the end is imminent, but she should...

On that note - my BO's neighbors stopped by the othere day, and said (direct quote) "Crazy Bry, you gotta put some weight on that horse! You'd better make sure you don't ride her into town _______ ___________ (name removed) would call you in for neglect if she saw that horse looking like that!"

Ruby is NOWHERE near #2's picture - and before that I had some concern. Will my concern be less, probably not.

I am sure that in every scenerio that there is another more extreme case. I don't belive that should cause for less concern of the original case (if that makes sence). Ruby is in need of weight. #1 is probably in more dire need of weight, but that doesn't mean that Ruby is in no longer need of weight gain.
It seems like in EVERY FREAKING post I make... you have to point out that I'm completely wrong... almost to the point of stupidity on my part!!

I'm NOT talking about Mozart, Deniro (the chestnut), or Coco (the bay). I'm not saying that they're fat or chubby... or that they have perfect weight. So PLEASE shut up about them. You don't know anything about their stories, why they're this way, or anything. You assume without getting ANY facts... which is one of the worst things you can do. Honestly... from what I'm seeing right now... if you heard from one person that a certain man is a killer... you'd immidiately condemn that man to death. Whether he really was a killer or not.

and Ruby Tuesday... I'm not saying that horses don't need to gain weight. I'm just tired of people posting pictures of chubby horses (not overweight, but good weights), and saying that they're thin and need to gain a ton of weight.

Look... I'm sorry that I'm not allowed to rant. I'm SO freakin sorry that I can't say one thing without having everyone say how wrong I am. ARGH!!!
Can you post an example, or link to a thread, in which the horse looks fine and everyone said he was thin? We need some examples here.
Quote:
Originally Posted by FutureVetGirl

I'm NOT talking about Mozart, Deniro (the chestnut), or Coco (the bay).
Well, who are you talking about? It's hard to respond to your original post without "seeing" what you're talking about. Can you show us a for instance? How about my mare Stella, this was her a year ago when we first got her and we thought she was way too thin. I would have put her at a #2. What would you have considered her?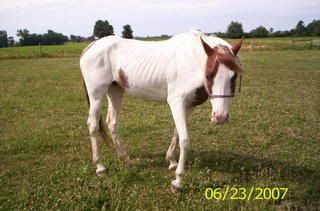 Edited: sorry, Arrow, we posted at the same time!
---
Stella - sweet, timid, elegant, lovely, lively, amazing
Luna - large, unattractive, naughty, adored

Quote:
Originally Posted by Arrow
Mozart and that bay are THIN!
From the pics I've seen Arrow is right. That doen't mean that you were responsible, it is an observation based on your pictures.
3neighs, I would have rated Stella as a 3 (maybe a 2 1/2) at the time you got her.
---
I'm not arguing with you, I'm just explaining why I'm right.

Nothing sucks more than that moment during an argument when you realize you're wrong.

It's not always what you say but what they hear.