I'm a fan of a big bright bay gelding with couple socks and a big wide blaze. Mmmmm handsome :)
Posted via Mobile Device
Yearling
Join Date: Aug 2011
Location: Central Texas, easily mistaken for a big bowl of dust!!
Posts: 1,427
• Horses:
1
bay roan cow horse - Google Search
Sorry if that link didn't work, I'd be thrilled to have a horse like this. I love bay roans and blue roans without white. Buckskin and grulla without white. Dun and red dun with white, and dark sorrel with chrome. And I like paints (sorrel or bay) with minimal belly white. Snips and stripes are my favorite facial markings (:
Posted via Mobile Device
Was never a fan of palominos but of course I have one now and she has stolen my heart. I like anything different, blue roan, dark liver chestnut.
Posted via Mobile Device
I don't have a gender preference, I have rode all 3 and don't have a issue with any of them.

I love CHROME! The more the better lol!

For color I could really care less. But I really am not a chestnut fan, I also don't like light palominos or buckskins. But I have A LOT of chestnuts lol!

But anything with a lot of chrome really catches my eye, no matter the color (unless it is a light buckskin/palomino then I cant stand lots of white on them).
---
Conformation is how far the horse CAN go,
Mind is how far the horse WILL go,
Training is how far it DOES go.
I love mares!! My preferred colors are palomino, cremello, chestnut, and black. My favorite markings are blazes, stars, socks, and stockings.
---
Being horseless is the pits!!
Black silver dapple would be my #1 favorite. I like silver in general :). Also like roans, dark grulla, smokey brown, sooty buckskin. Not a fan of double dilutes or bald faces. I like blue eyes on dark faces.
I am partial to: mares... particularly bays and chestnuts, especially those with a facial marking and a sock or two. Before owning Indie, I'd have never willingly owned a chestnut, but now, I think that chestnuts with a tiny bit of chrome are stunning. I'd be scared that I'd compare the horse to her if he/she was too similar in appearance though, so for that reason, my next horse will likely be a bay, or something similar.
I am not too fond of paints, and to be honest, I am not crazy about buckskins either. Palominos are alright, but after having leased one, I do not enjoy all the bathing.
---
Forever loved, never forgotten; my beautiful Indie. <3 Hoofprints on my heart.
I like geldings, but the girls have their charm too.
For colors, I like bays, tobiano pintos, buckskins, duns and bay roans best. Pretty much anything with a black mane and tail is good :). Oh, and I have a soft spot for Appaloosas with blankets.
I don't like blue eyes or too much pink skin. Cremellos / perlinos and very white overo pintos are probably my least favorite.

For type I probably like classical iberian horses the most.
Posted via Mobile Device
I love geldings! We just get along better.
As far as color, I have always been partial to blacks and blood bays, with very little chrome.
It's odd that my boy Gaylen is the one I ended up choosing since he is so not my type. But I love him.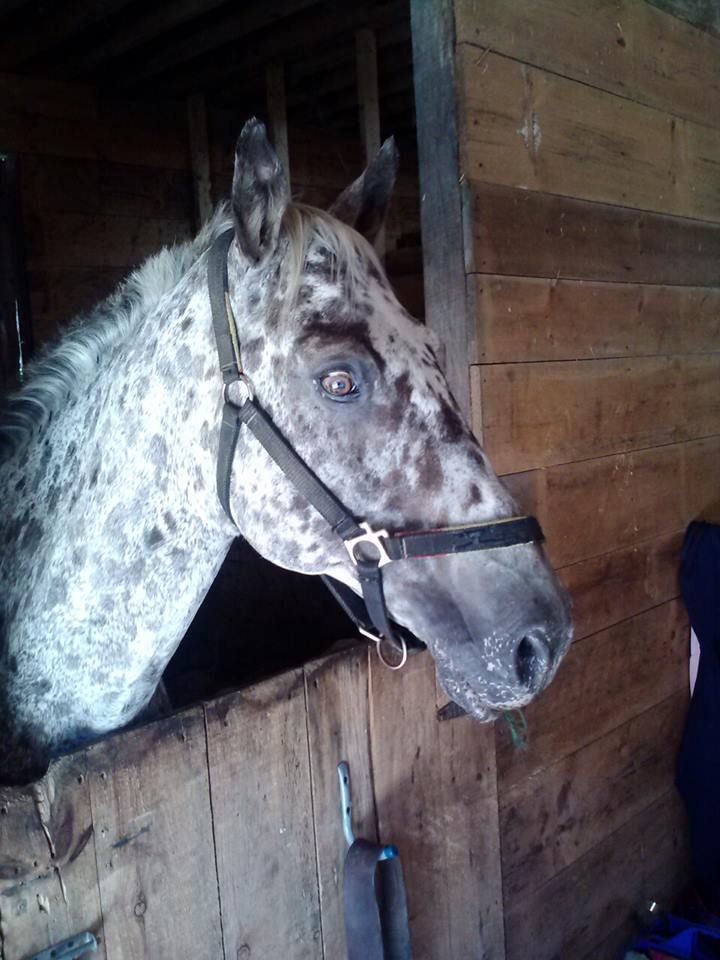 ---
Last edited by mrstorres2566; 08-16-2013 at

08:56 PM

.
I just love me those dappled rose grey horses. I drool over those no matter the build lol if only they would stay that color forever!!
I also prefer geldings over mares, but it's not really an issue for me.