Horse Costumes, Halloween? Anyone?
---
Who is dressing their horses up for halloween this year?

I wasn't going to ,but my church is having a carnival to raise money to put a new roof on the sunday school rooms... and my cousin (who is in charge of the entire thing) asked me to give pony rides with two of my horses.

Then she asked me to dress them up... Lol.

So, I'm dressing my 16 year old mare up as a clown and my 4 year old gelding is going to be a court jester.
---
Horseshoe Loop Farm: Home of Gypsie (22 y/o TWH mare), Dakota (10 y/o TWH gelding), Codie (18 y/o Walkaloosa gelding) & Harlow (9 y/o APHA mare)
This year Solon is going as Pegasus and I am going to Perseus. A couple of years ago I painted white stripes on him and turned him into a zebra.

I've found a place to get really tiny little wings which should look hilarious since he's so big. And I do medieval reenactment so I've got outfits like Perseus.
---
Unless it weighs a ton... it's just a horse.
Draft horse motto.
I'm not going to dress mine up....but plz, plz, plz post some pics of y'alls all dressed up!!!!
I am going to
We are pushing to have a staff contest where I work to dress up our real-life pets like characters from our virtual worlds. I've already planned making Jax into a "gold uni" which is basically a unicorn/pegasus.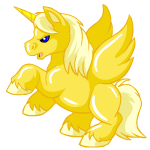 I also really want to get the horse-paint and turn him into a "my little pony" with a ball and jacks on his bum and pink dyed hair XD I'm evil!
---
I have asked my instructor to hold a costume contest for the Hallowe'en show, and she says we probably will. It might sound weird, but I have always wanted to dress Tango and I up like Indians and ride her around bareback. She's a paint, so she looks like an Indian pony, and it will be awesome. Now, if I can just get her used to carrying my bow and arrow while riding too...
---
me and rena are going as me as the grim reaper, and rena as a skeleton.
Haha and my other frown and her horse aregoing as timon and pumba from the lion king. Lol
Posted via Mobile Device
Awesome guys!

I'm about to go work on my mares costume some more... it's surprisingly hard to make this time around... her first costume took a while to make, but was pretty easy overall... and Dakota's costume last year was the same, easy, but took quite a while to make...

These are hard... I've got so many little things to add on that it so is not funny...
---
Horseshoe Loop Farm: Home of Gypsie (22 y/o TWH mare), Dakota (10 y/o TWH gelding), Codie (18 y/o Walkaloosa gelding) & Harlow (9 y/o APHA mare)