I'm so sad for you having to sell your horse
I was thinking about selling Rosie before because of money/time. It sucks.
Well my landlord needs two weeks notice here so probably in two weeks if that is good with the new landlord. Its understandable but I was hoping he'd be okay with a little less notice, as I've only been here a few weeks and moved in temporarily, as he is a friend of my mothers. But I think he is pretty strapped for cash at the moment...so its alright. I wish I could move a little earlier but I'm not in that great of a financial situation. Who knows though, the place might be too alluring and I might move early!
I'm half thinking just to move early anyway...would be so much better for study and such to have my own peaceful space.
Oh gosh I know what you mean. I used to live in a big share house, and before that a big family. Sometimes a bit of peace and quiet can be very hard to get! lol.

Yeah I'm sad too, more for Brock than me. I'm really worried that despite my best efforts he'll end up someplace bad one day. I'd feel like I betrayed him.
Posted via Mobile Device
Poor Doom
I wish I could offer advice but I can't, I've always had the same worries.
Some of you may remember my post a few days ago about me being broke and wanting to make a wheelbarrow/cart thing but lacking materials to make it.
Well I made it. It may not look like much but I can assure it is, in person, super cool. It's surprisingly sturdy and I am very happy with my 100% free cart thing.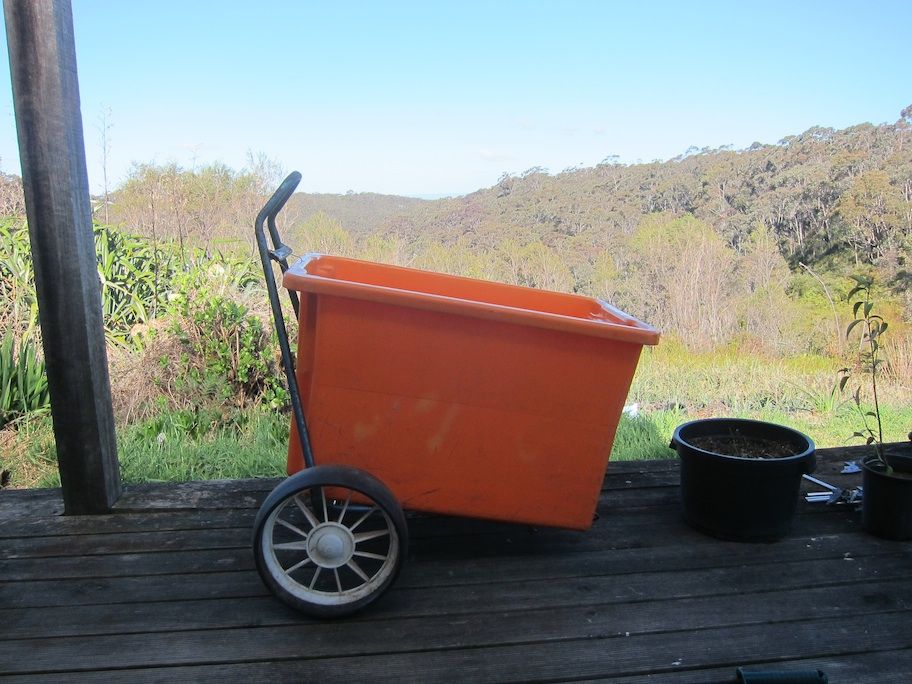 That's awesome!! I want one for cleaning my house now LOL. Great bit of DIY there.
Posted via Mobile Device
On another note, maybe you guys can give a bit of advice.
Rosie isn't settling in too well at her new place.
She's in a private paddock with not a lot of grass so I've been leaving hay out for her in the little shelter thing. When I'm there she digs into it like she's starving, but won't eat any when I'm not there, I put some outside the shelter and she still won't eat it. As far as I can tell she just stands at the gate or trots up and down the fence line.
There are three horses in a neighbouring paddock (they can touch noses), but they can walk out of view, and another horse a paddock over, so she isn't totally alone.
But I'm just concerned she's not eating enough, and she just isn't happy. Do you think she'll settle in over time or is this a long term problem?
Some horses take a little longer to settle. Star did, she took a few days to start eating properly and weeks to stop neighing, and quite a few other horses were the same. Did Rosie have buddies at her old place? She may be worried about where they've all gone. Is there any reason why she's being kept in a private paddock and would it be possible to have her in a small group or even with just one companion if she fails to settle?
Posted via Mobile Device
She had two horses at the last place with her, but they weren't really friends.

They only have private paddock agistment here for one horse.

It's just a small property and they rent out two of their 1 acres paddocks to people, and keep their three horses in their own 3 acre paddock. No one there wants to share paddocks or anything like that, so its not really an option to have her with another horse.
Hmmm...non-horse companion animal perhaps? Would they allow it?
Posted via Mobile Device
Doubt it.. and even if they did I'm not really in the position to buy some kind of animal I'll have to be responsible for indefinitely.

If I bought another horse...
Well hopefully she settles in after a little while!
Posted via Mobile Device