Oh my that is such a cute little girl. I am in love with those nice little blankets on the darker ones.
OH my GOODNESS shes cute CR!!!
She is so precious! :) And I have a knack for foals, yearlings and greenies, so it's a double "awww!".
---
I have come a long way, to surrender my shadow to the shadow of my horse.
/James Wright/
Thanks,guys! She's proving to be a real sweetheart,and is so quiet for just being a baby. Although she's not halter broke,you can tell she is used to being around people.
But I'm hoping and praying that she's not getting sick.. :( She has some thick white mucus coming out of one nostril,and sounds a little stuffy when she breathes. She's not acting out of sorts or anything,and she's drinking and eating well.Hopefully it's just a little cold,or allergies,and not something more serious. Keeping a close eye on her and will try to take her temp once I have someone home to help hold her. So,fingers crossed she's ok!
Fingers crossed, countryrider! I'm sure your little gal will be ok. :)
And here's my autumnal horse -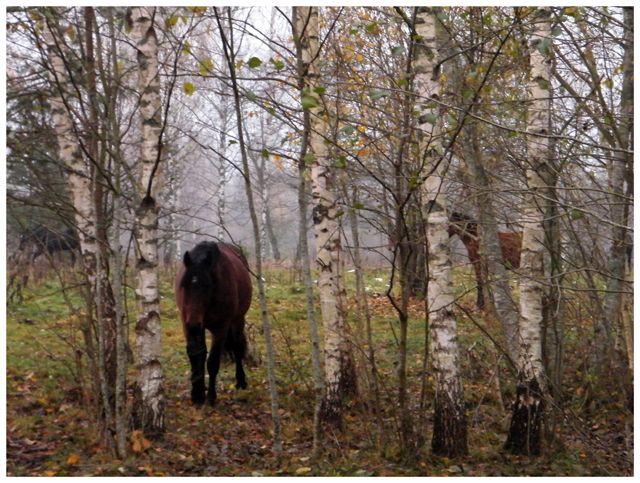 ---
I have come a long way, to surrender my shadow to the shadow of my horse.
/James Wright/
Green Broke
Join Date: Aug 2009
Location: New South Wales, Australia
Posts: 4,847
• Horses:
1
So, hi all.

I got a job! I am really excited. Its been getting really bad financially for me, drawing into my savings every week to cover rent and horse, and I haven't been able to find a job. It was looking pretty dire - as in a few weeks my savings would run out. My studies have been going awfully, I've been doing research for Honours in a subject I completely hate. Yesterday, I decided that I would discontinue my Honours and then start up next year for teaching.

Then today I got a call. I am an emergency child-carer for school children but the coordinator of my local school program is leaving and they have offered me her job! I start training tomorrow! Its 33 hours a week and great pay. Doesn't have work in holidays, but that is okay. And its just about 2km from my house.

So happy!
So,after just a couple short lessons,Lena is already leading pretty well. She'll let me halter her with no fuss, pick up all her feet (not too keen on holding them up for very long though yet),let me rub her all over,yield away from pressure,and she also had her first tying lesson today,which she did quite well with. She's just the quietest,friendliest little thing. :) She got over her fear of the stall after a couple days,which I'm glad about as the weather has been horrible and she would just stand out in her pen shivering.She still freaks out if I shut her up in the stall,but as long as the door's open so she can come and go,she's happy.
And,hopefully,we'll be bringing Missy home this weekend!
Lena ounds like a talented girl! Must be nice working with her. :)

Aww, a barnmate of mine yesterday went to the barn and caught all the horses having a nap or sleeping. She took lots of photos of Snickers, who was at first just laying on the ground, and then laying on his side, grunting variously, then running in his dreams and neighing silently. How sweet is that! :) Will upload some pictures later this evening in my "Moving to a new home" thread. :)
---
I have come a long way, to surrender my shadow to the shadow of my horse.
/James Wright/
---
I have come a long way, to surrender my shadow to the shadow of my horse.
/James Wright/
Wow-triple post?

Didn't manage to visit Snickers today, but the BO gave me a call that he is limping - she checked and it seems that it's an abscess. What a shame. :( Oh well. He got his hooves trimmed a few days ago, so it really might be the case. Will see it tomorrow myself.
---
I have come a long way, to surrender my shadow to the shadow of my horse.
/James Wright/