Gluten free spaghetti is still super delicious.. they use some sort of plant to make it.

I am not gluten free though.. my dad was for awhile but I have no clue about it :/ Nor about thyroids.. hopefully someone on here does.
---
"Strength is the ability to use a muscle without tension"

Yea the gluten free stuff is good but literally 4 times the cost. Rice noodles are cheap but they get all sticky so spaghetti kinda works with them. I just can never think of anything to cook other than chicken and potatoes lol. It's amazing how much stuff has gluten. Since MSG is gluten it's in all soups and seasonings too. Basically I have a high gluten diet haha. It really sucks.

Between my dog, my horse and me we have more health problems than a hospital lol.
Posted via Mobile Device
I'll be 21 in October this year. I am not a typical horse-lover, in that I used to hate/fear horses up until I moved to Kentucky in 2002. After seeing the movie Spirit: Stallion of the Cimmaron, I fell in love with them. I'd draw them, search for pictures on them, and paste photos all over my room. I found a stable to volunteer at and mostly just "watched and learned". I've been riding regularly since 2005 and have owned many horses, most of them flops (buy them, train them, sell them).
---
EQUI
LOVE
Welcome Equilove!

Hmm if you have time, you can make your own pasta noodles that are gluten free.
---
"Strength is the ability to use a muscle without tension"

poppy I have a friend who is gluten free. Potato chips and chocolate are gluten free (which is like 90% of my diet). They make things like gluten free muffins but you have to ask at the grocery store or go to a speciality store.

I can cook, how well I cook is up for debate. I have made a few bad decisions in the kitchen, like thinking italian salad dressing could be used as a stand in for pizza sauce. I make a mean lasagna and some pretty awesome chili. The chili is awesome because if you make anything with Guinness and bacon it has to be awesome (I swear its in the constitution, after the section on deep frying). I also shamelessly love mastering the art of french cooking by julia child. When I feel fancy I make something out of that. It makes me feel like a much better cook than I am.
I think I like the way that you think, rookie!! :P
---
"Strength is the ability to use a muscle without tension"

Haha love the way you cook.

Not all potato chips are gluten free. If they have yeast extract or autolized yeast extract which is used is flavoring and just about everything, that is not gluten free. Seriously reading labels is an art here in the states. The only potato chips that are completely gluten free is Kettle brand. For a product to be labeled gluten free it needs to have less than 20 ppm? I think that's the measurement. Either way it means it doesn't have to be %100 gluten free to have that label. And when it affects my thyroid, I have to read all the ingredients. It really sucks. But yes all chocolate is gluten free :) my only saving grace.
Posted via Mobile Device
Hehe didn't mean to sound like a lecture I just really hate the way labels are here. It's my biggest pet peeve how they hide ingredients with new and different names.
Posted via Mobile Device
Green Broke
Join Date: Aug 2009
Location: New South Wales, Australia
Posts: 4,847
• Horses:
1
Welcome Equinelove!
I'm not gluten free but I generally try to avoid wheat. I use rice noodles, but also mung bean noodles, they sound weird but they're just like rice noodles but less slimy! I make lots of stews, soups, stirfries and curries, these are all things that can be easily gluten free!
Instead of pasta sometimes I use quinoa which is a legume I believe. It's kind of like cous cous but has a sort of nuttier taste and firmer texture. You can also try buckwheat pasta, or corn pasta. You can also use lentils and brown rice, which can be used in mexican style dishes. Anyway, just some ideas!
I went to see Rosie today - they were all laying down enjoying the sunshine! I tried the new saddle on with the new girth (its tiny - only 45cm) and it seems alright, looks a little big on her but it seems to fit okay. Once I got her trotting in the roundyard she looked a little lame on her near hind
but I'm guessing she just slipped in the paddock and it will righten in a few days. There are no marks, heat or swelling so hopefully it's okay.
Here is a pic of her in her new saddle: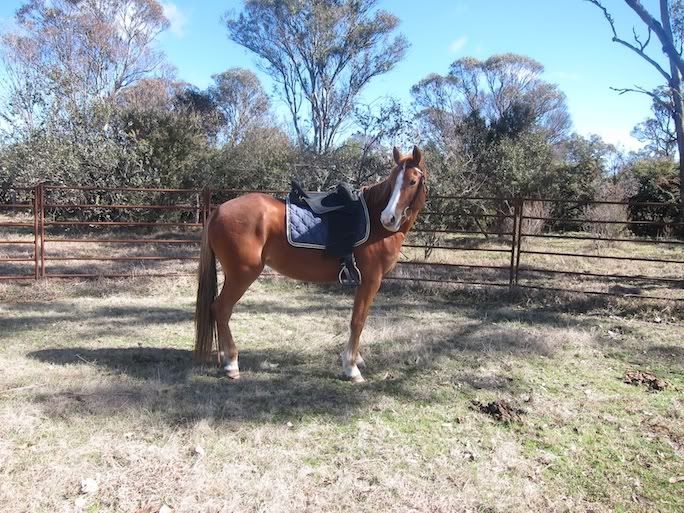 ---
Last edited by Saskia; 07-14-2012 at

11:34 PM

.
I enjoy cooking/baking. I started helping my mom do it pretty much as soon as I could reach the counter top from a stool. :) I tend to be a "little bit of this,some of that cook",dumping in whatever I think will be good and not really measuring;surprisingly,it usually turns out pretty good! We grow/raise/hunt the majority of our food,which makes for much healthier eating,as well.
As for the cleaning,well,it's what I do.lol

Glad some of you are finally getting your sunshine;I'm happy that I'm finally getting cooler temps and some rain,woot,woot! This,of course,after I just spent the last two days watering gardens,berry patches,flowerbeds..But better late then never,right? :)
---
Last edited by countryryder; 07-15-2012 at

01:55 AM

.