Oh boy, I'm busy for the weekend and so many more pages pop up. Hope everyone had fun.

I went to the Parelli horse and soul tour thingy yesterday. I got some good ideas and things to do with my horse but I was also extremely appauled and stunned by the cult mentality. Most of the people there had no business ever owning horses. While the actual training Parelli does makes a lot of sense and is good, it is also just regergitated information that almost any other trainer can tell you. I did learn why I was taught what I was in lessons, as when I had lessons it was more of you do this and that but never why.

But the prices on his stuff was just absolutely horrific. $60 for a rope halter?!? Come on people, you seriously buy that. I was amazed at the people walking out of there with bags full of merchandise, seriously?! Also I really hated the constant marketing he had going on throughout the seminar. We left half way through as we had gotten some good info and just could not stand the "breaks" that were filled with marketing ploys for people to buy his crap.

We are starting to look at buying trailers as my bf is getting a new truck next month. We will then be looking at clinics that you can actually bring your horse to and have hands on training and learning. It will cost more but it will definately be worth my time to actually attend.
Yeah, Parelli actually a lot of good ideas up his sleeve, but the commercial and the cult part are most of what makes a bad first impression of him. And also the cultists that are arrogant and loud, when it comes to defending their idol, but incredibly weak when it comes to actual horsemanship, just because watching a couple of DVD's and reading some books doesn't make you a trainer. That turns people away from the qualities that Parelli has to offer...and it's a shame.
---
I have come a long way, to surrender my shadow to the shadow of my horse.
/James Wright/
Quote:
Yeah, Parelli actually a lot of good ideas up his sleeve
Ugh, I hate typos... Meant to say that "Parelli actually HAS a lot of (...)".
---
I have come a long way, to surrender my shadow to the shadow of my horse.
/James Wright/
Yea it was pretty crazy. I did learn quite a bit yesterday and we tried it out last night and I will say I had much better control of Lizzy, especially with turning. He never did explain the games thing, so I still don't know what they are. But we wanted to watch the part with the unhandled horse and how he fixes it but we couldn't wait another 3 hours of listening to sales pitches and other stuff we wern't interested in.

I kind of felt like I was in an infomercial with all the cheering and giveaways.
Seeing him handle an unhandled horse live would be really interesting... Although I hope it was not one of those "how to break a horse in 30 minutes" things. Those I totally despise.

Games are generally meant to mimic the movements horses use in herd environment to move each other around and establish hierarchy. And I have seen horses use all of them, it is very interesting. Well, maybe except covering each other with a tarp, they don't do that - at least, not when I'm watching.

However, I tend to see that his way of handling horses is very dominant, a tell-demand attitude, whereas I prefer to learn from the leading mare, not the dominant stallion of the herd. Horses seem to be calmer and more willing with this way of handling them, especially, if the horses are either passive, either dominant themselves. I used to be dominant only with Snickers, and, as he is naturally dominant himself, our communication often excalated to fights. I do not want that anymore. Also, I've seen over-parellized horses, who begin to be afraid to express their character and opinion. That is, in cases when the handler just executes the physical part of the games and thinks only of establishing respect, but hasn't got a clue about reading how the horse really feels about that.
---
I have come a long way, to surrender my shadow to the shadow of my horse.
/James Wright/
Yea, since he was going to go through all 7 games with that horse I really have my doubts if it was truely an unhandled horse. I have never seen anyone else yet so I am not sure how his style varies from others. But I will say I do not like how he is like a used car salesman, gets old pretty quick.

I would like it more if he would just get to the point about his training instead of telling stories about how his stuff helps him and others. I really only care about the actual training aspects.

My mare is very submissive to other horses but she tries to be dominant to every human. She's got the attitude that would rival a 5 year old spoiled brat of a child. But I would take her anyday over a horse that was dead with his personality. I never want my horse to be so submissive to me that they no longer show their personality, that's just not any fun.
True that. I don't want a submissive horse, I want a thinking horse that, in case I do something extremely stupid, will openly question my sanity and, hopefully, bring me down to earth. :)
And now for the picture of my new homemade sidepull I promised to show
-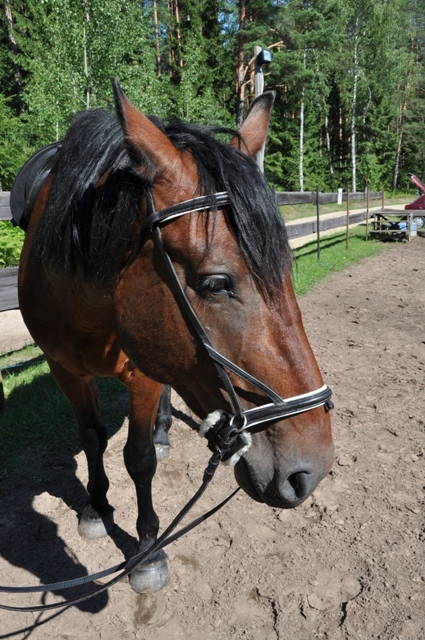 Snickers looks not amused - but that's because he was a little tired. I took the pictures right after a trail ride. :)
---
I have come a long way, to surrender my shadow to the shadow of my horse.
/James Wright/
Oh Snickers looks so cute in his new sidepull. I like the white trimming on it, very pretty.

Lizzy questions my sanity on a daily basis, but she is pretty used to me trying new things and just goes along with it, dirty looks and all.
Snickers loves when I try new things even if they are insane, but he questions stupid things. For example, something bit me and I wanted to stand on his back and ask him for a walk. Yeah, trick riding and such genius ideas. He was very patient, but he let me know that I made his back a bit sore for that day, so I've never done it again. Stupid stupid stupid.
---
I have come a long way, to surrender my shadow to the shadow of my horse.
/James Wright/
Haha I don't trust Lizzy to try and stand on her back. She would most likely see how far she could launch me, just because if I have an idea, she get's one as well. But she did just give this 'wtf is wrong with you' look when a giant bee was stalking me and I continued to run around in circles for litteraly 5 minutes. I have to carry an Epi pen so I would prefer to not have to use it.

Oh and her mane is soooooo thick so I put it in about 7 pony tails when it's really hot out so she gets airflow under it. She is not amused by that, at all, but she tolerates it.