Welcome new friends. Sorry to hear about all the unscheduled dismounts, we need to stop that!
Oh, how I love this thread!

Thanks for the compliments on my pic.

Welcome Becka!

Alex, hope the new case manager learns to chill a bit.

GAhorsechic, I used to teach and then moved to the dark side- central office administration but when I used to teach I taught 6th and 7th grade social studies and then became a gifted education resource teacher.

As far as unscheduled dismounts or premature ejection...gonna see a lot of them tonight. Heading out the door to the local bullriding rodeo! We go every month and have a blast. Those cowboys fly through the air when they get bucked off. They also have barrel racing. So much fun...and those that remember my "the hot cowboy is my farrier" story...yep, I will get to see him tonight. LOL

Have fun this evening everybody! (Stan, I wish you a good morning!)
Koolio: absolutely right about not taking ourselves or life too seriously with age. Weasley twins: who thought of that name for your lovable red balls of fur? So cute! Your killer actually is a "copycat" of my Onyx the killer.
Here she is: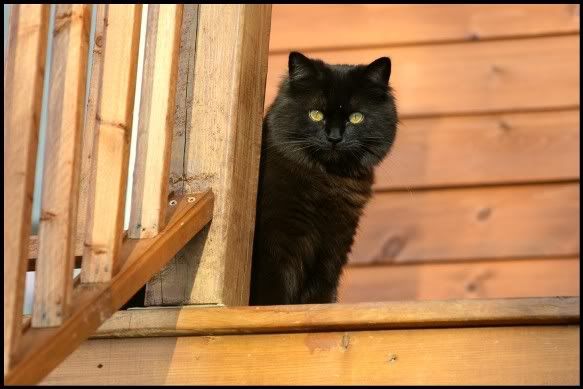 Stan: that's a great picture. And Nvr2many, I also love my endurance saddle, feels safe and nothing to get bruised on (except the ground?)
Hi Melinda!
It doesnt have to be exciting to be interesting. I posted pictures of my horses hooves and got all kinds of responses,lol. That wasnt very exciting but was very interesting. Im slightly obsessed over my horses hooves.
Now the other day at the farm I had to go into the pregnant heifer pen. On of the heifers had calved during the day and we needed to get her and the calf out an into the nursing pen. Unbeknownst to me David was in there. david being one of the holstein bulls that I THOUGHT
was out in the pasture with the dry cows doin his job. I turned ot herd the new Mom out and WOW,,,RUN YOUR FAT ASS OUT OF HERE
!!!! Move FASTER OLD WOMAN hes RIGHT BEHIND YOU! Can I fit through the head gate, dont matter im going through it! I FIT!!!!!! I fit my big butt an my girls through that head gate,,,,at a high rate of speed I might add. The bull (David) grazed my hip as I went through
. He moves mad almost as fast as I move terrified lol.
After all that I STILL had to get Momma and baby out, a prod and another perosn made that happen, lol. david wasnt impressed. WHY in gods name he was in the pen to begin with is still a mystery to me. He is going to another farm soon to do his duty, no BLUE pills needed Stan,,,LOL.
Lesson learned: CHeck for Ornaments on the backend of animals,,,if ornaments are present get help. LOL
OMG!!!! I have a carrot!!!!!! YAY!
What are the carrots for?
---
Last edited by Becka; 08-10-2013 at

07:47 PM

.
Evening all! Morning Stan! Welcome all newbies! This is a great thread, everyone is kind here and nonjudgmental, so join in as you see fit!
Had a beautiful morning ride!! jay seemed to really want to be out and about today. Could have ridden longer,( think we were gone nearly 2 hours), but decided to save my bumm for another ride tomorrow!
On the way home I stopped at the Amish for fresh baked goods. Oooohhh my their donuts are as big as your head!!
I took some over to my dad, as I am still worried about him. He seemed way better than a few days ago when he was hallucinating. I think they have his meds in check now.
Came home and napped......for TWO hours!!!!! How am I ever going to make it through the school day????
Decided to pull Rainn out of the stall this evening. Takes me longer to tack her up than ride, but she enjoys being out.
. Love my old girl!!
Tonight is the last night of Bachloretting it ( although I'll be happy to see DH). What's on my plate tonight? Crab cake, fresh salad and corn on the cob! Dessert???? Fresh homemade Amish blackberry pie and vanilla ice cream!!
. Ooooolala
Oh, all this.....and I'm sitting by a campfire.
. Nothing better than a cool evening, a glass of wine, a campfire, and knowing a delicious meal is in there waiting for ya!!
. Ok, so it would be a tad more fun with DH, but we will do it tomorrow night!!
Tomorrow is his bday. Did I tell you guys I bought him a new infrared grill? He has NO clue!!
tomorrow we can cook out and enjoy a fire as well!
. We enjoy the little things!!
Good grief Becka, be careful!! I went to HS with a fella who got pierced by a bulls horn. The bull rammed it up underneath his ribcage.. Lucky to be alive!!
funny mentioning him....just saw him the other day after...gosh....I bet 20 years!!
That's all i got for ya all....except....have I told you lately how much I dislike. My moms DH????
he's leaving for a week tomorrow for something.....YEA!!! Enough said about him.....
Talk soon!
---
The beat of my heart will always resemble the cadence of my horse.
Becka, David is no name for a bull, just sayin'.

The carrots are a game, you try to collect them and then steal them from people when it's offered. I am nice, and only steal from people I don't really know, or Stan, as that's a given.
Quote:
LMAO Stan I did just that. I bought a roping saddle. Pommel is MUCH narrower than my old one, AND the english saddle has no horn or pommel, maybe english will be the way to go. Less bruising, AND omg I didnt show ANYONE my bruise, it was ,,,,,,,,
well you know,,,in a discreet place, but oh so colorful!
Becka the saddle in my photo is a tucker endurance in western configeration. Like sitting in an armchair and I must say Stella or Bugs have never unseated me when darting off to the side to escape that horse eating frog. Making like superman in a forward direction is a different situation. But and a big but, all of me cleared the saddle without a hook up
---
My blog
foremyhorse.org
you may enjoy the read. Its different.
Quote:
Becka, David is no name for a bull, just sayin'.

The carrots are a game, you try to collect them and then steal them from people when it's offered. I am nice, and only steal from people I don't really know, or Stan, as that's a given.
I recently lost another carrot. I only had two. Now its one. No respectfull member of this forum would steal from someone who only had two carrots, except Alex, no heart.
Did a quick PH test on my soil this afternoon Tested three of the five paddocks. The readings were from 5.3 to 5.7 PH at 7 inches deep. Ill run it again to check. I also noted how compact the soil has become so it looks like some major ground work needs to be undertaken before the spring.
It looks like the PH is acidic below three inches from the surface and the grass roots won't go down because of the acidity, so, if I don't take steps to correct it there wont be any grass for the summer.
**** Horses their poo is no good for the ground unless composted and there great big feet and weight is a constant roller packing down the soil.
Time for a change, miniture horses. (Wash my mouth out with soap)
Checked Bugs and applied more Manuka Honey He is progressing well and behaved himself, well almost. He stood for the ointment but as soon as the rope was released he was off and then did his avoiding at all costs trick.
I think in another week he will be ridable
cheers all and enjoy your riding.
Watch out for Alex she steal carrots
---
My blog
foremyhorse.org
you may enjoy the read. Its different.
---
Last edited by Stan; 08-10-2013 at

10:49 PM

.
Stan, I felt so sorry for you that I sent you a carrot cake.

Can't you just apply lime to the soil?
---
Celeste
how do you send a cake Celeste, I'd send one to.................




......................................





................................




you!