Quote:
Hi! am Hannah. I am an eventer and event on my SUPER red Quarter Pony Apollo. We do dressage, cross country, and stadium jumping!:) Im 16. I keep my horse at me dads friend's farm for free as long as i take care of the other three horses that he is too old to take care of and ride. they are fox trotters. I love trail riding, showing, and just hanging out with my boy!:)
Welcome Hannah! Don't forget we need pictures of your boy :)
I had a great time riding with my cousins. We went almost into Austin.
Quote:
If that's her show name, why don't you just call her Sunny?
Because it's too common and doesn't suit her :) I decided her paddock name and then thought about show names, and nothing with "Magic" in it fit. My favourite out of all of them was Sumkindamagic (yes I have a thing for show names like that, that run together - favourite event horse is Megan Jones's Kirby Park Allofasudden) and then Mum started suggesting random myth and legend characters. She suggested Icarus, who flew too close to the sun and his wings melted... and I thought, OMG. Perfect. Too Close To The Sun. Too Close To Da Sun. 2close2dasun. The other options for the same name are far too long!
---
REGAL PRINCESS
Now, pictures
She was all but untouchable when I got her home. Unloaded her from the trailer, and she was ok (but had a halter on already, and a lead). Put her in the round pen and let her go. Went to talk to her when we put the hay in her yard and it took me ten minutes to be able to so much as lay a finger on her for an instant.
One day, and several short sessions, later...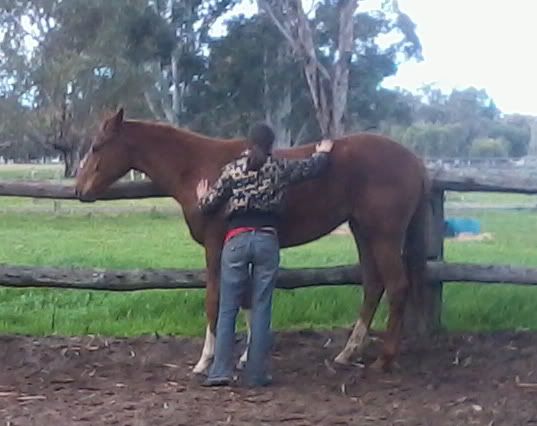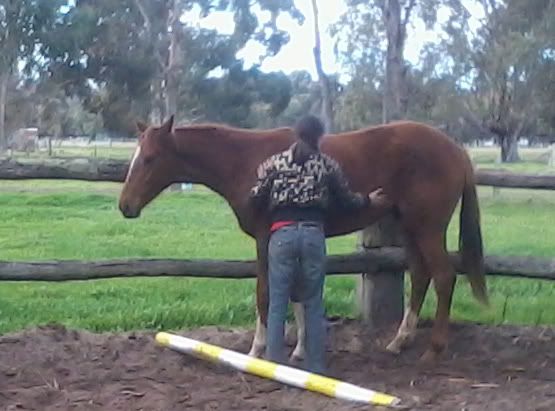 I am 161cm... about 5'2" or 5'3". She is BIG.
Edit to add; she didn't like me touching her flank, decided she was too scared and couldn't handle it so she left. No running away, no bolting, no kicking. She just left. She's SO quiet, even when she's terrified she just sort of goes away from the scary thing.
---
REGAL PRINCESS
---
Last edited by blue eyed pony; 07-29-2012 at

12:31 PM

.
Super excited i finally found a horse i can really do barrels on. She is a 6 yr old buckskin quarter horse mare. She acts like she's seen the pattern before but we are doing some finessing on moving off my leg and stepping over. Will be taking her to her first actual run hopefully in october. Im helping her ownet who is going through multiple face surgeries by leasing her and i get to do anything i want with her even going to use her for my senior pictures lol.
Posted via Mobile Device
Awesome, I love QH's
have a thing for buckskins too.
---
REGAL PRINCESS
yeah shes super cute definitely has maritude but her brain is like a sponge a touch green but only due to inconsitent riding. Shes got speed and the brain to stay under control I am super excited to see how it turns out this is her
---
just a small town girl with a big town dream :]
Oh wow she is lovely, definitely got that look of speed about her! My TB is from slow bloodlines and my Anglo is getting on a bit so I can't see myself getting into barrel racing any time soon... darn shame because what little of it I have tried has been bunches of fun! Got a friend with a little Appy who wants to try barrels with him, or else cutting.
---
REGAL PRINCESS
Yeah she is from bad boy pistol and the ode lines so cowhorse lines mainly but she has bulked up a bit now this was when i first met her about a month ago here is a new picture from last night she was wanting to follow me soooo bad haha . Oh and she does have an ugly scar on her leg but it doesn't harm her any haha just looks yucky.
---
just a small town girl with a big town dream :]
Hi guys, I'm Paige and if you dont mind im just going to join in here :) I'm turning 16 in October, I live in B.C. Canada and I ride a bay QH named Hunter for my best friends grandma :) Right now im riding all four of her horses for the summer (SCORE!).
---
the hardest part of riding is the ground... yup sounds about right