Green Broke
Join Date: Aug 2009
Location: New South Wales, Australia
Posts: 4,847
• Horses:
1
Horse too small?
---
I went to look at a horse today. I actually really liked her. Sweet temperament, good age, I'm happy enough with her breed. She seems pretty quiet. Definitely needs work, but she's cheap and I think its worth the time.
She's a bit small though. Smaller than I was hoping. The owner is completely unhorsey and estimated her around 15 and a half hands, but measuring her she's about 14.3hh. Do I look absolutely ginormous on her? What if I lost weight (which I have started with anyway - Easter did not help)? And she builds muscle? Can I get away with it?
These are some pictures. I look awful, had been driving for hours and was worried she was going to take off bucking or do something weird. She's 6 years old, QH x Arab, friendly and quiet.
Here's one from a distance: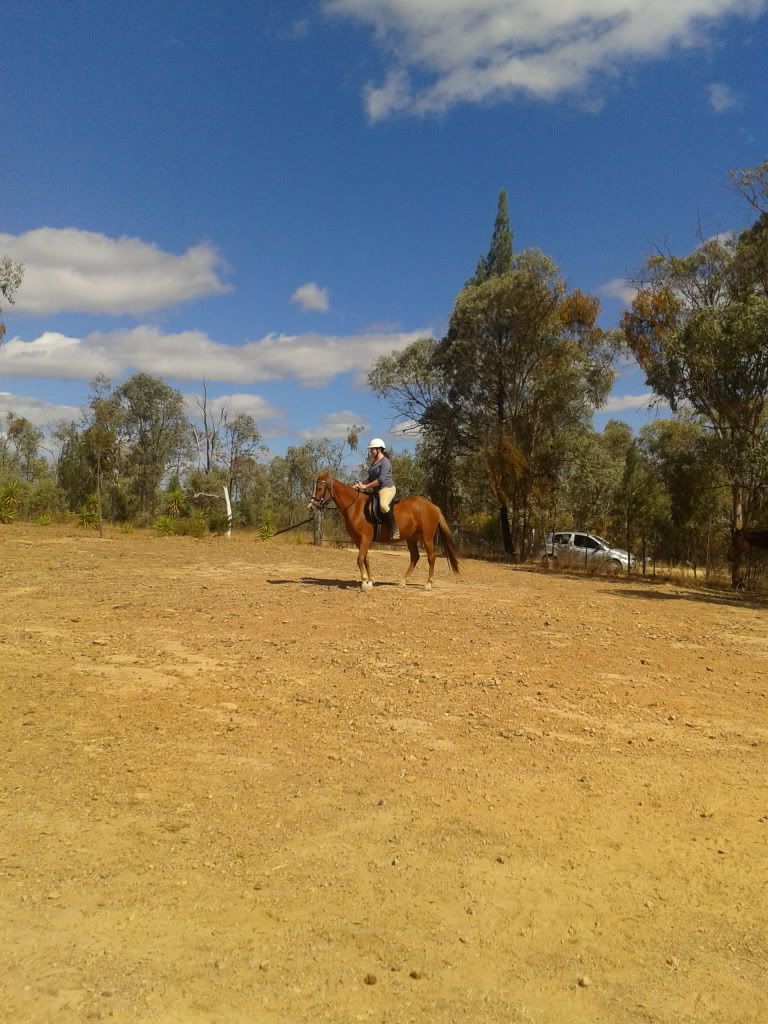 And here's another closer up but on a bit of an upwards angle because the photo taker is a fair bit taller than horse. Which I think makes it look worse.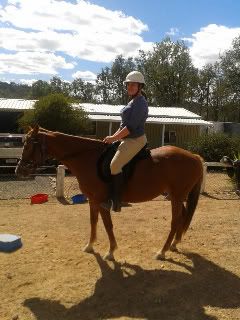 logically she is fine, emotionally. that too small thing is gonna nag you to death. I know It did to me for a year, till I just had to had another taller horse.
Green Broke
Join Date: Aug 2009
Location: New South Wales, Australia
Posts: 4,847
• Horses:
1
I actually like small horses much better, I feel safer and more confident. I just don't want to be one of those giant underhorsed riders crushing their horses' souls.

You think it will eat away?
I think she looks like a good size for you, you look good on her! If she is what you are wanting then go for it. But if you think its going to bother you then keep looking. I prefer smaller horses around 15hh and when I brought my horse who is 15.3hh I wished he was a little smaller but everything else fitted so I got him.
You look fine on her. If you weighed 300 pounds and wheezed when you got off up the couch, that would be different.

She looks like a sturdy little mare, and 14.3 h isn't that small.
---
You want the truth? You can't HANDLE the truth!
If it will nag at you (as Joe said), then don't do it. I sold a real nice mare a few years ago for the same reason. She just felt too small for me even though she really wasn't.

You know your personality, if it is going to bother you then don't buy the horse. If you are seriously going to loose weight, then you will be fine. As of right now, you are just on the verge of looking a little big - keep in mind that it is an opinion and not something written in stone. It also depends on what you are going to be doing with her.
---
I'm not arguing with you, I'm just explaining why I'm right.

Nothing sucks more than that moment during an argument when you realize you're wrong.

It's not always what you say but what they hear.

She looks fine. QHs and Arabs are both pretty sturdy generally speaking. Im 5'9" and had a 14hh QH for 7 years no issue. :)
Posted via Mobile Device
Your fine, That horse can hold way way more and do anything you want.
Im 5'10" and 150 lbs. And i like 14.1 horses. I have even riden 13.3 and that is one of my favorite cutting horses to ride. I have even seen a 250 lbs guy ride the 13.3 horse and she did great.
You look SO good on her! she is the fine in size, its just because she has quite a small head that it may seem she's smaller than she is!