Horse's panic stricken face (need a picture)
---
Right guys,
I need your help. It's not super important, but, I need to show my friend a picture of a horse pulling a "beak" face. Like, when it's anxious it pulls this face where it sticks its top lip out and juts its chin in the air and it's lip looks like a beak. A behaviour, such as rearing, or bolting, usually follows. I'm having great difficulty finding one on the internet.

Some horses also pull this face when they're having a scratch, or when they're concentrating on something. I've also seen it a few times with a foal being taught to lead, and it's just point blank refusing and just pulling this daft face!

Has anybody got such a picture of a horse pulling this "beak" face?

Many thanks,
Holly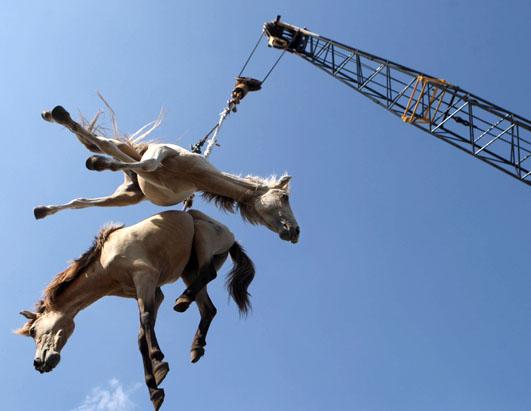 ---
And those who were seen dancing were thought to be insane by those who could not hear the music
Oh good grief. That's the face, just wish I hadn't have seen like that... What an absolutely disgusting picture...
It was on a previous thread. I've never seen the beak face without scratching an itchy spot (thankfully) or maybe I have but haven't noticed because of the impending freak-out that I know is coming.

Regardless, that white horse has the panic/pain beak. I guess thats how they ship horses in Indonesia.
---
And those who were seen dancing were thought to be insane by those who could not hear the music
Are they still alive? :-O
was that a necessary picture? :/
---
You may be out of my sight, but never out of my mind. ~RIP Angel
Here's one that's not quite so dramatic. Beak face on the buckskin, "stink" face on the gray LOL.
---
Always remember that feeling of looking at a big, open country over the ears of a good horse, seeing a new trail unwind ahead of you, and that ever-spectacular view from the top of the ridge!!! Follow my training blog:
http://robertsontraining.blogspot.com/
much better
---
You may be out of my sight, but never out of my mind. ~RIP Angel
ilovepets, that picture was already posted here a couple days ago by someone else. It wasn't necessary, but the OP asked for a panic face. Not a "feel good" face. That was the only one I've ever seen, and it was recent so I reposted for picture references.

The horses are alive. Not sure what they are being shipped for.
---
And those who were seen dancing were thought to be insane by those who could not hear the music