Hmm... I'd like to be able to get out to ride more often this summer (lately I've been so busy it's been hard... but it looks like I'll be able to! Yay). I'd also like to work on my jumping, but that'll have to wait until I find a new horse.
---
Riding: The art of keeping a horse between you and the ground.
I want to do lots of conditioning rides, to get my mare in shape for the upcoming fall NATRC season! I want to start her on barrels, do some more jumping (maybe), and work on our canter in the arena. I'd like to do some bridleless, just for it's great show off potential. I need to keep maving progress with our groundwork and see if we can transfer some of it to undersaddle.
I want to work myself up physically to endure an hour of hard riding without being exhausted. I was there, and then I stopped taking lessons and riding 2-3 times a week. I also stopped running on a treadmill. Should pick that up again, huh? I recently found a H/J barn to take lessons at again. *squeeeee* *looks for the treadmill*

Which leads me to my second goal. When I stopped lessons before my move in March, I was jumping 2'3". I have not jumped since March. I want to be jumping at 2'9" by the end of summer and before my move back to Tennessee in the fall. Which means (goal #3) I have to improve my two point!!!! Gah! I want to be able to go back to my instructor in North Mississippi at least on the same level where I left off, if not better. I hope for better lol.
---
Think of it not as a failure but as a success in how not to do it.

Don't look in a horses mouth for a gift.
---
My big goal for this summer is to be able to ride Jonah in the Labor Day parade here in our dinky, town. I'm more worried about me than Jonah. I know he can handle it and let whatever slide off his back. I just worry about flashing lights sending me into a fit and then I'll be in the road flopping around like a fish out of water.
Want to start ponying my colt with my mare after she gets used to our new horse property.
Okay, I have lots of them!

-Ride my horse in the town parade. I'm sure he'll be fine, but I need someone to ride with me!

-Have fun at our schooling show!

-Rated Show! YIPPPEEEE!

-Do a trail ride with a water crossing. Again, my horse isn't afraid of water, but I am, for no reason, obsessed with water.

-Overnight trail ride! This one might not come true...

-Get Rusty to master flying lead changes.

-Take Knight to a schooling show in October.

-Fix my two-point.

-Umm....I think this is all (:
My initial goal is to work up to 2 lessons per week. And I want to be more confident in my riding.
My extreme goal is to canter bareback.

Also to get a wp jog with the horse I lease.
Up until this weekend, my bucket list was competing hard in two different associations in team penning and hoping for a solid run at the Calgary Stampede penning competition. Qualifiers for the Stampede are next week and the horses have been doing great this season.
But I got an offer over the weekend that is going to be a great challenge...can I, former barrel racer and current team penner, take one of my cow bred Quarter Horses to Spruce Meadows Battle of the Breeds in Sept. But not in an event that you would expect to see one of them do...
And the two horses to choose from: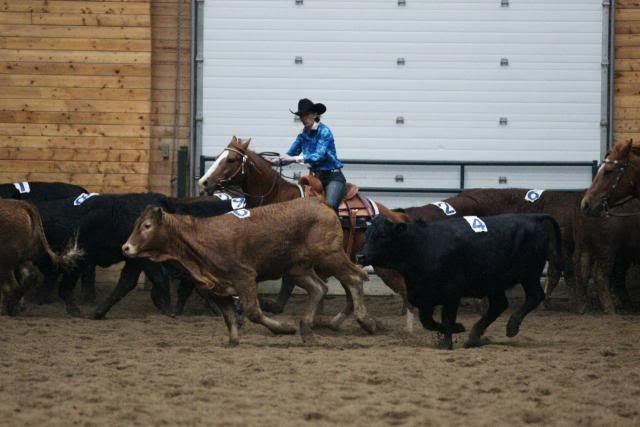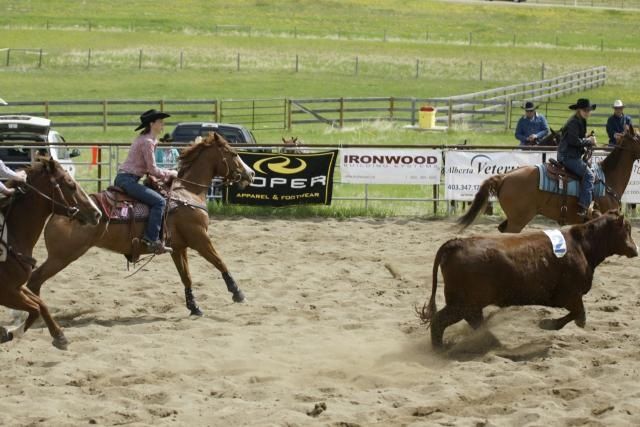 Yes I have jumped before but not in years. One of the horses has played around with some jumping, barely. lol
But I have a team of family and friends to help. This includes my niece the 2006 FEI Childrens World Champion. Keep in mind though only one horse goes to Spruce Meadows and that horse will have to continue to compete in penning throughout the summer including regional finals the week before they have to jump. I have about a week to decide if I am gonna take on the challenge and then until July 25 to decide which horse goes...
Green Broke
Join Date: Aug 2009
Location: Vancouver, British Columbia
Posts: 2,808
• Horses:
2
That sounds awesome StillStandin. I would definitely take the challenge.