How crazy am I? Put an ad for someone to ride with?
---
I recently bought a second horse. They are both boarded at home. I reallllly miss having someone to ride with. How crazy would it be to put an ad out about a riderless horse and see what happens?
What kind of questions would you ask to ensure this wasnt a disaster waiting to happen? I know about signing liability waivers, and requiring helmets, but really, i just want a friend to ride with.

Do I just sound silly?
Hello,
I had some success by putting a flyer up in local grocery stores. I found a school teacher, and a young mother (early 30's) who used to ride that would come ride with me. A couple of others but those two stick out in my mind.
I named the program Ride With Me, not a lesson program but aimed for people who had past horse experience but could not afford the time and money to have one now. Not a lesson program for I am not qualified to be an instructor. Not a lease program for I was there each time, they did not come and handle my horses by themselves. It also was not a livery or trail ride/guide thing.
It helped with my boarding costs and provided me with companionship. I did not offer one-time rides. I asked for $50 per month for once-weekly rides. I was fexible with scheduling, and they could make-up a missed ride within the same month only if they called ahead for the missed ride. And there was no 'roll-over rides' month-to-month (ie if they only came twice one month, it was still $50 the next month - not adjusted for previously missed rides.
Here's the photo I used on the flyer.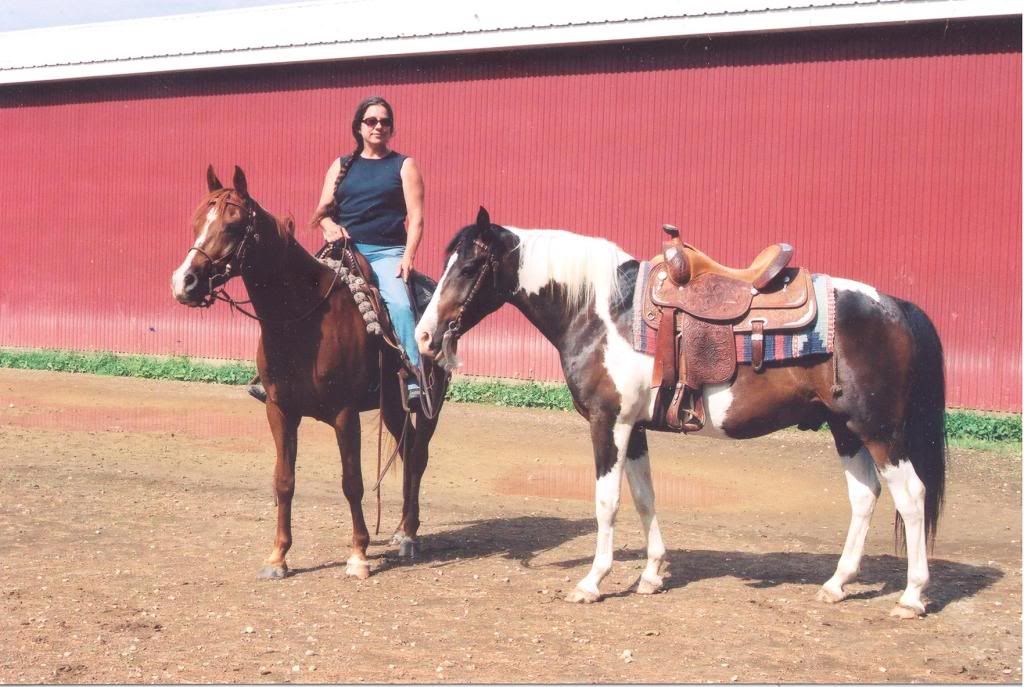 ---
Cute idea. Love the photo. I guess a tack store might work, and there is one close by to my home. Guess I should stop being lazy and make a flyer ;)
Thanks.
I considered tack stores but thought most shoppers there already had their own horses.
---
Local people do it all the time: I've seen ads for both - looking for the rider and looking for the horse to go together on trails (and share expenses). Actually it's pretty big thing in Trail Riding organization I'm a member of. For sure before you go on trail try out how person rides (and ask to sign a release form).
---
"Life isn't about waiting for the storm to pass: it's about learning to dance in the rain..."

"When we are no longer able to change a situation - we are challenged to change ourselves."

"How people treat you is their karma; how you react is yours."

Have you thought about joining ACTHA? They host trail ride all over the US, can even win prizes!
I don't think it's that crazy I see ads from where I live asking for a riding partner, definitely not crazy
---
Barrel Racers- We aren't afraid to get a lil dirty
You Wish you could ride like a Barrel Racer