Green Broke
Join Date: Dec 2010
Location: At The End Of That Rainbow To Yer Left
Posts: 3,171
• Horses:
4
How did you know he was for you?
---
I was wanting to know how many of us had a moment buying your horse that he was for you!
I was sure Tanoka was for me when I walked on over to her stall and wrapped my arms around her. She wrapped her head around me and hugged me! I knew just then she was my horse.
I also got to ride her bareback (first person EVER on her) and she never let me down. I loved her looks from head to toe and every time I walk in her stall and hug her I remember that day
What about you?
---
If you want a stable friendship, get a horse.
At first I didn't know if Phantom was for me or not. It was going to be my first show, I had NEVER even SEEN him, and I was going to be riding him in HIS first show too. The lady who gave him to me said that during the thrid show he would leave his hay and pull against the trailer tie to find out where I was if he heard my voice, then when he saw me he stopped pulling and would eat again. He chose me, he basically knew he was the horse for me and he wouldn't have it any other way. This august will be the 6th aniversary of our first ride together! And this december will be my 6th yr owning him.
---
~ Hope is never light years away ~
I knew Marz was for me when I saw her at the fairgrounds. She was rubbing her tongue up and down the wire mesh and then she would rub her ear on it. I went over and helped itch her ear. I was instantly in love. About then her owner came out and said "Marquisse if you keep doing that no one is going to want to buy you". That was when I ran to my grandpa and told him I found my horse. About 4 months later she was home, I bought her because she was weird.
This was taken the first month we got her home... her forelock has never been that long since.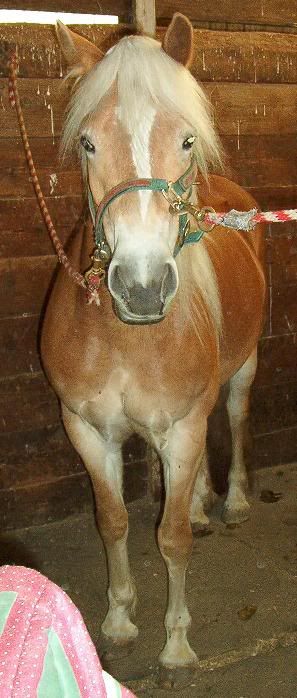 These were taken 4-22-11 with her first foal Myah.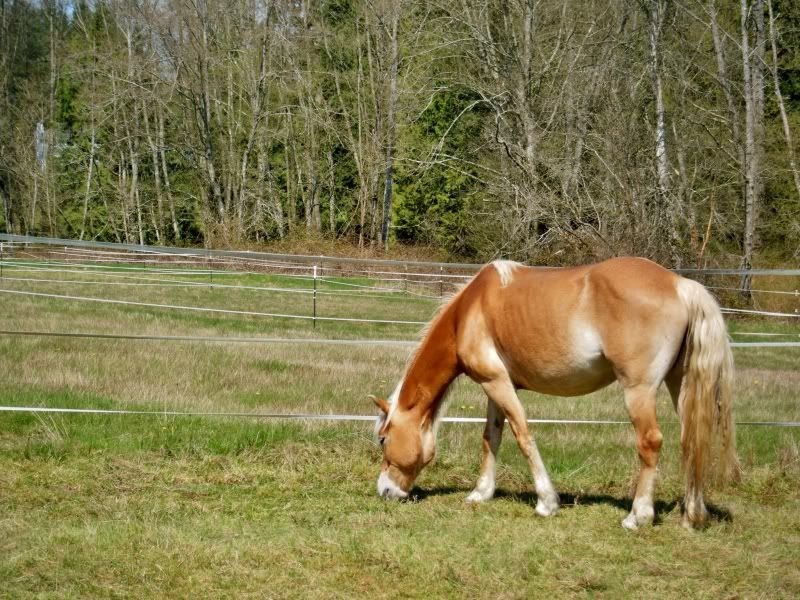 Still being weird...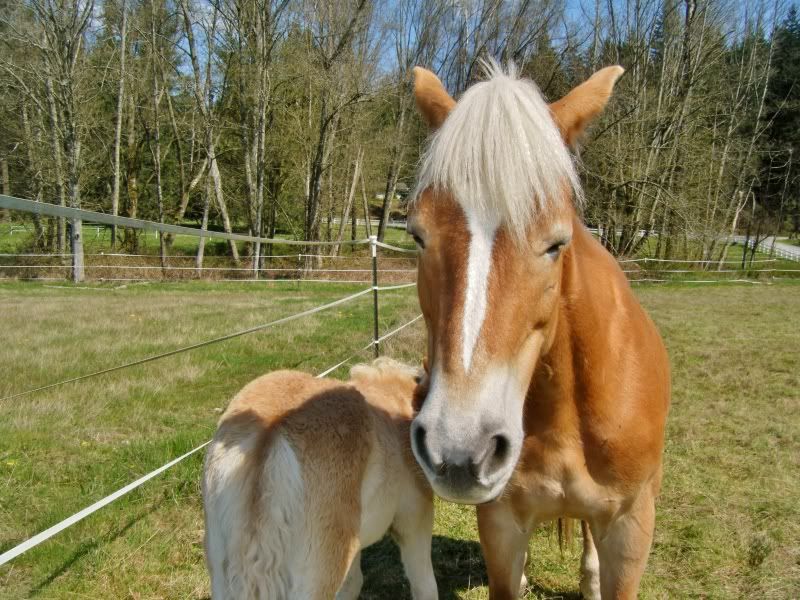 the first time i saw my tb i loved him. he was absoultely stuuning swweet and had a very soft mouth. he had a kind eye and i loved him i rode him and we clicked and ever since he has always been special!!
When I rode my gangly filly, I knew she was for me. She was goign to be a lot of work and boy, has she come a LONG way!
---
Cross Country- The act of hurling yourself and your equine partner at a stationary object with poise and grace while attempting to survive...

I didn't want the horse I went to see. Why? Cuz she was 12. Stupid right? Never saw her but the age discouraged me. When we pulled up and I saw her,,, love at first sight! The owner rode her first. Then my turn. Oh my god if she wasn't responding like a champ! She went where I asked her to and had plenty of spunk in the process! Some geese flew right up in front of her and she never hesitated! MINE!

Brought her back to the barn and he took her saddle off. Beautiful back. She was mine. Now the transition period was hell! She wanted nothing to do with me or anyone else for that matter. Made me think twice! But the more time I spent with her the better our relationship became. A very sensitive arab.

I did have a time though that totally made me cry. My sis in law and I were riding in the field. We decided to race. Well she tok hold of the bit and I couldn't turn her. Scared me so bad! We crashed right into a tree where I flew into it. I was so heart broken and upset. I did get back on her and rode her back to the barn. I went home and balled! Thought of selling her and giving up.

But I didn't and started over with her. I didn't race for a long time but I worked with her almost everyday. We bonded so tight. She became the best horse ever!! Followed me like a puppy. But she also respected me and my space. That was my training. So a word of encouragement... Take time out to give an animal a chance. Even when it seems there is no hope.
Posted via Mobile Device
LOL...When I was going to sell him and couldn't!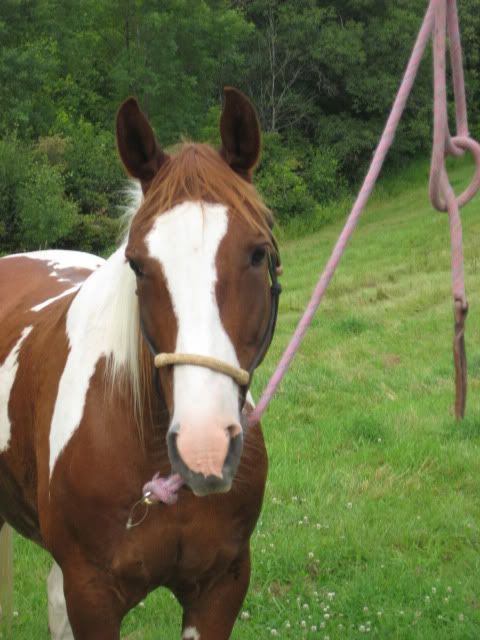 When i first saw him wrap himself around the tree them looked at me with his big brown eyes wanting me to help him get untangled.

He had a lot of spunk in his eyes when he looked at me. And he was very antsy.
---
Trouble rides a fast horse.....(Shrug)..... I ride a faster one.

I'm your HuckleBerry- Doc Holliday, Tombstone.
When I saw her picture :) There were two fillies and one colt from the same breeder. I was drawn to this particular filly though. We saw her and loved her, personality plus! And an interesting color! We got a glimpse of the colt and other filly but we put the deposit down on her then and there and arranged a delivery date. I've loved her ever since <3
My first pony!
When I was a child my parents took me up the road to a neighbors house to see his new filly who was born the night before. When I walked into the barn there was Penny, a little bay Newfoundland pony, standing in her stall looking over her shoulder at me. She had these amazing, great big kind eyes! I was instantly in love. I lost all interest in the newborn. All I could see was Penny.
My neighbour told me I could ride her any time I wanted. After a while he told me if I wanted to buy her I could. My parents were not horse people, but they told me that I could have her if I saved up enough money to buy her myself and as long as I took good care of her.
I worked my butt off. The very next summer she was mine! She was a pure sweetheart! The absolute best pony ever! She would do anything you asked of her. I took her everywhere I went, I never had to worry about tying her, because she would follow me around like a dog. I fell off her more times than I can count, but every time, she would come trotting back to get me. She was a little escape artist, used to get out of her barn and paddock all the time, but every time she did, she would come straight up to the house, look in through the kitchen window, and wait for someone to come out and give her a treat.
She was such a special pony. I am always going to miss her.
---
Last edited by lovesmyhawse; 04-30-2011 at

04:19 PM

.