View Poll Results

: age of our users?

15 & under
24
10.53%
16-19
56
24.56%
20s
77
33.77%
30s
23
10.09%
40 & older
48
21.05%
Voters: 228. You may not vote on this poll
Im 16, gonna get my driver license this summer, WOOO!!
---
I am 20 and just starting to get into riding seriously. I always had a desire to as a kid but never really the means, so now that I am married and going to college I found a really great barn to take lessons at. I started about 5 months ago, learning english style. I just jumped my first full course last Friday, most jumps around 2'6". I'm sure I looked horrible, but I'm working on it!
Quote:
Is she a pit mix? I have a brindle pit that is starting to fill out after being rescued and starting to grow up and looks similar to her!
Yes ma'am..She's either a mix or full pitbull...I love her to pieces and she's been the best dog I could ask for. You now must post pictures of yours. They are awesome dogs.
---
I am Sparkly Meanie Doodie Head and I approve this message!
turning 17 tomorrow :]. I have been around horses my entire life got my first horse when I was 7, a jerk of a mustang who I loved and loved me to pieces :]. I got into competing my 7th grade year and am now a junior and ready to get going in nbha :]
When I was little on my mustang musty (before he was mine he was owned by my aunt)
this is my current boy outlaw a little spitfire of an arab that I've pretty much retrained myself :]
And this is my doberman and my second pride and joy Teagan
---
just a small town girl with a big town dream :]
well im 17 and been riding for 10+ years, got my first horse when i was 9 he was my aunts horse that she had when he was born. i got him when he was 16, he was 15.2hh TWH starwberry roan, just pretty as ever he tought me to ride and then she gave him to me we showed together i tought him WP, Jumping, barrels, poles, trail. he was an amazing horse he passed away when he was 21 i gave him back when he was 19.. but i still have my second horse a big brown bay that is very sweet but hates men, not many can handle him, but ive owned him for 4 years and will have him for ever. hes horritable in arenas but the best horse on the trail and at him. i love my babes.
stuff 481.jpg
stuff 310.jpg
i am 50.i grew up ou a cattle ranch.started showing wp in grade school,and started working cowhorses since jr.high.when aqha started the professional horsemen program in 1996,i was chosen by them to be one of the first 100 trainers in the world to represent the aqha.
---
Live each day as if it is your last for tomorrow is not promised!
19 going on 20 this September.
Got my horse a year and 3 months ago. Been riding on and off for 9 years.. but only consider 2 of those years to have lessons that actually taught me something. My horse was a rescue, very very very green and scared of everything. Now he has much more confidence, knows his gaits, and is a respectable member of the horse community. Did it all myself via horse riding lessons and research. I am not a professional horse trainer in any way, but I do know my way around the starting gate.
I've worked at a therapeutic riding center and learned lots and loved every minute of it. I hope to do some volunteer work and earn a second degree in the horse field.
---
"Strength is the ability to use a muscle without tension"

I'm 29. Will be 30 in October.
I have loved horses since I was three, but never had the opportunity to be around them because my dad is severely allergic and my parents thought that horses were "just a phase" that I'd outgrow. Yeah, 26 years later and my love is still going strong.
That's one hell of a long phase.
I have one beastly, my Percheron/paint cross gelding, Aires. He's my baby and my pride and joy...even if he sometimes decides to actually act his age (coming 3 in May).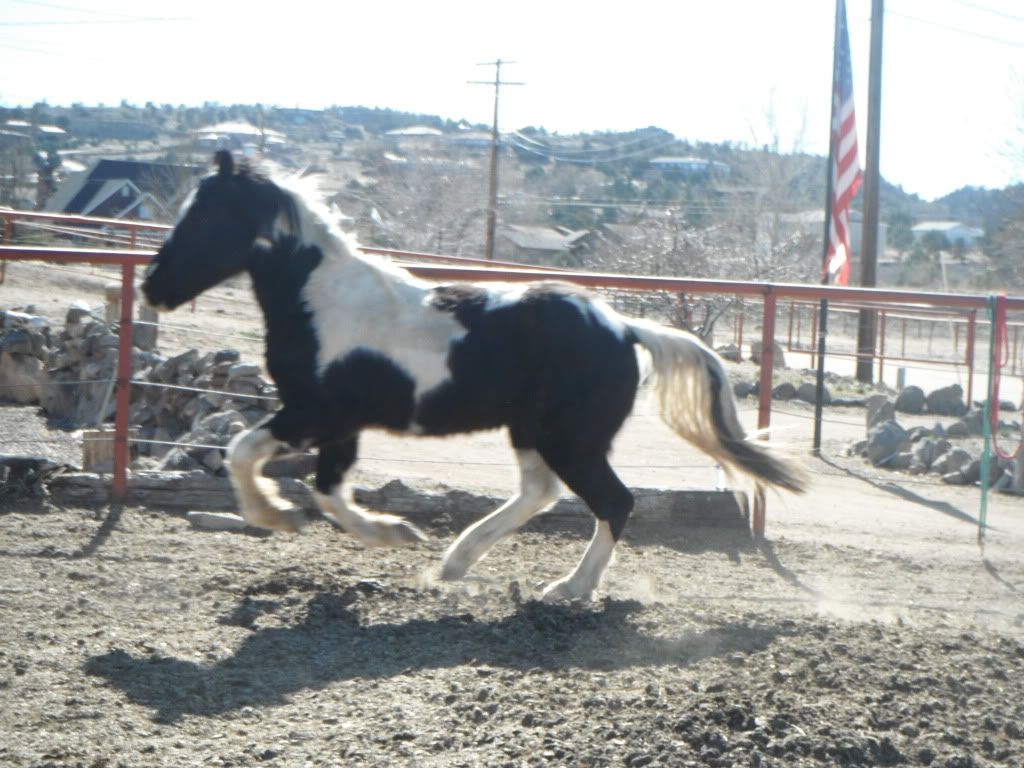 My two other prides and joys are my soon-to-be 8-year-old son, Keanu Douglas, and my almost 5-year-old aussie/st bernard mix, Cash.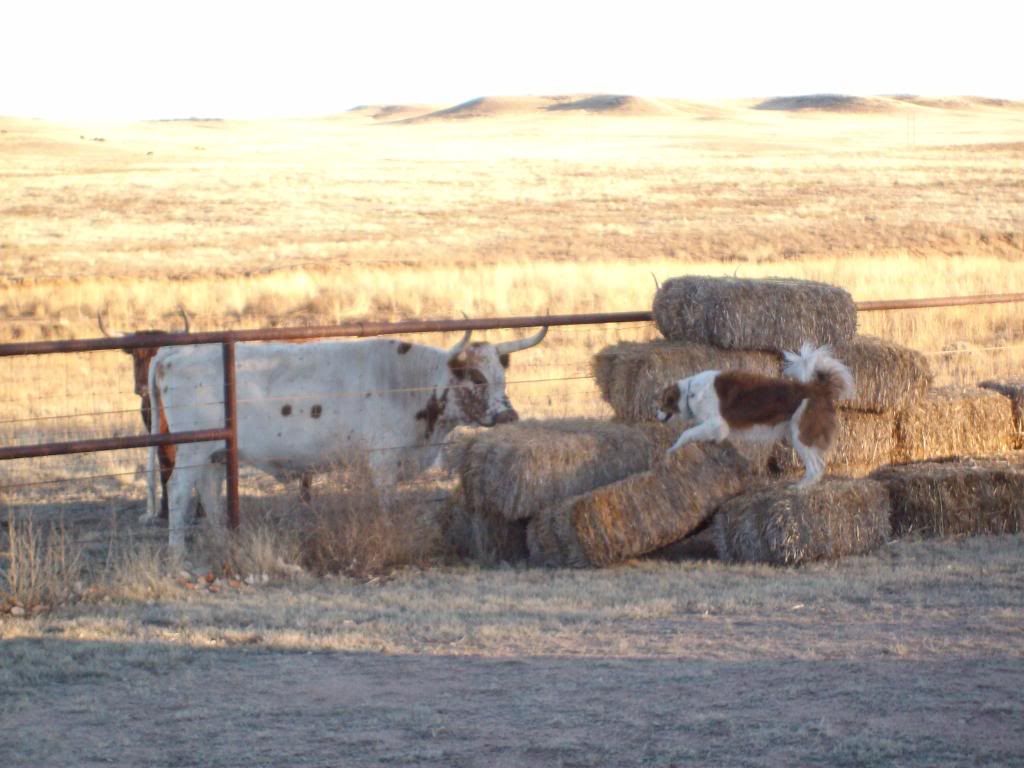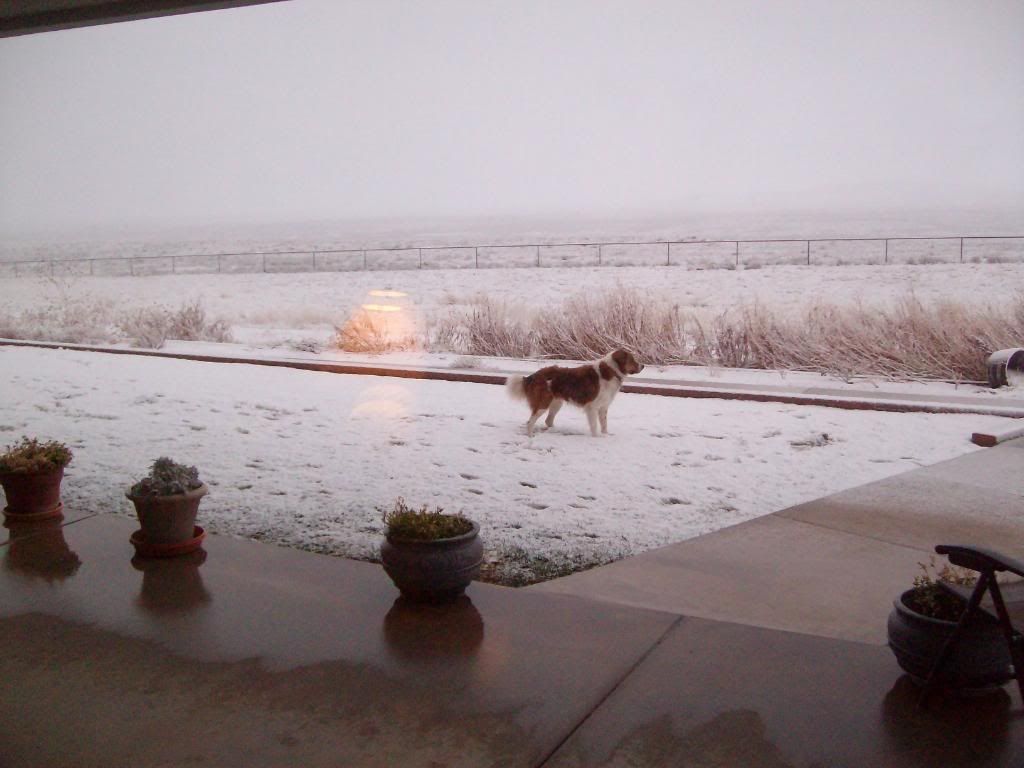 Yes, my dog is a bit confused. He thinks the cows are to play with and kids are to herd. He also HATES water with a passion (I have seen him walk around puddles on the ground before), but LOVES snow and will nap in it.
---
Do not tell me I can't...because I will
show
you that I can.
TripR3, I just switched from western to English about 3 months ago. The first course you do feels awesome, doesn't it?! :)
DrumRunner, I'm on my iPad right now so I'll post pictures when I get back on my computer tomorrow :) orrrr... Here's a link to another thread of mine:
Introducing Oliver :) (pic heavy)
Rob, sounds like you've had a good and eventful horse-filled life ;)
Skyseternalangel, I've helped special needs kids ride horses since my mom is a physical therapist and works with them. Its so rewarding!
It really is, some amazing kids I've worked with and some incredible horses! :)
---
"Strength is the ability to use a muscle without tension"