Well, I'm 20 years old, and 5'2.
Hotrod is 1 1/2 years old, and already 15hh.
It isn't a good picture, but maybe you can get some idea from it, hehe.
im 5ft2 my horses are 14.3hh & 16hh. i ride small ponies to 18hh. both my horses are great sizes i think !
---
Gypsy & Scout <3
Everybody is a genius. But if you judge a fish by its ability to climb a tree it will live its whole life believing that it is stupid. ~Albert Einstein
Don't be afraid of the taller horse. It gives you a different view but they really aren't any different.

I am 5'5" and the horses I have ridden range from 14 hh to about 18hh. Most of my using horses are between 14.2 and 15.1 hh though.
I am 5'3" and my mare is 14.2hh but I've ridden horses from a 10hh pony to a 17hh TB... though I still feel more comfortable on a 14-15hh horse lol Here's a picture of me and Bella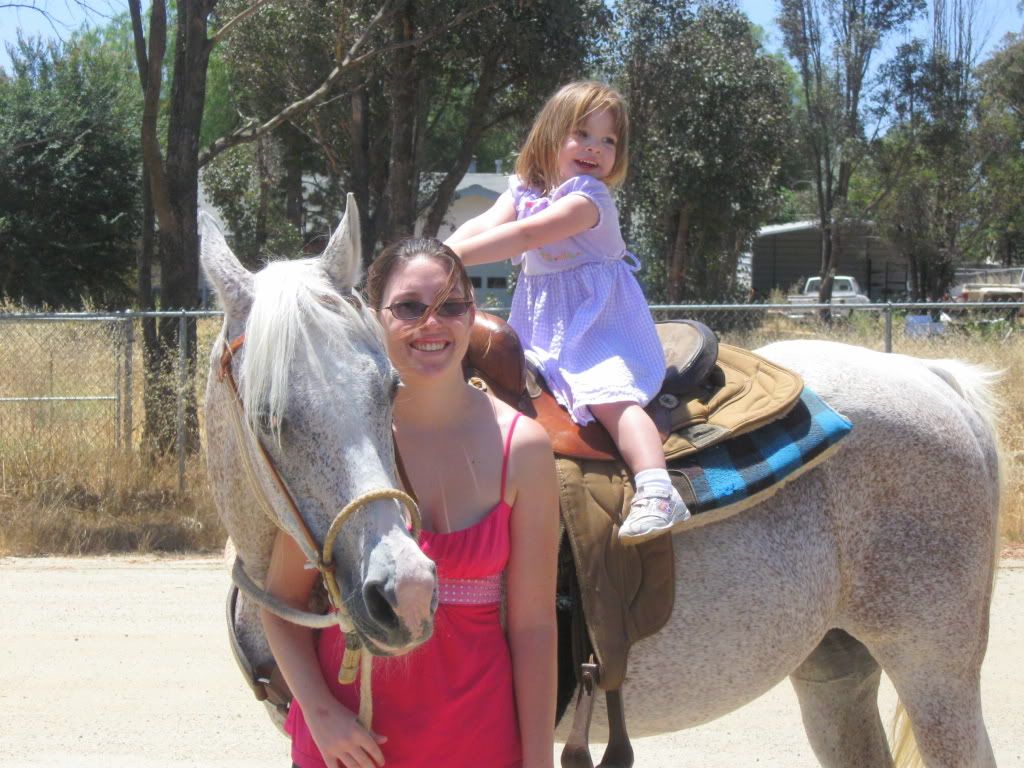 ---
♥ Gypsy gold does not chink and glitter. It gleams in the sun and neighs in the dark ♥
I am 5' (5'1" on my tall days)
and my boy is 14.3 my new mare is about 15 h I am guessing (Haven't tested yet) But here is a pic of Me and Romeo.
I have ridden horses up to about 16 hands and when Minnie is rideable I will ride her. (17.2)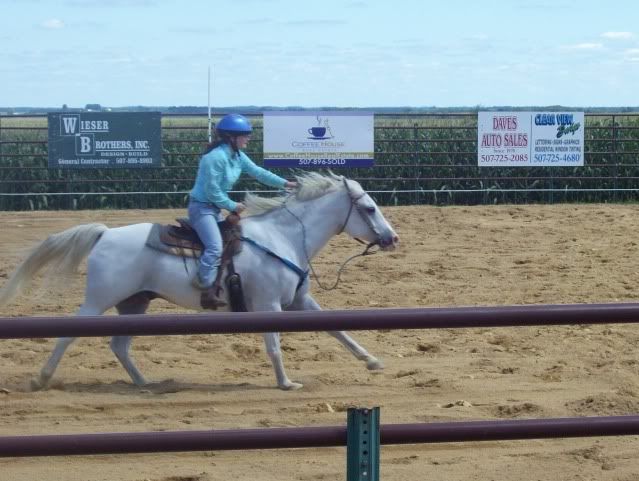 This was like 2 weeks after I got him (I was afraid to ride by myself so I had my mom lead me!)
---
RIP Minnie, 1981-January 15, 2010
RIP Maggie Mae I miss you
I am 5'4" and have always had 16+hh horses, but now I have my midget Tom, he is only 15.2hh, Feels so wierd, I feel like my feet are going to drag the ground!!
---
Ω Horses are a projection of peoples dreams Ω
I'm 5'2" and Stella is about 14.1 hh and Luna is close to 15 hh and she's still growing, but probably only an inch or two more. The older I get the shorter I prefer them.
---
Stella - sweet, timid, elegant, lovely, lively, amazing
Luna - large, unattractive, naughty, adored

Started
Join Date: Aug 2009
Location: In the barn whenever possible.
Posts: 1,910
• Horses:
2
I am 5'5" and Lillie is only a yearling and is 13.2h.
---
"Riding a horse is not a gentle hobby, to be picked up and laid down like a game of solitaire. It is a grand passion. It seizes a person whole and, once it has done so, he will have to accept that his life will be radically changed." -Ralph Waldo Emerson
I am 5'8" and my mare is 15.1hh :)
---
He knows when you're
happy
He knows when you're
comfortable
He knows when you're
confident
And he
always
knows when you have carrots.
I'm 5'7-8" ish and Lacey is 14.1 or 14.0. Standing next to each other, I look like a giant compared to her, but on her back I look perfectly fine. It's mostly because my height is in my torso, not my legs.
---
Fabio - 13 year old Arabian/Lipizzan gelding

~
Rest peacefully, Lacey.