I'm 5'1", and I was riding a 16+ hand warmblood mare, and a 16 hand halter quarter horse, but I just got a 14.1-2 hand Arabian mare, who's 4, so she's still got some growing to do. I rode 17+ hand horses for a trainer for a while, and my TB mare was 16.1.
I'm 5'3" and Starlite is around 15.1hh, Dream a weeee bit shorter. I gotta measure her again!
Dream (she looks shorter because she carries her head lower, but really she's pretty close to the same height as Starlite):
Starlite(she almost always holds her head high and proud, so may look taller than she is):
I really only ride horses around 15hh, only because it's not common to find tall horses that aren't drafts around and I don't get the opportunity to ride them, or else I'd love to!
EDIT - Here's a picture of them together, with the same headset they look to be the same height.
---
passion is when you put more energy into something than is required to do it. it is more than just enthusiasm or excitement, passion is ambition that is materialized into action to put as much heart, mind, body and soul into something as is possible. // <3 starlite - dream - lady - georgia
---
Last edited by kmdstar; 12-24-2009 at

01:00 AM

.
I'm 5'.

My horses range from 29" (not counting babies who are smaller) to 16.1h.

But my four riding horses are: 13h Fell, 13.3h Arab cross, 14h Welsh Cob/Haflinger, and my Fjord is somewhere around 14h (I lost my measuring stick (other than my mini one haha) and just bought him last week so I'm not sure exactly). They are my prefered riding heigh range.

My first horse, whom I still own but is semi retired (I still ride him now and then) is 16h. While I feel 100% comfortable on him (we know each other so well!) for the majority of horses, I don't like them over 15h, and prefer them 13.2-14.2
I'm about 180 cm (~ 5'11) and have no idea how tall my horse is
But here's a pic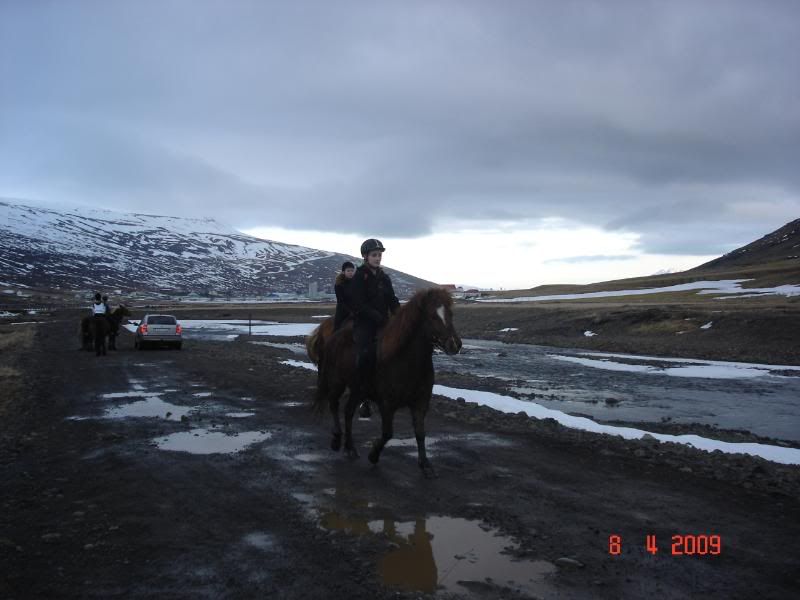 I just realized I have no pictures of me riding my ponies 'cos my harddrive crashed. :(

I am 6', Dai 16.1h-ish and Jake is 17h. I actually feel like I am too tall for my mare...she's a bit narrow and I have pretty long legs.
I'm just shy of 5'5 and my gelding is 15'1hh, tho I think once he gets a trim we will have to officially measure him again.
I am 5'4", I have a 14.1 mare and a 16 hand gelding. I actually feel more comfortable on the larger gelding. Its not the height difference, but that I have more horse in front of me with the larger gelding, if that makes any since at all? I'm not sure why thats reassuring to me... maybe because I have more to hang onto if I take a tumble off the front haha
I'm 6'2" adn my horse is about 16.2½hh
---
"Did I not just use the word 'puzzling'?"