How you got your first horse! (picture heavy)
---
I was looking through pictures to upload of Snickers and I came across some from all the way back to when I first met her! We have a fairly unique story so I wanted to share it and see if anyone else had any cool stories of how they got their first horse!
Here's mine:
From the minute I knew what horses were, I have loved them. My mother showered me with Breyer horses, much to my father's dismay. He thought I would grow out of the horse thing, but my mother knew better :) When i was 5 we moved out of the city and into the country onto 5 acres. I was young, but I knew that I had a better chance than ever of owning my own horse now! For about 3 and a half years I begged my parents for lessons. When I was about 9, I was granted my wish!
I started taking lessons on a mare named Princess with a local trainer, Amy. She was about 23 and had never given lessons before--just trained. I was her first student of many more to come! That same year Amy decided to breed Princess and I was there every step of the way! Amy took me with her to get Princess sonograms and taught me all about pregnant mares and how to care for them.
On my 10th birthday I received a note under my place mat at dinner that read: "Roses are red, violets are blue, is Princess making a baby for you?" I opened it up and the note described how my parents had offered to buy Princesses then unborn foal if I wanted her. They made sure I knew that I wouldn't be able to ride her for several years but I didn't care! I started bawling, I was so happy!
That month I waited for Princess to foal was the longest month of my life! I took extra good care of her when I went to the barn and I would listen to her stomach and feel her baby kick... MY baby kick! One day I got off the bus at school and Amy was waiting for me. She told me to get in her truck because there was a new baby at the barn!
I have been with Snickers every step of the way. Now here I am about to turn 20 and she is about to be 10! I just can't believe it. I am so thankful to have had the experience of growing up with my horse :)
Listening to Princess' tummy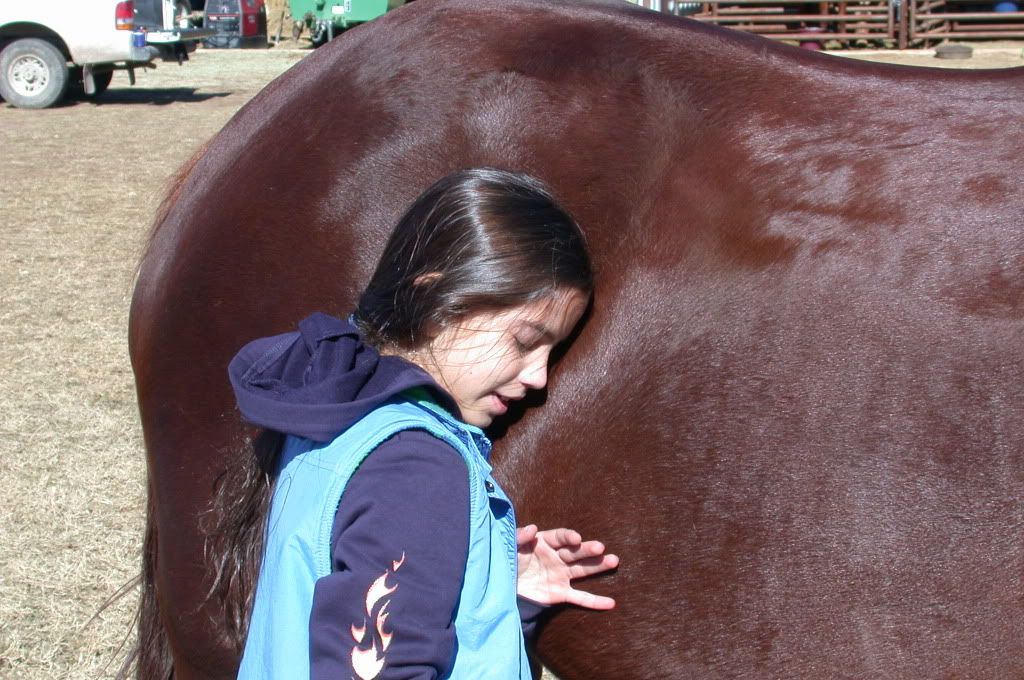 The day she was born!!
In the field for the first time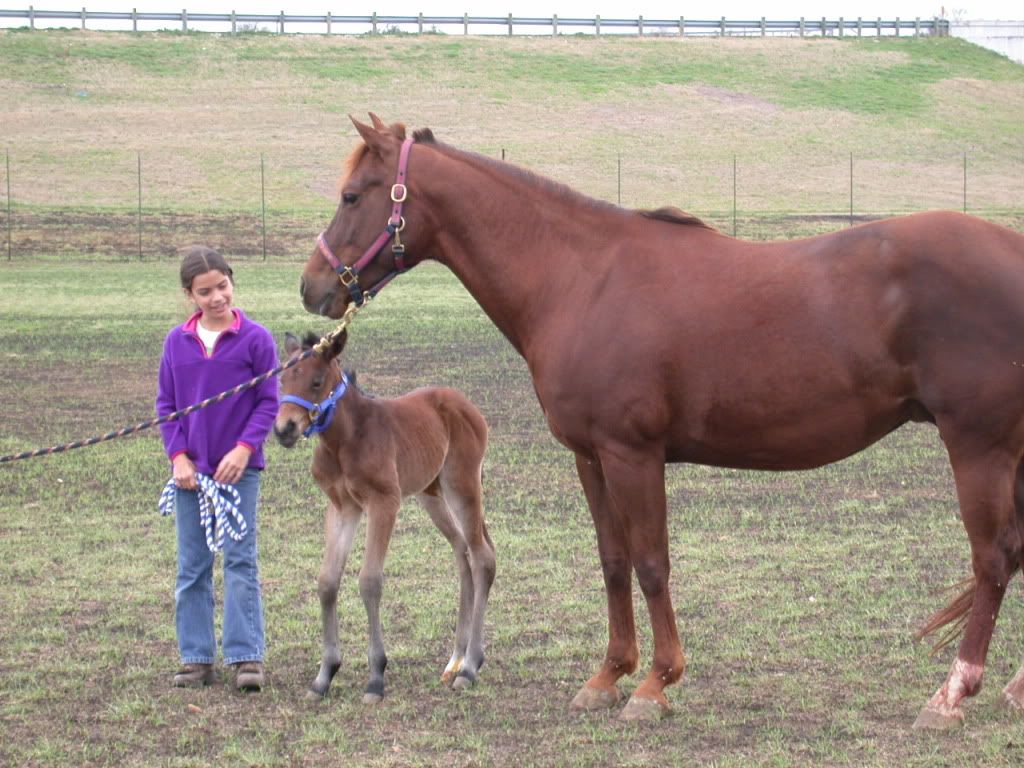 Swimming! She was weaned at Amy's ranch which happened to have a watering hole!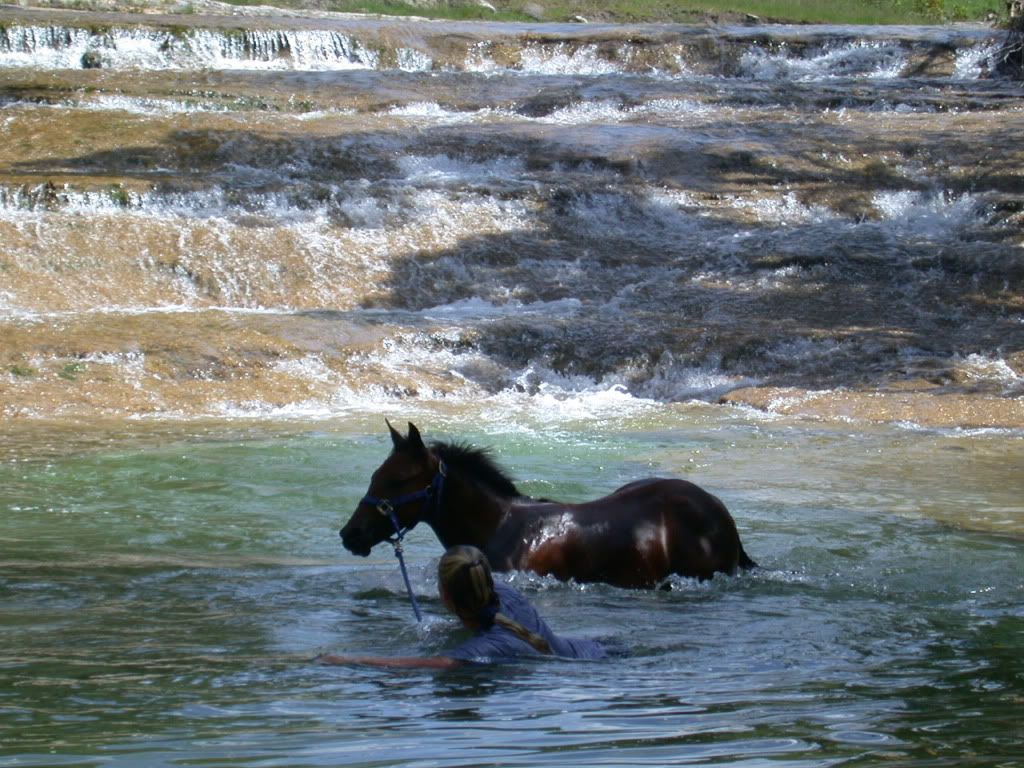 Just some cute pictures of us when we were little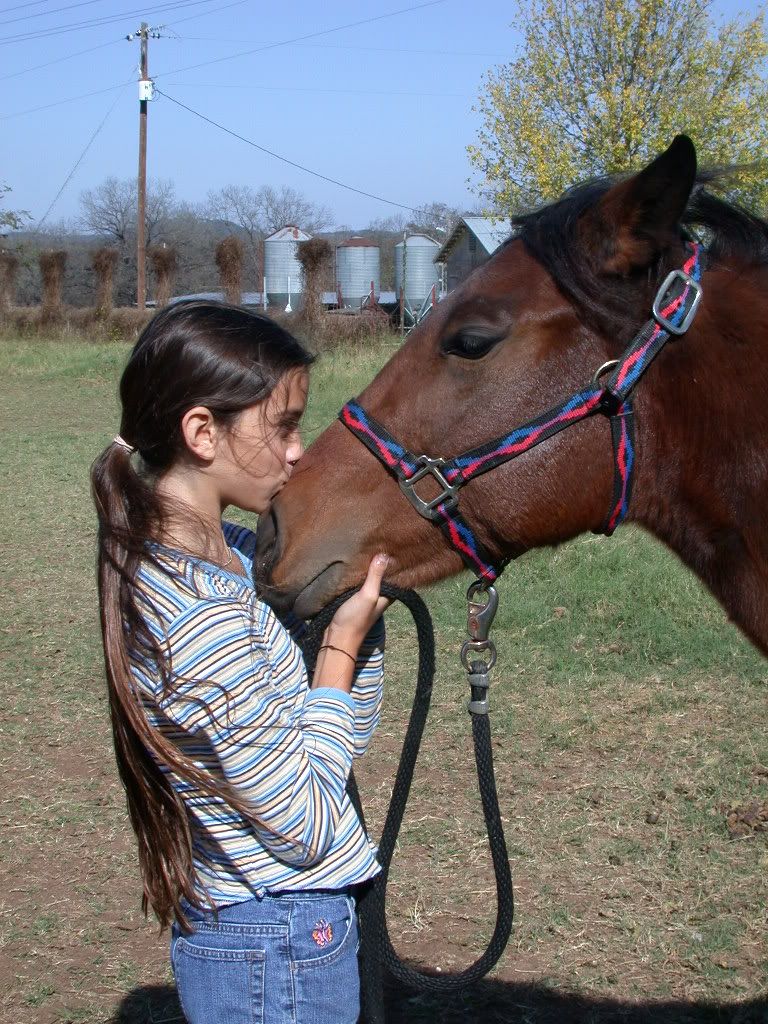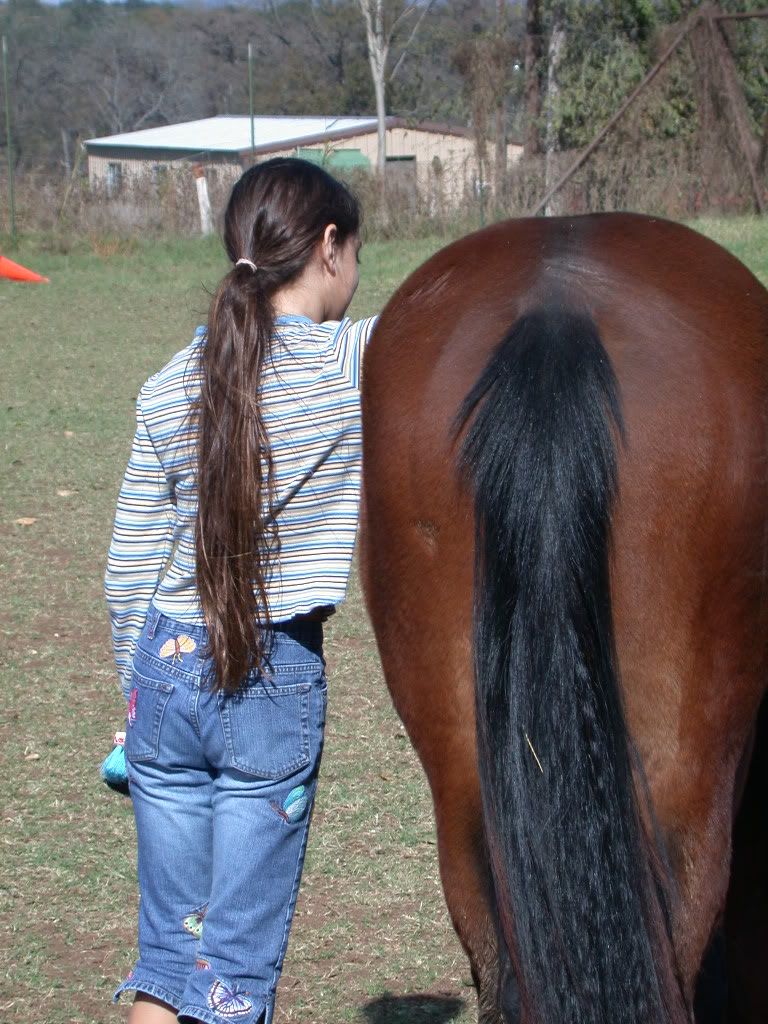 Being saddled! She was still very young so we just had a light saddle on her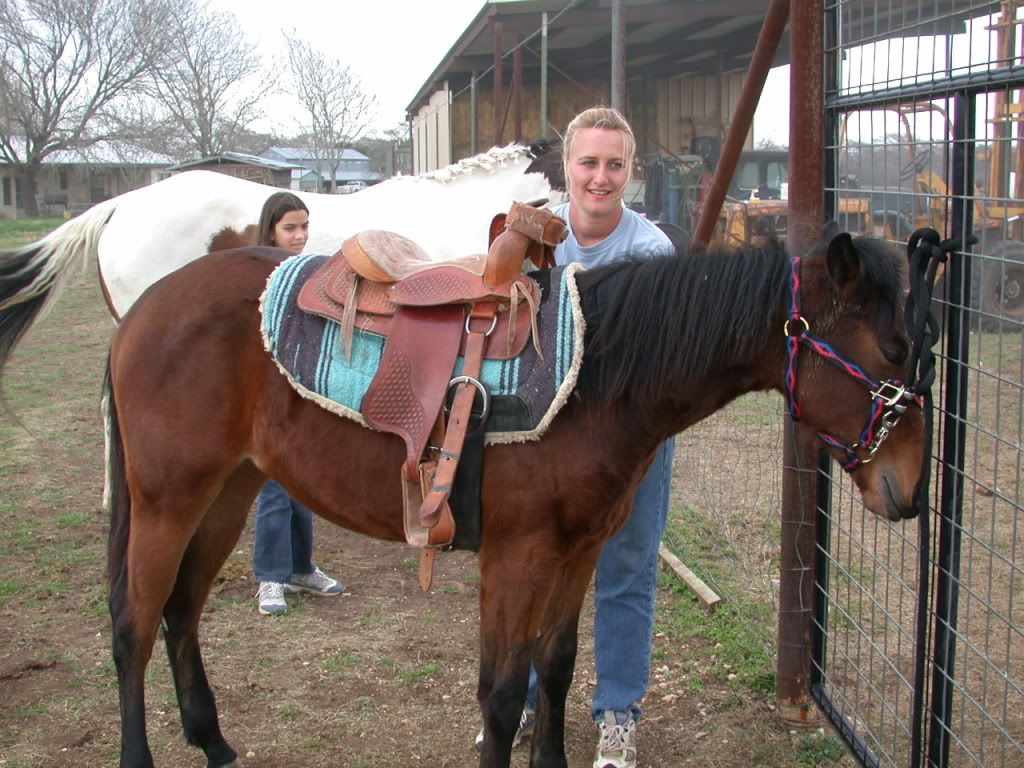 Making herself at home lol this was the first time I let her out on our whole 5 acres... and she gets on the porch!
First time sitting on her!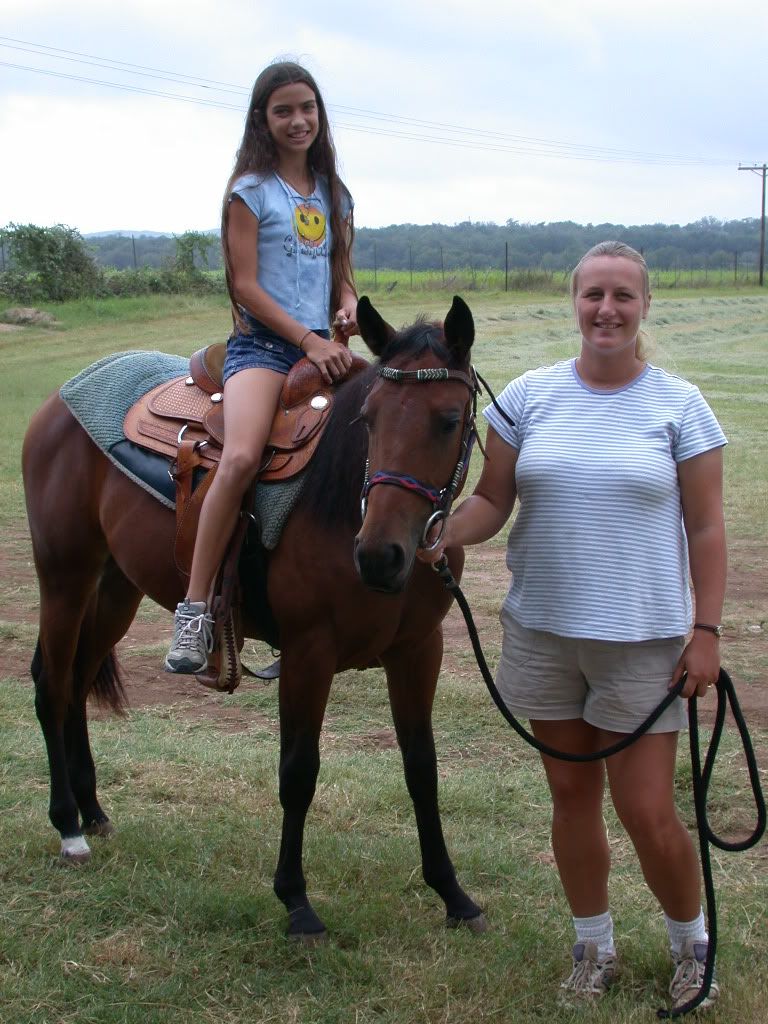 I have pictures of her first show (halter, showmanship) and some old ones like that but not on this computer :( Here are some other pictures of us though, all grown up! (senior pictures by capturedkeepsakes.com)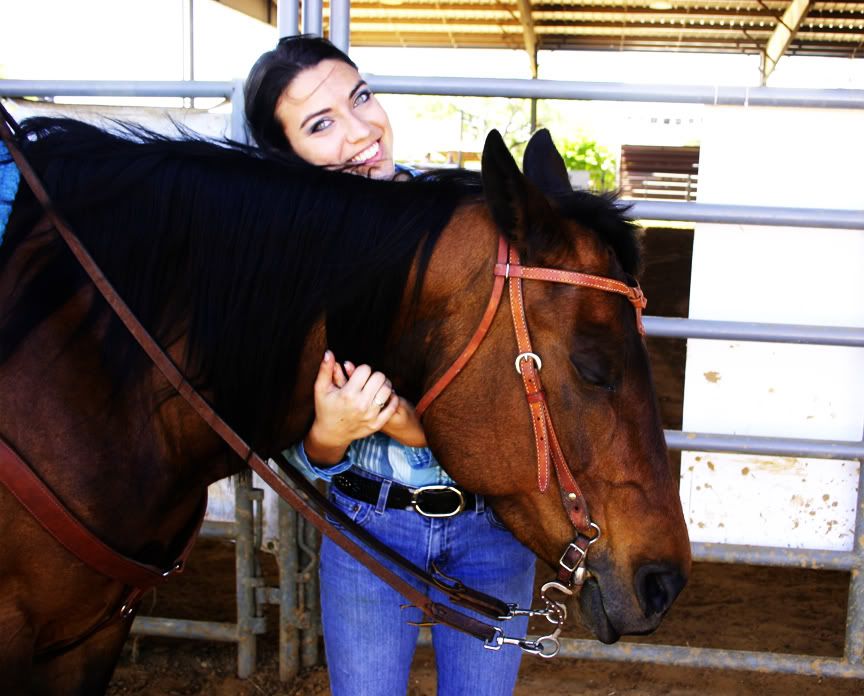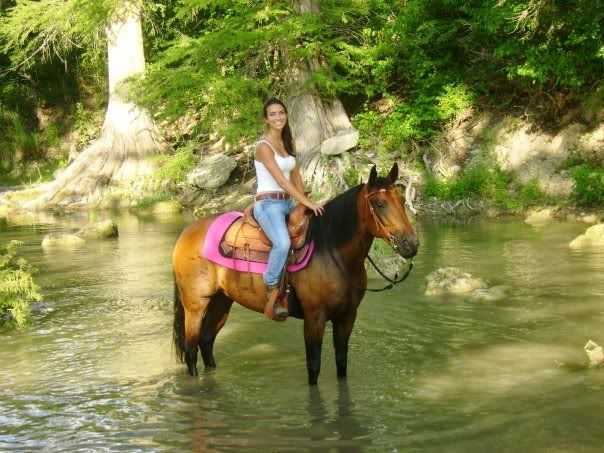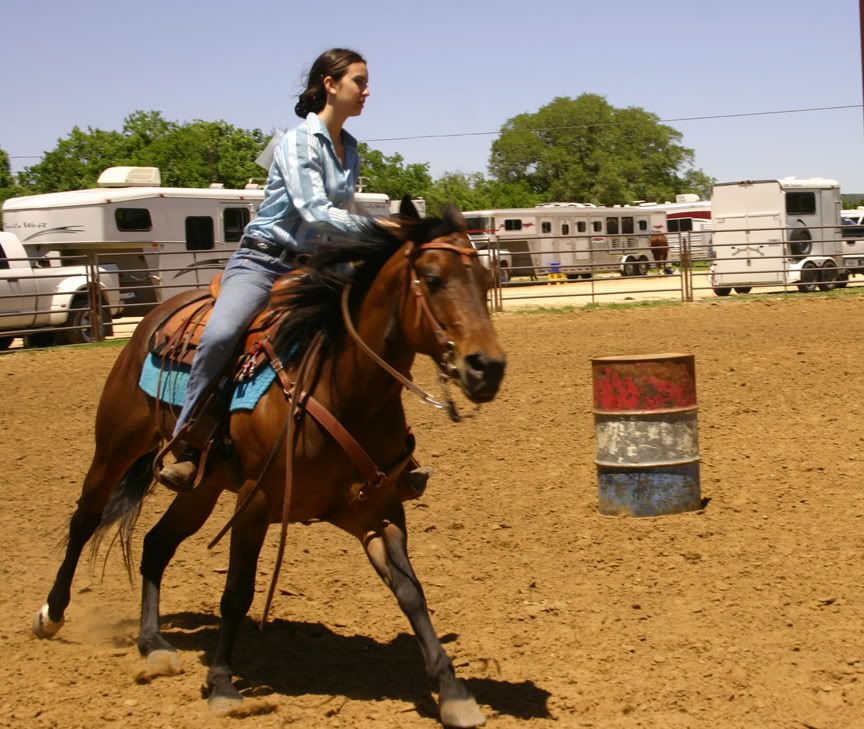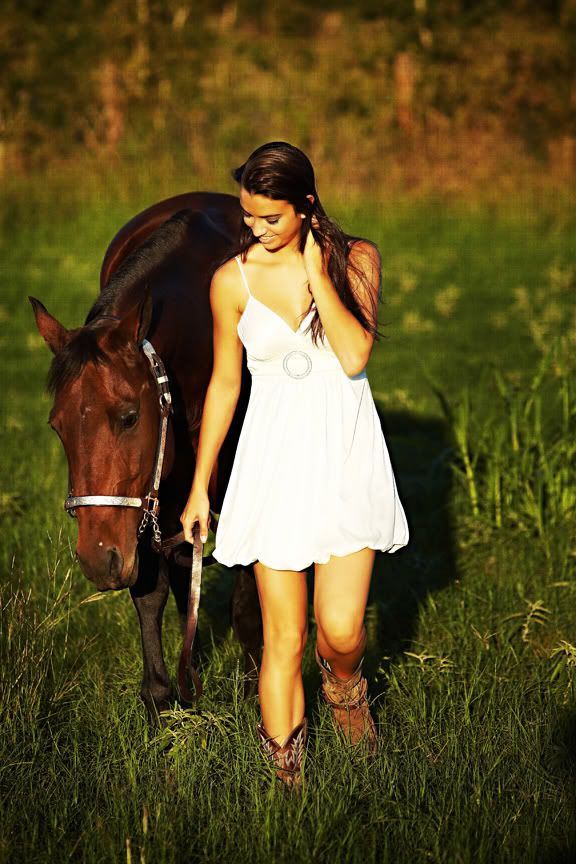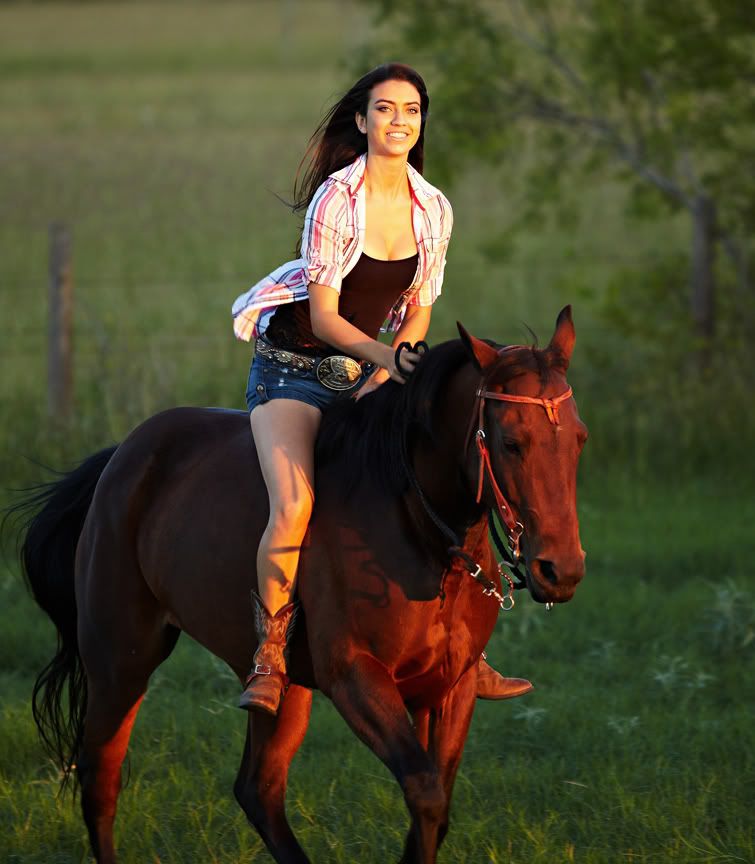 My favorite :)
Thanks for viewing! I can't wait to hear other stories!
---
Thanks and Gig'em!
Both you AND your horse are beautiful, wow O_O

Alright, I love sharing my story about my boy!!
I grew up around horses, a lot like you, lol- my mom encouraged it, my dad was indulgent but not too happy... I graduated from birthday pony rides to lessons at 6 or 7, and at 8, got my first horse that was actually mine, my mare Penny- I was the happiest girl in the world, I loved her so much for the short year I had her...
Technically, Sombre wasn't my first horse. But I count him as my first horse, because I only had my mare for around a year before my neighbor poisoned her, and she was put down. She was a beautiful 2 1/2 year old sorrel paint stock horse mare, the gentlest girl in the world. She looked like her grand daddy, Colonel Freckles, since I don't have a picture to share... I loved her, but never got to bond the way you should with your first horse.
After she was put down, I was devastated, and my mom immediately jumped to finding a new horse, which made me angry. I thought it was too soon, but she didn't listen, so I tried to make it hard for her- HAS to be a mare, HAS to be a paint, HAS to be this, and that, I basically wanted Penny back.
Then, after a while of looking, and trying a few horses, our trainer who we had bought Penny from brought us a flyer for a horse... And let me tell you, I wanted no part of HIM. He was NOT a mare, he was NOT a paint, he was NOT flashy- he was a bay quarab gelding.
My mom, excited, took us to see him. The woman had four bays, one of which was a big tall one- my hopes rose. Until she takes out Sombre, which happened to be the one that I was least attracted to... So, I watch my mom tack him up and see them leave for a test trail ride off the property. They came back and my mom was IN LOVE. She RAVED about how fast he was, how exciting, and bought him right there.
He was a wild horse. He (still does) loved to RUN, and was just uncontrollable. He scared me, which had never happened before. (on the bright side, no horse has scared me since, lol)
He ran 15 and 16 second poles and barrels, he was amazingly fast. The first time I ever rode him, was at a gymkahna- my mom threw me on, opened the gate, and BAM! He was off, he ran the pattern, while I held on for dear life. Everyone was cheering for the little girl on the big fast horse. I was pissed though.
Seven years of tears, sweat, and joy passed now and I look back and am happy I ever got this magnificent horse. He was spirited, but he took such good care of my bratty little self, I'm amazed thinking about it now. I remember my brother scaring him while I was bareback, and slipping off under his feet when he reared, and looking up and seeing him look down on me, stop, and back two steps with his front feet in the air. I love this horse to death, and although he's semi-retired now at 13, with a huge calcium build up in his knee, he's still my boy, and the best thing that's ever happened to me!! I could rave forever and ever and tell a million stories about our little adventures, but then it'll just never end, lol.

I don't have many pictures because my computer was wiped, but I'll get more soon!!
I've lost pictures of my first horse, an old OTTB that was given to me to muck around on on the farm. She was great though, taught me a lot about trust, a lot about myself too.

Beautiful pictures and stories!!!
Thank you :) What a great story, sounds like it all turned out well even though you had a bad start. Too bad your first one left you so soon :( Your boy has a very kind face!

I feel the same about Snickers. I mean everything I learned about horses pretty much involved her! I wish you had a picture!
---
Thanks and Gig'em!
Quote:
Thank you :) What a great story, sounds like it all turned out well even though you had a bad start. Too bad your first one left you so soon :( Your boy has a very kind face!

I feel the same about Snickers. I mean everything I learned about horses pretty much involved her! I wish you had a picture!
Thanks!!
He likes to act like a tough guy, and looks scary when he's concentrating (you should see him play tag... people run away FAST...) but he's a teddy at heart. I mean, he put up with me... lol.
not only was it great to see your cute little horse grow up but it was great to see your transformation too! you are a very beautiful girl! what i am guessing are you senior pictures are absolutely amazing!! that last one is absolutely magazine worthy!!


well my story is not as well documented as yours or quite as cute ahah. the owning of my first horse was when i was 12, but really i consider my first horse the first one i paid for on my own. she is a 4 year old paint mare i purchased in May of this year. i spent 1 1/2 years searching and leasing 4 horses, seeing about 20 others. had a woman flake out on me the day i set out to pick up one.... that broke my heart. but a month later,i found my baby. i spent a total of 3 hours on the phone with this woman, she told me all about this wonderful little mare with so much potential. she was so real and honest. the pictures didn't do her any justice the woman sent. she was a sight. at this point i told my uncle this is the one, i just felt it.. i knew.. so we went on a 2 1/2 drive to Jerusalem, Ohio (with our huge trailer) to see a horse i have never met or rode. and it was a success. something inside me told me she was the one, and what i saw when i arrived didn't let me down.

she was only broke to accept a rider and tack. so everything she knows was taught by yours truly. she is the best thing in my life, an absolute blessing.
Thank you, that one is my favorite!

I love that you had a gut feeling about your mare :) I think it's great that you were able to train her basically every step of the way like I did with Snickers. It's so awesome to see how far they have come and to know that they are trained your way, ya know? I can count on one hand the number of different people who have rode Snickers lol She may not be for everyone, but she suits me perfectly!
---
Thanks and Gig'em!
Beautiful pictures and what a lovely story!
I had the crazy girl horse bug growing up but rarely any chance to actually interact with horses. Maybe at a fair or if I visited some family that lived next to horses. But we just couldn't afford it when I was growing up and in HS when we could have, my family had no interest. Dad would once in a while take me to a riding stable that was pretty good, and I was thrilled to death over that.
Well as I was nearing the end of my college years I decided to start researching horses. That is when I stumbled upon the haflinger breeder and started contacting haflinger farms. I ended up finding one farm - Cedar Lane - that suggested their "watch me grow" program. Since I didn't have my own land at the time I could buy a younger horse and keep it there until it was done with saddle training. It opened up the opportunity to get my own horse while learning horse care and such.
My first visit there I was introduced to a yearling gelding named Motley RR but had a barn name Toby. You can see in my avatar what was pretty much my very first view of him. He was up on his tip toes trying to look over the stall wall to see who was in the barn.
He was a bit of a trouble maker from the start and still is - but I love him despite it.
He was not asked to jump this - they had them in the arena to take some photos and the jump was still left from when the stallion was free jumping it earlier and he decided to jump. As you can see he was a bit of an over achiever!
Here is a picture of one of my visits when he was 2 or so.
Here is the first time someone was on his back. Not me - this was the trainer that was at the farm.
The same year he finished his training and was ready to come home we moved to KY and had our own little farm. He will be 11 this April Fool's and still my mischievous baby. He's also the leader of the herd and not scared to put the others in their place.
---
All I pay my psychiatrist is cost of feed and hay, and he'll listen to me any day!


Quote:
Thank you, that one is my favorite!

I love that you had a gut feeling about your mare :) I think it's great that you were able to train her basically every step of the way like I did with Snickers. It's so awesome to see how far they have come and to know that they are trained your way, ya know? I can count on one hand the number of different people who have rode Snickers lol She may not be for everyone, but she suits me perfectly!
ahah right, call me selfish but i don't want anybody riding her but myself. can't have someone ruining all our hard work right?!
Mine isn't documented quite as cutely either but I met my horse (he's my first one too :)) at a therapeutic riding center in CO. I had been volunteering their diligently for over a year and I went from side walker to horse leader to camp counselor to riding instructor. I was taught everything from health issues (and I'm STILL learning!) to feeding to farrier to shots to training to riding. I helped to train all of the therapy horses and rehab a few as well.
Apparently the DAY I arrived at the therapeutic riding center, I saw this big ol paint and asked her if I could ride him. I don't recall this, I have a horrid memory anyway, but the owner told me that she saw there was some sort of connection. A deep one.
He was loved by everyone because he was "pretty" but everyone was scared of him because he had no trust in humans nor faith in himself. He was a big train wreck and everyone that got near him ended up with broken ribs, bruised feet, concussions, road rash, sprained limbs.. you name it!
His past was dark and all I know was the result of it.. a very scared horse who would rather go to all lengths including destroying himself, than accept a person within a few feet.
Well this horse was the owner's personal horse. He wasn't in the program, and every time they tried he would end up hurting someone.. never on purpose.. just trying to get away. The owner was too busy to work with him and so she set me the privilege of free lunging him, with a whip. He would cut corners and he made me so angry because everyone loved him and he acted like such a jerk (I was ignorant if you couldn't tell..) so I decided that I really didn't like this horse.
The owner's boyfriend took an interest to him and he'd sit out in the pasture and this horse would come up to him and then run away. After awhile, he let the guy pet him, which was a HUGE step for this horse. He'd feed him cut up apples and whatnot.. so the owner gave the horse to him.
They soon got married and within this 4 month window.. the guy tried his best to ride him but they weren't clicking. I watched as this horse dragged him up the sides of the arena, and buck a few times and charge without listening to anything. I didn't think they were a good pair.. but I kept my mouth shut.
Then one day a girl that took riding lessons (she was bi-polar and a volunteer just to clarify) was given the chance to ride this horse. I didn't agree with it because the horse was such a damaged individual and being bipolar, she didn't always have control of her emotions.. which was a HUGE thing for this guy. So I watched as she led the horse out to the arena. I was cleaning the barn and noticed she left her camera in the barn, so I finished cleaning up and headed out to give it to her. I saw this horse lunging in the outdoor.. when I got closer (I have bad eyesight hence the ugly specs lol) I saw the saddle was on his side and he was panicking.. and as I got closer, I saw the prev. owner hunched over the girl taking lessons.. who was lying on the floor in agony.
I approached and the prev. owner told me to catch that horse, bring him to the barn, re-tack him, and hop on and school him. So I did..
And when I got on.. he was wound up but soon settled down. Being a majorly beginner rider myself, everyone was shocked. From then on, I would school him once a week not worrying about contact or speed.. but just lots of transitions and forwardness and lack of resistance. I literally was carting him around, I didn't know what I was doing.. but he was happy.
Fast forward a few months, and I begun to half lease him (secretly because the girls at the barn were ridiculous about him..) and I had my share of falls as I learned to develop a seat and HE learned that I wasn't trying to kill him. Me being the most worrisome and startled person ever.. it was the most bizarre match!
On november 23rd 2010, I was walking up to the barn and the owner of the place gave stomping towards me. I freaked out and asked "WHAT HAPPENED TO HIM?!" and began to power walk towards his stall. She stopped me and her frown turned into a smile and she said "after talking with (her husband), we've decided that Sky belongs to you. He is now your horse" and on September 8th 2011, the brands were changed in my name.
We were both SOOO green and soo lost.
We're learned so much together.. how to walk (I'm serious..) trot properly, that poles were not snakes, how to go on trail rides, how to relax, how to tie, mounting from the fence/block/floor/rock/wood palate, riding with others, riding alone, leg yields, staying ON the rail, riding long and low, riding with impulsion and contact, bathing, lifting and supporting his own feet, TRUST, soooo many things... and now we're working on cantering.. :)
He's my soul mate, the best friend and the best partner. He cracks me up with helping me open gates with his nose when my hand is full or nudging my in the back when his face is itchy and he doesn't want to be rude.
And the best part of it all? My parents didn't even KNOW I had a horse until a week before his brands were changed ;) And they were very supportive about him. They love him too :)
Winter fuzzies when I met him:
This summer:
And for recent pictures you can look at my barn or from today below :)
---
Last edited by Skyseternalangel; 12-31-2011 at

12:38 AM

.