I Can't Belive This!! *Major Rant*
---
I moved my horses to a new farm back in December, I thought it was the most wonderful farm in the world!! Well for the past couple months I've noticed that things have started to go down hill, so I began keeping an extra special eye on my horses. Then I found out from a friend that she's noticed that when the horses get fed they're only getting 1 flake of hay, the barn manager and staff disregard any special feeding instructions and use their own cheap grain anyway

I also pay $600 a month for a stall for my mare and 1/2 the time they don't put her in it, if she's out no one brings her in and if shes in no one turns her out! Everytime I questioned the barn manager I just kept getting excuses! So I started taking over their full care myself while I put out feelers for a new farm to bring them too.

Well yesterday I stumble accross an ad online for the farm. The farm is FOR SALE! It was posted like 5 days ago. And the barn manager didn't tell anyone! I also found out from one of the boarders (whose best friends with the barn managers nephew) That she owes the barn owners, the people she leases the farm from, A LOT of money, and they're suing her.

She's not going to be able to pay, every thing she has, horses included, were purchased with Credit. She's going to lose everything and get kicked out and all of the boarders are going to be left with no place to go! It's all such a huge mess!

Needless to say I'm looking for a new farm and plan on moving my horses out asap! It makes me really sad, cause I was really very close with the barn manager, she's done a lot for me, let me ride all of her horses whenever I wanted to! So I don't know how to tell her I'm leaving without hurting her and burning bridges (as my mom would say) It's all such a mess right now!!!!
---
♞ Horse Crazy. ☀ Animal Lover. ☺Jeremy Renner Obsessed. ✇ Photo Taker. ♫ Country Music Listener.
♥ Erotic Romance Reader. ✯ Witch.
Banned
Join Date: Jul 2009
Location: In a land far far away, or so I wish.
Posts: 12,825
• Horses: 0
Glad you are looking for a new place.

I would have been out of there quite some time ago.



A barn manager really has no obligation to tell you that the facility is for sale, etc.


Simply say, 'I am sorry but I found a facility that better meets my needs' and leave it at that.

If the Barn Manager cared about your horse much then you would not be having these problems so I am not sure why you are worried about hurting her feelings.

Very conflicting post if you ask me. Either they are horrible and not taking care of your horses or they are really great and you do not want to hurt their feelings.
---
Last edited by Alwaysbehind; 06-23-2010 at

02:27 PM

.
Just be honest with her. You should put the health and safety of your horses before anything else and if she's not meeting your special feeding instructions, not looking after your horses... then you should, as you are quite ritely doing, get your horses out of there ASAP.
Hope I helped,
I was in the same mess with the place I boarded at. The old employees were terrible. They would skip feedings and lie about it. Everybody started making bags to put their horses daily ration of feed in so they could catch them in the act, and many times we did. My horse would also get beat up in any of the pastures because he is the lowest on the totem pole. I am pretty close to the lady that owns the stables and she understood when I told her I wanted to bring my horses home. I still work for her and she lets me bring my horses to stay in stalls overnight every now and then for free when I'm working the very next day or riding with my friends. If you're close to her, she's a sweet lady, and if she's your friend then she should understand.
---
Do not go where the path may lead, go instead where there is no path and leave a trail...
It's not conflicting, as I said I was very close to the barn manager (barn leasor, whatever she's called) was being the word, she did A LOT for me in the past, before things started going down hill, and because of that I do not want to hurt her feelings, because that is just the type of person I am.
She leases the farm, she takes care of the horses, she gets paid by the boarders, she should say something if the farm is for sale, and she should let people know that she may not be able to lease it anymore because of financial situations. So the boarders can take the time to find new farms for their horses.
I have found new farms for my horses. The mini is going to a farm I boarded at last year, she has other mini's and he'll have friends! Liberty is going to this awesome new hunter/jumper barn that was just built a couple years ago!! And Amber is for sale, she's going out on a 2 week trial next week.
Here's an ariel view of the farm Liberty's going to!!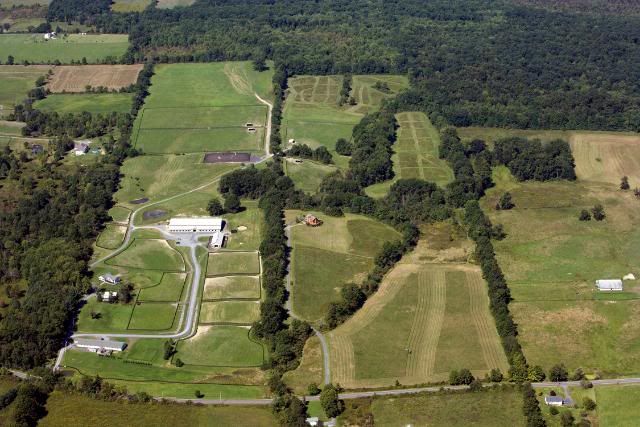 ---
♞ Horse Crazy. ☀ Animal Lover. ☺Jeremy Renner Obsessed. ✇ Photo Taker. ♫ Country Music Listener.
♥ Erotic Romance Reader. ✯ Witch.
Well, she couldn't be much of a friend if she didn't think you needed a heads up that the place was going up for sale.

Frankly, I'm not surprised this place didn't work out. None of your boarding situations seem to work out, for one reason or another.
Excuse me? What exactly is that supposed to mean? FYI I have been at a total of 4 barns in 17 years. One I was at for 12 years and left when I went to college, the one I was at when I was in college for 2 years, the barn after that I was at for 3 years and I left that one for a barn with an indoor, and this last barn I was at for 7 months until they stopped taking good care of my horses...
---
♞ Horse Crazy. ☀ Animal Lover. ☺Jeremy Renner Obsessed. ✇ Photo Taker. ♫ Country Music Listener.
♥ Erotic Romance Reader. ✯ Witch.
Started
Join Date: Mar 2009
Location: Middle-of-Nowhere, Illinois
Posts: 2,225
• Horses:
1
Congrats on finding the new barns! The Hunter barn looks great.
---
"A musician must make music, an artist must paint, a poet must write, if he is ultimately to be at peace with himself.
What a man can be, he must be." Abraham Maslow, 1968

I'm please that you have found a new homes for your horses, I hope that they will be happy and that they are better looked after.
Mebbe crabby old man kitteh was feeling a bit crabbier than usual today?