I need to vent, cry and then need ideas, round bale feeding
---
I hope that you guys will get this, because the cattle farmers I live with just don't
Look at this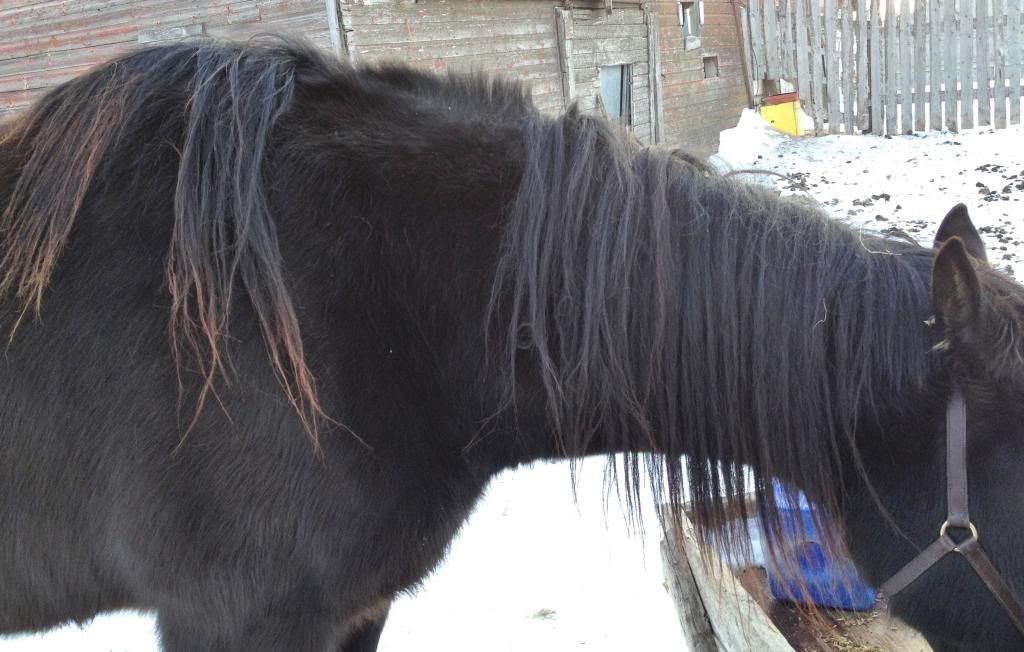 See the bald bit? Well yes it is BALD, Ben has that much of his mane rubbed out,
Aghhhh
My lovely DH, is cattle man through and through, and really struggles to see why horses are different. So I have been using our old cattle ring feeders for the horses. For most of them it doesn't cause much if an issue, but as you can see this year Ben has done a great job.
This is the sort of feeder we have
Now said cattle farmer says that he hates and detests tombstone style feeders because cows jump in them and get stuck. Has anyone ever had a horse get stuck in any sort if hay feeder?
He thought he was scaring me by saying that we would get rid of the big baler and put up nothing but smalls next year, and couldn't understand why I was so happy at the thought.
SO:
How do I grow that mane back in before show season, yeah right that isn't going to happen.
How do a braid a mane that has 2 halves
If the round baler stays, what is a better way of feeding?
Thanks for reading.
I'd put a sleazy or a rug with a neck piece to stop the rest of his mane rubbing out. I'm afraid to say that it's a waiting game with the mane growing back in.

I have a friend who uses great big tires for her round bales, just plunks them in there and the horses don't have to put their head through anything to feed.

Or you could do it the hard way and start raking and forking hay off the round bale and feed it to them like that and not use the feeder at all.

As for braiding, I'd let the mane grow in as much as possible before you have to braid it, then I'd pull it all the same length then braid, that way they will look even.

Sorry that's all I've got!
I have a friend who had a horse get stuck in a "tombstone" edged feeder. The hay was in easy reach, so guessing why he got himself into that predicament is only conjecture. The horse did so much damage he had to be put down.

There are risks with everything, though.

I guess since you show, perhaps some extensions may be needed?

I fork off what the horses need like Muppetgirl suggested.
We have one section of a round bale feeder. The hay is pulled off the bale and placed by the feeder. The hay is deep in this building and the feeder is level with the fence line. This way the horses have shelter and also hay. The feeder is opened at the top. We have currently 9 horses, 8 of which have never even thought of going over it. The 9th is special and walks over the feeder. He then goes over another feeder into the other pastures, where the horses hate him and chase him around. He is either brilliant or an idiot. One of the good eight has also woven stall mats into the barriers of the feeder. Horses are horses, if you put it out there they will find a way to injure themselves with it.
I have a preferit(sp?) round bale feeder that it simply a round base with no rungs or bars over the top. I would not say its tough enough for cattle, though. They also have the round bale feeders with "loops" for long horn cattle and horses (so that horns don't get stuck and manes don't get rubbed)
Quote:

As for braiding, I'd let the mane grow in as much as possible before you have to braid it, then I'd pull it all the same length then braid, that way they will look even.

Sorry that's all I've got!
*Stamps foot*
Have to pull his mane, I want long flowing locks, and a french braid *pouts*
I have used round bales and no feeders. The key is you don't put out the next bale until they have cleaned up the 1st bale. I never had any waste either.
rookie I am trying to picture your set up. Can you post a picture of it?
As for GH.... tada!!
Big Bale Buddy,Round Bale Feeder
---
BB ~ 2014 Trakehner Bratty Mare ~ 1993 CSHA Em ~ 2007 Standardbred

I had a friend that ended up losing a horse to a broken neck because of one of those feeders... Me no likey.

I keep my round bales in the barn and peel them for twice a day feedings so they last longer so I won't be much help. I had a friend that built a box that had a door that opened so they could roll the feeder in and then shut it, it had a top on it and looked like a giant wishing well... It was really kind of cute...
---
"Be a best friend, tell the truth, and overuse I love you
Go to work, do your best, don't outsmart your common sense
Never let your prayin knees get lazy
And love like crazy"