Interesting Horse Quirks?
---
I have a 4 year old Arabian gelding that isn't broke to ride, that I pretty much just keep as a very pampered pet. I swear though, this horse acts just like a dog. He is effortless to catch in the pasture. Anywhere I walk he will trail right behind me, he loves to play tag and have me chase him, and he loves hugs and kisses. When the farrier comes, he walks up to my chest and gently places his head on my shoulder and wants me to wrap my arms around his neck and hold him while he gets trimmed. I mean, I have never had a horse just trust me and show affection the way he does. I can walk him through any space, no matter how small, even if he has to squeeze through it he will follow me willingly. I've been saddling him and doing some ground work with him, and I decided yesterday that I was going to hop on him and see what he did. I was expecting him to do something... but he just stood perfectly still while I clambered on and didn't move. I put the bridle on for the first time this afternoon, and he really didn't like it. The best part though was when I took it off, and he placed his nose against my cheek and just wanted me to hold him... so I did, lol, for like 5 minutes! I guess he was so happy that I took it off that he just wanted the re-assurance that he was being a good boy. I was wondering if this is normal? I think he is just unusually friendly, but I would like to hear some funny things that other people's horses do that makes them "unique".
Here he is giving me his nose for a kiss, snot and all!
http://i19.photobucket.com/albums/b1...velyshaton.jpg
I had a little filly that was born here. She was just like that very loving and playful. Sadly I had to sell her
Vida like me to clean out her eyes. Every morning I go out and get the crud out of them and its like she waits for it. She just stands there and lets me wrap my arm around her head and get the eye boogers out
Lacy-my sister breeds Arabians and her stud sounds just like you boy!
Tana, my black AQHA mare, is a goof! She has a ton of funny quirks. First of all you can't leave anything beside the fence otherwise she will take it when you are watching her and then run around trying to have you chase her. I never do...Another time I was outside, my baby was sleeping so I had my baby monitor in my pocket. Tana grabbed the end and ran off with it, I had to chase her for that. Goofy horse. Also at deworming time she gobbles up the dewormer tube..she loves it! She has such a persoality.
And her is my goofy girl, Tana. Behaving herself for once!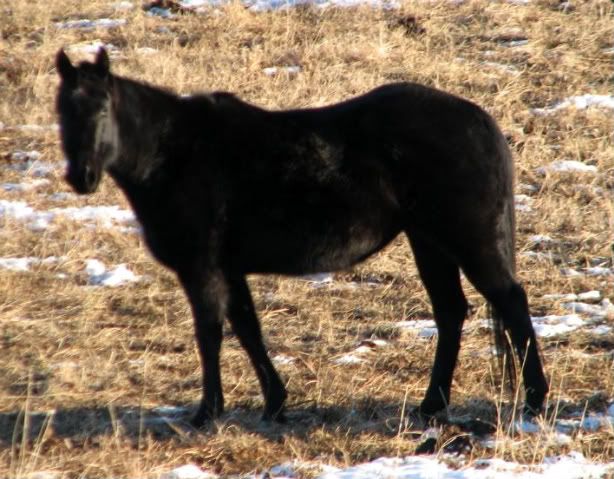 Vega will put any and everything in her mouth. She plays with the brushes when i groom her. If i have her stall door open a bit and there's something out there (lead rope, halter, saddle pad, reins, saddle) she'll try and eat it.

She also loves to just chew on sticks and wood chips. She doesn't run away from me, but she'll grab something when i'm not looking and when i do look at her, she stops everything. She can be a goof sometimes.

She will also close her eyes so I can get her eye boogies out. When she was sick, i would clean up her nose and she's just stand there. I also had to remove some stuck on snot in her nose. I could tell it hurt her, but she stayed there.

She also love her chin being scratched. She'd rather have that scratched than anything else.
Trained
Join Date: Sep 2007
Location: Hatton Vale, QLD, Australia
Posts: 5,227
• Horses:
7
cougar nods his head when his dinner is coming. he nods it so hard you think his head will fall off :)

he can also open pretty much any gate (within reason)

possum follows me around too which i dont mind but its a pain when you are trying to do something and she is right there at your shoulder

jarred tried to step on your feet all the time. he likes to pretend he doesnt mean it but you can almost see him lining up your foot lol im onto his games now though and he rarely gets me
---
"I whisper but my horse doesnt listen...So I yell!!...He still doesnt listen"
When I need to soak Cody's feet, he insists on leaning on leaning his head on my shoulder for "support." He also really enjoys hats and Mt. Dew.
My sister-in-law's horse, Maverick, loves tools. Whenver my dad is out in the pasture fixing fence, etc., Mavs will run off with his hammer, tape measure, or any other random tool he can get his lips around. My dad has to be extremely careful when using his chainsaw because Mav is so interested in it that he probably would try to chew on it while it's running. :roll: Also, he has this funny way of eating where he holds up one front leg (bent next to his body) the whole time. He'll switch legs occasionally but one of them has to be up at all times. Silly boy!
He's really more of an overgrown puppy dog than he is a horse.
Joey, my appendx QH gelding is fun, he thinks he has privilage to do whatever he wants. Since he's pretty big and has a long neck, he'll reach out from over his stall door and flip on the light at night, and will leave them on all night. When he'd mad or hungry he knocks down anything that he can reach, like if the shovel or pitchfork is nearby, he'll knock it down and sometimes picks up a bucket and drop it a few feet away.
Every year at fair, I always get lemonade, well Chief steals it from me and horks it down.

He will eat most anything, even meat.

When he wants something he sticks his lip as far as physically possible, hes a loser.
---
"Doing what you like is freedom, liking what you do is happiness."
my horse's mane smells like cinnamon (which is also my favorite smell. :) ).
When she's nervous or unsure, she puts her head on me for reassurance.
She loves loves loves having her mane brushed with a hairbrush.