In the absence of mirrors, my trainer has me riding bareback on a dusty horse in dark breeches. When you get off, you'll have a nice dust imprint on your breeches which will show how evenly you were sitting. My horse is not interested in rolling in the dirt, dust, sand or anything that might possibly make her prissy self dusty so I rode hers who lives to go rolling and get dirty.

I really noticed the difference after the first ride, haven't been able to ride again since the 2nd time, it's either been pouring, snowing, or beyond slick and muddy for the past week.
Green Broke
Join Date: May 2009
Location: Winnipeg, Manitoba, Canada
Posts: 4,510
• Horses:
2
I'M NOT ALONE!!!!
Mine is much much worse, but I'm also curious how to resolve it aside from shortening one stirrup which has worked on my Western saddle (sort of). I drop my left shoulder SO bad, it's unreal I can ride like that but I can't even feel it. My chiropractor told me one leg was shorter then the other, but this is a bit ridiculous!
I finally shortened the right stirrup and it's been magic, but I need lessons to help give me exercise to stop collapsing my shoulder as well - I simply can't do it alone because I can't feel it!
This is with the shortened stirrup:
---
Quote:
I hope God tells her to smash her computer with a sledgehammer.
I never knew i colapsed until my instructer told me to sit in my car after 15 mins of driving look at your seat i lean entirely to the left disgracefully.
Putting alot of effort into it but its hard on your own.
Bareback definitely works as you must be centre not to fall off
---
To give a horse your heart guarantees a love that will last forever undamageable
Green Broke
Join Date: Aug 2009
Location: New South Wales, Australia
Posts: 4,847
• Horses:
1
Perhaps you can do exercises to strengthen your other side? Now you are aware of it you can begin to fix it.

When I used to get sore ankles I'd sometimes drop one foot out of the stirrup and just use the other (like when I wouldn't want someone to see I was doing it). That might help you become more aware of your weight distribution.

What about some kind of bareback work? If your weights wrong you kinda slide off - maybe you can use that to your advantage?

Or, pretty stupid idea, but could you create some kind of balancing device to practice on? Once you've retrained your body to be central then it should be fine, so could you create some kid of thinner, slippery "barrel horse" that tips when you are off balance? Then you can know when you aren't correct. I don't know, its a pretty bad idea.
MIE, I have a friend that does massage therapy on horses, its AWESOME and she works on some well known eventers in our area.
Would you be interested in trying her out, she could get the muscles moving instead of readjusting his back and such?
---
When you give a personal lesson in meanness to a critter or to a person, don't be surprised if they learn their lesson.
Thanks to everyone's responses! I great appreciate it, I do want to get this fixed.
I am definately going to check the length of the leathers tonight when I am out at the barn, but I am suspecting that it is my hip/pelvis being out. I am definately going to do some phone calling today to find a Chiro I can get with, because I want this fixed!! I do not want this to continue - but I have friends who've seen Chiro's for the same reason, but they are still "crooked" and have to make a continuous effort to stay balanced.
My Coach for example, she is just like me, but to the right. And she sees a Chiro on a regular basis.........*sigh*
So - lets say that it isn't my leathers that are uneven, but it's my hip/pelvis - what exercises can I do to correct this until I can see a Chiro?? Someone suggested lengthening my leather...on my left side? Make it longer?
I'm sitting in my recliner, and just focusing on where I am sitting - I am on my left side.
I have to really make a concoius effort to make sure I am balanced...but is that possible if my hip/pelvis is not even?
I need excersise idea's on how to fix myself, and I will the bareback thing...I'd have to borrow my friends bareback pad because Nelson's spine is from hell..if you get what I mean *wink*
*bangs head on desk even more*
Quote:
MIE, I have a friend that does massage therapy on horses, its AWESOME and she works on some well known eventers in our area.
Would you be interested in trying her out, she could get the muscles moving instead of readjusting his back and such?

Thanks for the 411! I appreciate it :) I am curious who your friend is? I, thankfully have an Equine Massage Therapist coming tonight at 7:00 to work on Nelson. Tanya Marsh :)
---
Besides going to the chiro and checking stirrup length, make sure your saddle is on correctly. In this photo its obvious to me that the rider and saddle are off center.
When I first tack up I stand at the rear of my horse and look down the spine to make sure my saddle and pad is straight. When I have to mount up from the ground (not using a block) I check from the saddle lining the pommel up with the center of the neck.
An exercise I heard that's great for putting more weight in one stirrup is this.. (and i've never tried it, I just heard of it from someone who did it in a Joe Fargis clinic)

Take both stirrups off, unbuckle the leathers, then buckle them both to each other (left leather to right buckle, right leather to left buckle). So your 2 stirrups will be one big circle with your irons hanging off the end, does that make sense? Lay that on top of the seat of your saddle and ride. If you put more weight on one side? You'll know. :)

Another thing a dressage clinician told me is to be careful what shoulder you hang your purse off of. She said your back is not straight or balanced when you're carrying a purse and always carrying it on the same side will make one side a little stronger then the other. Interesting thought.

The good news is I don't see a lot of tilting or slouching... but there's definitely some unevenness! And yeah, that can definitely add to back soreness! Try the Joe Fargis exercise, I'm curious to see how it works!
Kim, in this photo of you it looks to me like your saddle is off center a bit as well. It may just be my old eyes
It could be! Now I am starting to second guess myself here.
Here is a shot of my saddle from behind...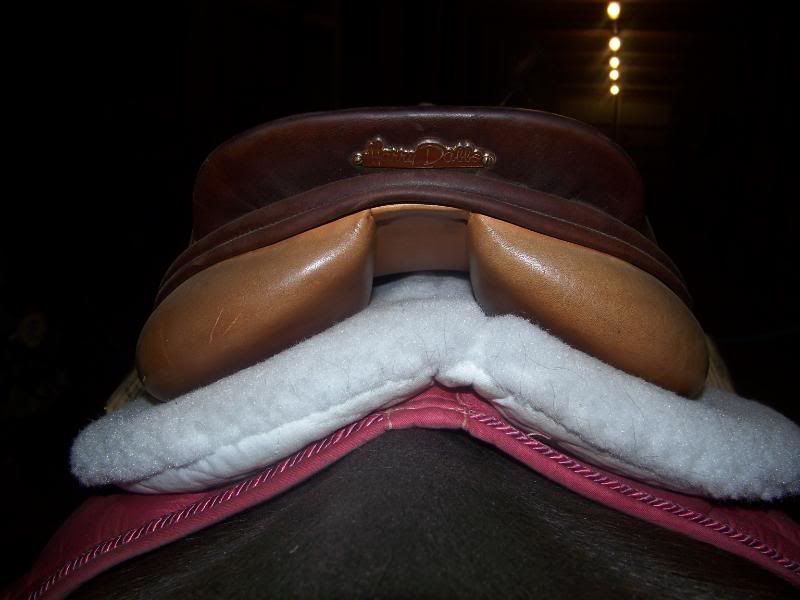 ---