I've got a show horse! (Brag Post)
---
Just SO proud of my Red!! Our barrel and pole training hasn't been going the greatest (most of it is MY fault), but my mom and I went to a small, local fun horse show yesterday. And Red really impressed me at his first horse show.
Showmanship was kinda a wash, because I've not worked with him on any of that. But we did take 2nd place out of 4 people. He does trot beautifully beside me!!
I did also bring my 2-yr-old along to do the Green Horse Showmanship (for 2 and 3 yr olds), and to learn patience by standing tied to the trailer all day, which was really good for him. But we did take 1st place out of 3 entries. He's such a pretty boy, although a little bit mutton-withered, which I hope he grows out of. He could have trotted next to me better (because I know he can do better), but I guess not bad for his first show.
Waiting to go in....
Then we had Senior Western Pleasure. Red shocked the heck out of me by placing us 2nd!!! (Out of 8 riders). He does have a really nice little pleasure jog, and he is great at getting his leads. I was very surprised.
Then was Senior Horsemanship. The pattern was a jog through the whole thing (Red's strong point), along with some rail work at all gaits. He again did really good for me! And we placed 2nd!!! I think there were 7 entries in that class.
Western Riding was next. I wasn't banking on anything for this one, because it was pretty much all flying lead changes for the pattern, weaving through different series of cones. And Red hadn't figured out flying leady changes ......
until yesterday!!!
We took first place!! I couldn't believe it! I had honsetly thought my mom should have won that class (she took 2nd right behind me). She's borrowing my cousin's horse for the summer, and this was his first show too, but we discovered he does beautiful flying lead changes.
Me and Red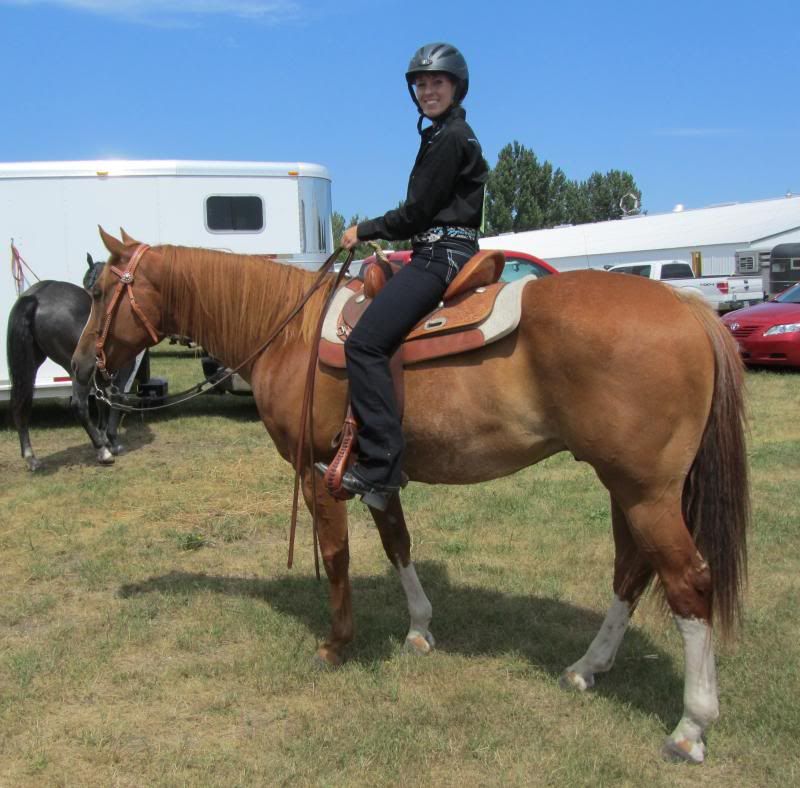 My mom and OD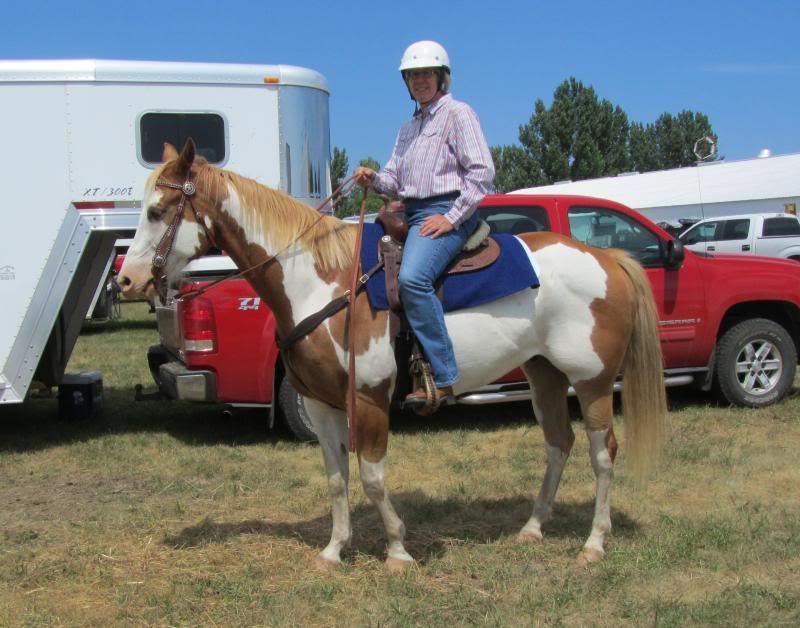 Then it was time for Senior Reining. And there was a little miscommunication. The club had posted the patterns for all the events .... except reining. For that, they simply had a handwritten sign that said "Seniors: Reining Pattern #1". I guess I assumed that meant AQHA reining pattern #1, because any other local show I have been to, they used the AQHA patterns. So I looked it up on my iPhone. Someone else went first and when I got over there to watch, I noticed she did one less circle in the figure eights. Then my mom and I wondered if she did the pattern wrong, or if there was some other pattern. The judge was a very nice lady, so before I went next, I just went up and asked her for clarification. And she said yes there are 3 circles. Okay, good! I did my pattern and Red did
SO GOOD
. Even got his flying lead changes !!! (except for the last one he cross-fired, but I just let him be). But I went and talked to the judge after my pattern like they have us do, and then she informed me she had misunderstood my question and the patttern was the local saddle club pattern #1 (which was NOT posted .... how am I supposed to know what that pattern is?). But she said because I came and asked her ahead of time, she wasn't going to dock me. Well she did. She placed me 5th because it of (one of the club members came and talked to me after they announced the placings, to make sure I wasn't mad, because she said the judge said I would have won it if I did the correct pattern). I'm annoyed they didn't post the pattern, and that I questioned the judge on the pattern and she gave me the wrong information, but whatever. It was just a fun show. And Red did it SO GOOD. On the bright side, my mom took first place. So I joked I supposed I had to let her beat me at something. LOL
Open Egg & Spoon Race was interesting. No one was dropping their egg, so they had the last 6 of us or so sit behind the saddle. Well...... I doubt Red was ever ridden double before, but I gave it a whirl. I was trying to be very careful not to touch his sides with my legs and just use voice cues for the gaits. But about 2 times around, I tried to get him to move over away from another horse, and that was it.
He bucked a couple times, not real big or anything, but of course enough to make me drop my egg RIGHT on my saddle. Dang it!! I just slid off him, and went back to the trailer quick to wipe it off before it dried. I guess we are going to have to work on riding double!!!
Speed events (barrels, poles, stake race) didn't go as well as I had planned. It was totally MY fault on the barrels. I rode him wrong. Went back to old habits from my old horse. Grrrrrr. Stupid me. Poles, Red actually did really well for not practicing in a month. Weaving down was rough, but he actually weaved back pretty well. Stake race, well, that was just for fun! We've gotta do more work on his turns.
But I was just so pleased with his showing yesterday! The speed stuff will come. I just gotta get my poop in a group and quit messing him up.
But the BEST part of the day was that I didn't feel a single lame step or head bob the whole day. If you want to get up to snuff, here is it.
Crooked joints in a 7-yr-old? Possible navicular changes???
He'll get the day off today and maybe tomorrow too. But I was just so happy he was feeling good.
---
∞•*˚ Βгįťţαňγ ˚*•∞
It is not enough to know how to ride; one must know how to fall.
Yearling
Join Date: Aug 2012
Location: On the golden coast of Michigan
Posts: 918
• Horses:
3
Awesome, awesome job! You should be very proud of yourselves! (:

I remember when I brought my 2 year old to the shows to get her used to the surroundings, let me tell you it really pays off when you show them the next year! My girly used to kinda squirm around in the ring and this year she stands perfectly still. LOL. Its fun to see them change.

Your horses are also very cute!
Keep us up-to-date on the shows!
---
For the wretched of the earth there is a flame that never dies.
Even the darkest night will end and the sun will rise.
Well done you guys! :)
---
I am her eyes, she is my wings. I am her voice, she is my spirit. I am her human, she is my horse.


Oh man...I get excited just thinking about a pattern with flying changes...I wish our local shows did more patterns with them! Selena does so few things dynamically...Doesn't lope smooth, isn't easy to ride, we might actually win something if there was more flying changes though! LOL
Aw man Red and Shotgun look great. Our little Grey Meatball is growing up so fast, he actually looks like a full grown horse instead of that baby I remember seeing for the first time :) Your show outfit is so neat and clean too...I'm jealous, I need to get me a black outfit.
Gosh dang it girl! I'm trying to convert here! And here you are, making me want to show...LOL!
Congratulations to both you and your Mom!
---
Pssh.I didn't pick up the wrong lead
It's called a counter canter...
...A very advanced maneuver.
LOL, I kinda forgot how much fun the small showing shows are!

Yes, little Shotgun isn't so "little" anymore. The other week when I had them at the farrier's place, they were standing on perfectly level ground inside his shop. And Red and Shotgun were the exact same height. So that means Shotgun is 15.1 hands at the age of 2 1/2. And he's not exactly a scrawny thin 2-yr-old either. He is going to be a tall thick beast when he's all grown up!

I was so awed by Red's flying lead changes. Granted, I have not been working with him lately to do them the correct way. We did more of the "4H style" of flying lead change at the show where you neck rein them over and hope they change, haha. But he did it!

Even though our barrels were horribly crummy (MY fault once again) he did however finally change his lead for the second barrel for the first time ever on his own. So I consider that a huge accomplishment!

I was gonna band up their manes for the show to make 'em look at pretty but I ran out of time. Took forever to wash and whiten 6 legs between the two of them!
---
∞•*˚ Βгįťţαňγ ˚*•∞
It is not enough to know how to ride; one must know how to fall.
Congratulations to you, your horses, & your Mom! Sounds like a very productive day. You looked great.
I assumed we wouldn't do that well because I hadn't spent much time specifically riding/training for those types of thing, so I figured I'd better at least look the part because we won't have wiggle room for docked points, LOL.
Thanks.
It's kinda fun to get all fancied up for a show once in a while (even if it is a lot of work).
---
∞•*˚ Βгįťţαňγ ˚*•∞
It is not enough to know how to ride; one must know how to fall.