Jingles needed for my best friend's horses, please!
---
So this morning I got a call from my best friend asking me to meet her at the feed store because her 15yo TB gelding, TC, got tangled in the fence and scraped and banged all to heck, so she needed my help doctoring him. She has two horses, TC and an 8yo QH mare named Tinkerbell. Tink and TC fight, so she lets one out in the arena and the other is confined to a holding pen/stall inside the arena. Last night, TC was in the stall and Tink was loose in the arena.

My friend (we'll call her BA) went out this morning to feed and TC was out loose in the arena with Tink and he had the gate to his stall (a three-rail pipe gate) around his neck. He was bloody all over his back end. They figured he'd just busted down the gate.

So, we get there after buying some supplies and get to work on his wounds. In the back of my mind, I kept thinking that the wounds didn't look quite right to be made by a fence (unless he'd rolled up in babes wire and thrashed around, which wasn't possible because there isn't any loose wire or fencing anywhere near the arena), but we didn't have reason to suspect anything else, so we went with it. After we got TC cleaned up, we checked Tink, just to be safe. We found a 4" deep scratch on her right hind hock and it was extremely tender. The scratch looked just like a cat scratch. So, BA's grandma went and checked the arena looking for tracks while we doctoring up Tink. She came back and said it looked like there were tracks on one side if the arena.

BA and I went to look at the tracks and they were mountain lion. A small/young one, but a mountain lion nonetheless. We went hiking around the property (they live up in the hills outside of our town) and found several places where lion musk was almost overwhelming.

When we got back, we checked the arena dirt (it's fairly hard-packed after the recent rains) and you could almost draw a map of what happened last night. We checked the pictures of TC's wounds that we'd taken before we doctored him, and sure enough, they are claw marks.

What we think happened was that TC, who is VERY sensitive to anything out of the ordinary, was freaking out in his pen cuz he smelled the lion. We traced the lion musk up to a rock outcropping about fifty feet south of the arena, so it must have sat and observed for a bit before making its move. Once the lion started moving down the hill toward the arena, TC really freaked and busted the gate off his enclosure (he pulled the gate up off its hinges and broke the clasp holding the gate closed). With the gate around his neck, he galloped to the other side of the arena just as the lion got over the fence (which is about five feet high). We're thinking he ran over the lion and then tried to stomp it, as the majority if the scratches are on the underside of his legs/groin area and his lower front legs. The mare ran to the corner, then galloped down the fence and caught the lion just as it got free of TC and tried to make a break for it. You can see where the lion tracks ended and Tink's tracks overlap it. You can even see where Tink planted her feet to kick. We think the lion swiped at Tink as a "Get away from me" gesture, then turned and hopped over the fence.

So, we're sitting here waiting for the vet (we called him around 1pm when we realized that it was a mountain lion, not the fence).

Please send jingles TC and Tink's way. I'll post pics later (yes, I have permission).
Posted via Mobile Device
Oh goodness, that just sucks. Healing vibes are on the smoke for a quick and full recovery for both.

Unfortunately, sometimes it's the price we pay to live out in the wilder country, instead of in a city. Even those of us barely out of the city and into "country" have to deal with foxes, coyotes, bobcats, racoons, skunks and such. I'm down to 12 chickens because a momma fox has been raiding to feed her new litter of kits...
---
Live well, laugh often, love deeply...An' it harm none.
Vet just left. He took one look and said "Yep. That was a lion. Young one, but still a lion." He thinks the lion wasn't out to attack the horses, but was maybe just checking things out/scouting.

Anyway, TC is on Bute and antibiotics for the next seven to ten days.
Posted via Mobile Device
Prayers for TC!!
---
Being horseless is the pits!!
Oh, how terrifying! Prayers and jingles being sent to AZ. Hopefully they heal up quickly.
Horrendous!!! Is someone going to camp out there with a gun to get rid of it?
praying for a speedy recovery for both the horses
...I worry about that where we are too. we have a great Pyrenees & a sheltie so they keeps a good patrol but still..
---
no time is wasted spent in the saddle
BA is going to camp out to keep an eye on things. The horses are in their barn stalls (mare motel that's been partially enclosed), so they're safe. She is on parole, though, so she can't use a gun. Luckily, her dad lives on the property and has a 12-gauge and she has a friend who hunts mountain lions that lives up the road and can be there within a couple of minutes.
Here are the pics. The first ones are of TC's legs before we doctored him (iodine flush, Nu-Stock salve and SWAT). Then there's one of TC's eye where he bashed it on the fence. After that is Tink's scratch (it was deeper than we thought after we rinsed it out...the pic is before we did anything to it). The last is the clearest lion track we found...and it was in the arena. The track is in the relative center of the pic with the pad on the left and three toes visible to the right. For size reference, it was almost as long as my hand, which is 9" from the bottom of my palm to the tips of my fingers.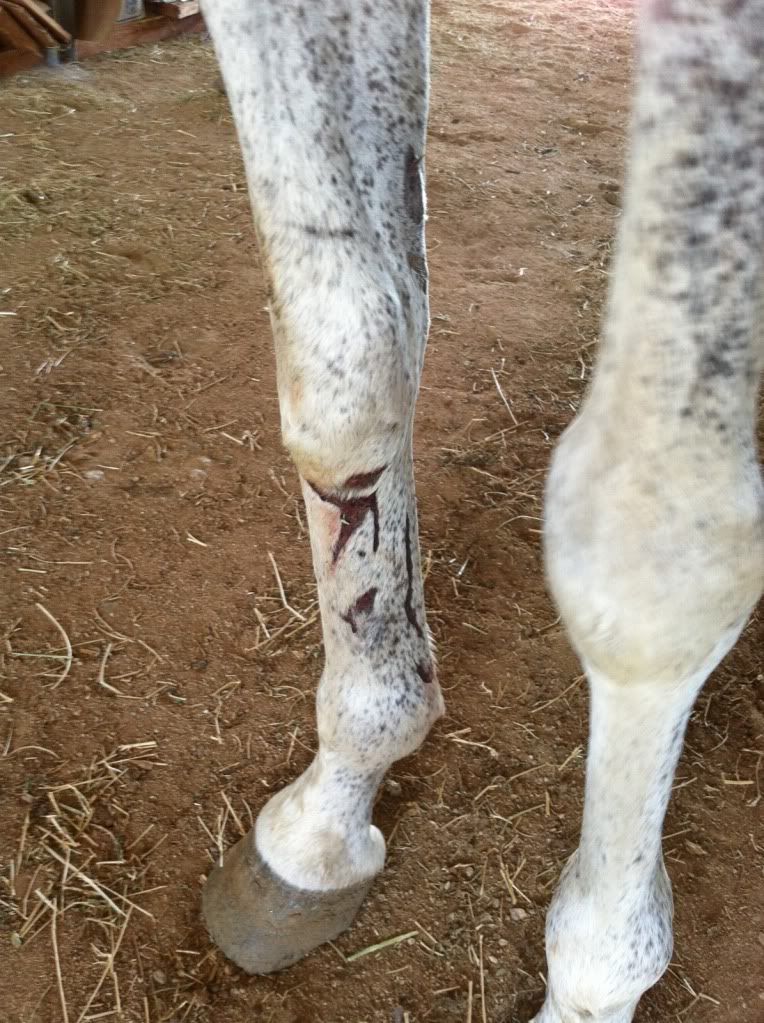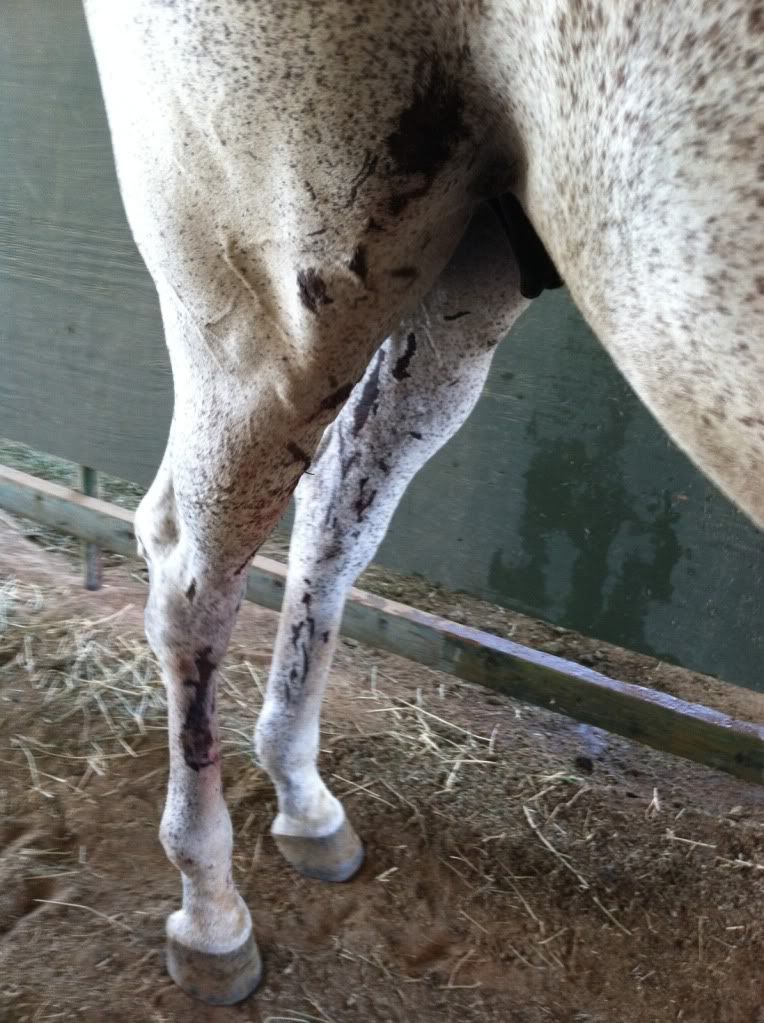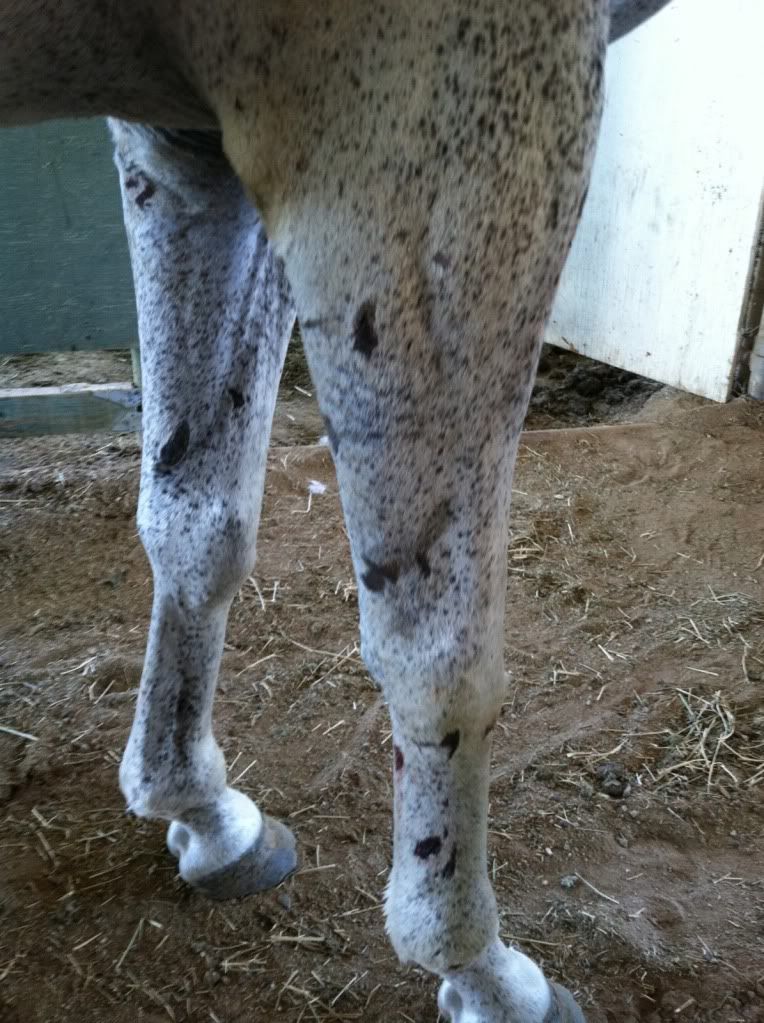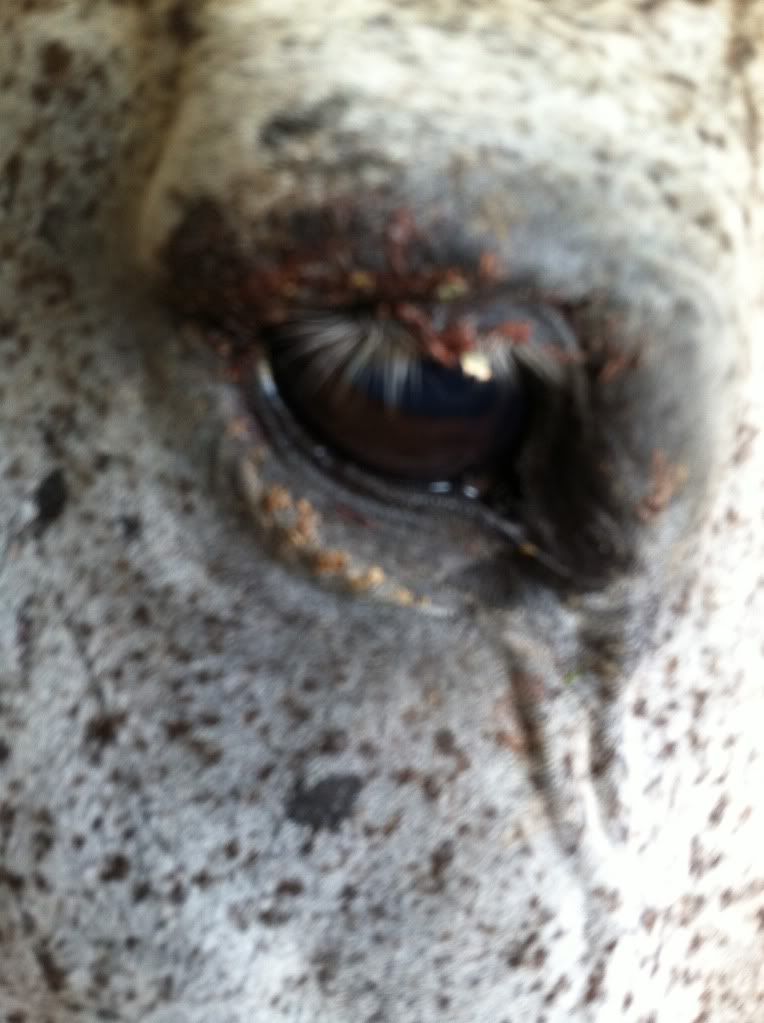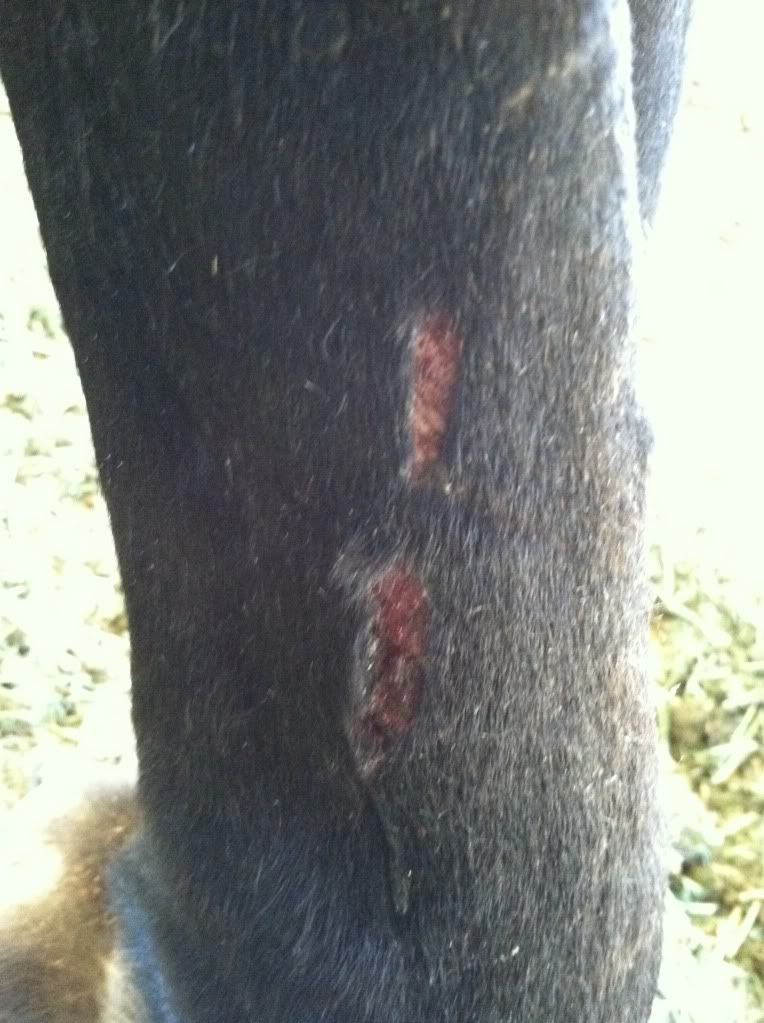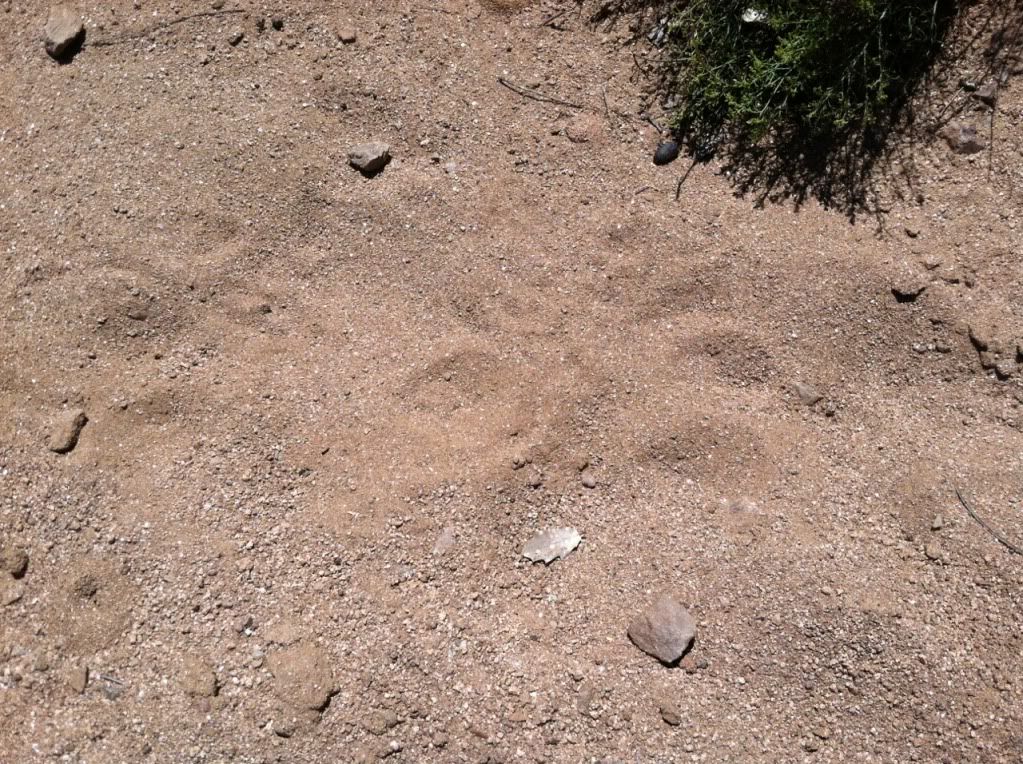 Posted via Mobile Device
Oh, the poor dears. How horrible, but so glad that it wasn't worse.
Yeah. I just kept telling BA "At least you came out to a horse with some cuts and a gate stuck over his head and not dead horses." We're pretty sure that if TC hadn't been hindered by the gate, she would have come out to a dead lion.
Posted via Mobile Device