Shads the most dominant horse ive known, he'll have a go at anyone lol. I remember a few years ago now we had a massive fire in the area, and everyone put they're horses (alot of horses!) in the the quarry because there wernt many trees and the only grass was short, so less chance of damage to them. A couple of days past and we were allowed back to our houses to check out the damage etc, drove past the quarry and Shads assumed leadership, bossing everyone around and had his own lil mare picked out and all!
We had a colt a few years ago who actually lived with shad for a while, and he had no problem pulling him into line when he needed it.
I had some rearing photos but have no idea where they are, so these will have to do.
I wish I had good photos of Trojan acting like the big badass he thinks he is. He is top dog (at one point over 14 other horses in 2 separate paddocks). He will strike out and boss the others around even if they are on the other side of the fence. The others have all learnt that if they want their skin intact its best to move when he moves. He has even been known to snake his neck at his herd like you see stallions do. I'm another one who has sometimes wonder whether he was gelded correctly!
These are the best photos I have and they don't do him justice haha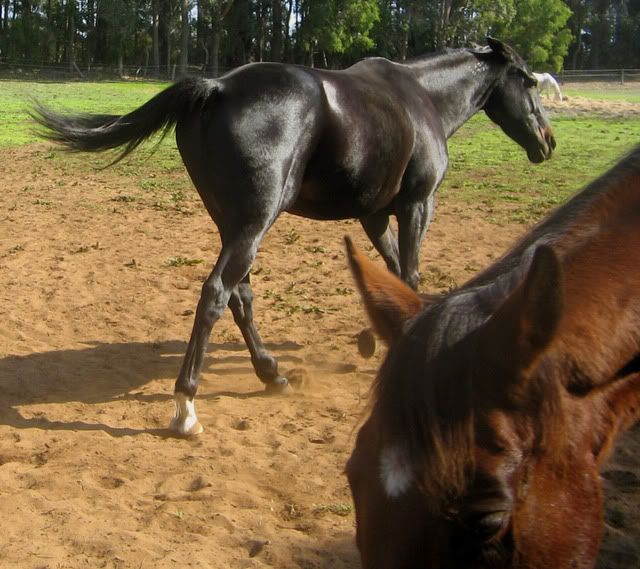 Yes that rip in Fanta's rug is from Trojan's teeth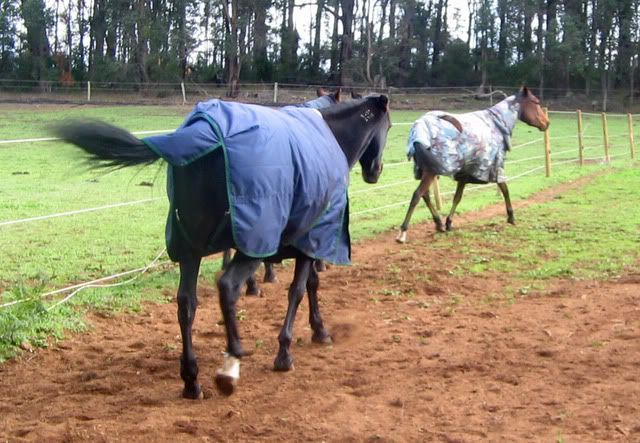 Alpha-ing from a distance



Ahh, this one is a little more accurate

---
Flirt-Hugo-Phoenix-Romance-Fanta-Nippa-Shiloh

Trojan 09.11.02 - 26.10.10 // Kody 01.09.89-25.06.12 // Rex 05.11.95-21.12.12

That 3rd one of Trojan is a lovely example of the circling game (at liberty :))! I'm really enjoying seeing your hombres--wow, those bada-- faces!
Sorry, my horse is a wimp and lets all the other horses push him around, haha.
You needn't own the alpha horse; one that you know of is fine (at your boarding barn, in your neighborhood, etc.)!

I'm wondering how the horses posted so far would come out with PP's Casper! Any opinions?
My horses boyfriend is. He starts stuff all the time in pasture, incites riots and all sorts of silliness.
Today I decided to free lunge Nico for the last time (I sold him) and he was being his usual Alpha self. When he tried to change directions without my signal, I sent him back the way I wanted at a high gallop. He jumped mid air and turned and snorted at me. That studdish blowing snort....He gives the best looks too. The 'who the heck do you think you are woman' look. I thought it was funny and totally alpha.
I'm tagging this thread for when I'm not on my iPod.
Posted via Mobile Device
My horse isn't the alpha horse in the heard, hes usually 2nd or 3rd in the pecking order. His problem is, he won't give in to anything he doesn't want to, he'd kill himself doing it. I'm spending thousands to get him trained, but in the end it will be worth it
.
Well, if nobody else wants to share the head honcho horse that they know of, I thank all who've posted theirs! Fun to see your wooliest & bulliest!