Quote:
This is my freebie!
That picture is priceless. Reminds me of this:
---
And those who were seen dancing were thought to be insane by those who could not hear the music
My freebies. :) The chestnut mare is an Oldenburg and the bay mare is a OTTB. I love them tons.
Green Broke
Join Date: Jan 2010
Location: south of nowhere, north of nothing
Posts: 4,643
• Horses:
6
Quote:
That picture is priceless. Reminds me of this:
haha yeah. we actually saw it happen...we were dricing up the road next to the field and we just see charlie walk up behind him...he grabbed the end of the slinky on his withers and ran forward jerking it over hawkeyes head!
we were laughing SOOOO hard while we pulled into the driveway and he heard us pull up so he VERY VERY carefully tried to make his way over to the gate!
poor old man hahahaha
My freebie is a stunner IMO (though perhaps I'm a bit stable blind!). She's 2 years old in 10 days' time and I picked her up for the cost of fuel to and from her previous owner's place.

She DOES have some significant fear issues, now mainly concentrated around her head (ears) and working on her feet. If she loses her balance and has to pull a foot away, it's the most terrifying thing that has EVER happened, and she panics... I'm assuming out of fear that I'm going to do something awful to her because she was "rude". But she IS dangerous in her panic attacks, she can go vertical when she rears and if she was to kick me she would be lethal... her hind legs can move SO fast!
---
REGAL PRINCESS
This is grace Our "freebie" She is a 6 yo tb/qh appendix She has came a long way in the last 7 months in her training
---
Don't Flatter yourself Cowboy I was looking at your Horse

LORI

Bumping this old thread simply because each story made me smile :)
Any new stories of freebies out there??
Here's my freebie. The lady said he was 28 and to old for her. We got him home and the vet determined him as about 16. He's my heart horse and I've had him for a while now! He's a Morganx and the biggest sweetie ever! His names Midnight Rebel.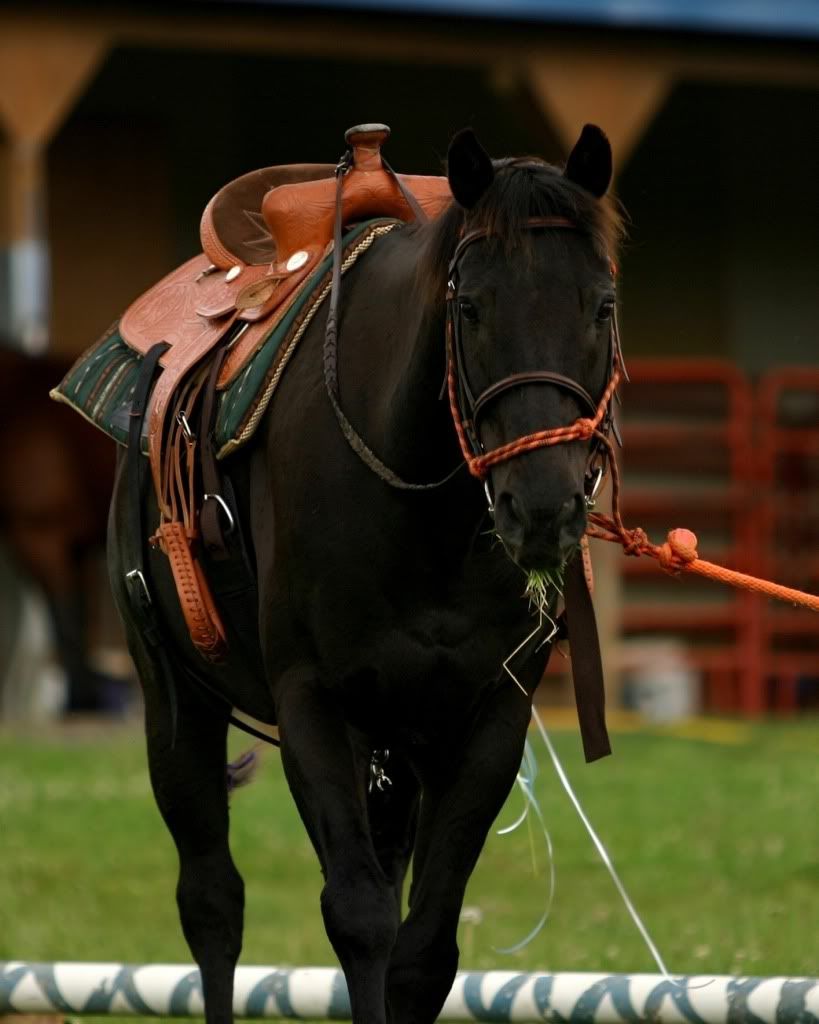 Posted via Mobile Device
Jems is a 12 yr old Standardbred who was a brood mare from the age of 4 til she was given to my daughter early last year. After she divorced her husband Jems stayed with the ex who stopped providing for all the horses.
When we got her to our property..
Jem's Left side.jpg
How she looks now..
Jems gaurding.jpg
Little Man an 8 yr old registered paint came free via my daughter's ex-husband who finally gave him up 2 months later due to not being able to afford the feed.
Litleman.jpg
Boo is 6 yrs old and came to us with Sugar from a rescue.
Boo
Boo under saddle.jpg
Sugar is a 4 yr old line back.
SugarNLevi.jpg
Doc(horse in back ground) is 20+ yrs old and was given to me for my 12 yr old daughter to ride so I could have my Trusty back.
014.jpg
Trusty is a 9 yr old bay roan and the only purchased horse we have. $500
OH Boy.jpg
---
I am Second
Born Once, Die Twice. Born Twice, Die Once.
Similar Threads
Thread
Thread Starter
Forum
Replies
Last Post
Any good horse freebies?

cebee

Horse Talk

0

03-20-2011

05:01 PM

freebies

KANSAS_TWISTER

Horse Talk

2

09-23-2007

10:47 PM