Lets get rid of old horse... Why not?
---
That came to my local forum... I don't know... Is it just me and I understand something incorrectly or it indeed sounds like instead of caring for the old non-ridable horse (worked for him for almost 30 years) the person just trying to push all expenses and work on someone else?

My horses cost me good money to keep even in my own place and LOTS of work (poop pick up, watering, moving those heavy bales, seeding (NOT cheap), etc.). So any extra-horse would add on top quite a bit. And that's pretty much true for many horse owners in MD, because most of us have smaller properties and everything is on expensive side.

BTW I posted back saying I know at least couple "retirement" homes in area - $200 - 250/month.

************************************************** *****

My old man needs a retirement home. I have taken care of him since 1982. He is retired from use as a cavalry mount, a movie horse, a carriage horse, and a Search & Rescue mount. He has earned his retirement. I still use him occasionally for programs in the park, mostly to talk about older horses. With both kids off to college there is no one home to take care of him. He would make a fine companion horse.

Star is a 33 year old, 15 hand registered Quarter Horse gelding. He is still usable for occasional light work. As the Farrier said "He still has suspension", I figure this is because he still has a job. At about 700 pounds he needs a light rider or light work in harness. He goes English or Western in addition to driving. He loved poles and barrels, running at the heads, but was never a good ring horse. He never understood it was a circle and that the horse in front was really behind. He has no health issues other then being old. He is on senior feed with a supplement for digestion, needs three feedings a day (four would be great). He is up to date on his shots.
Anywhere he goes must be approved by me. I will come by and check on him. I would still like to be able to use him in the park occasionally (you are welcome to join). Pictures are available on request.
I only have this to say. I hate when this happens. The horse that has served them so well for so long now gets to find a new home with a new herd to adjust too. All he has known is forever changed. SAD!
I have one old man that is going on 22. We have owned his since he was 16. I hope we have him for many more years and when it is time to retire him that is just what we will do. I board my horses and will gladly pay board on this wonderful old man who taught my daughter and than my husband to enjoy horses. I would never risk letting him go elsewhere, he deserves to retire and enjoy the pastures he has known since we bought him.
This is Sport and my husband just getting ready to ride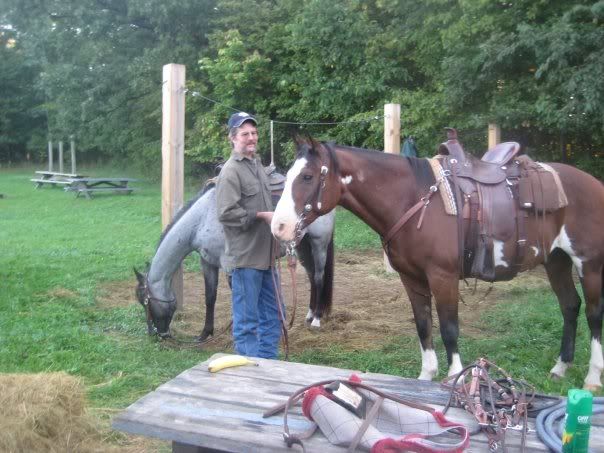 I agree with you WN. I bought my Rosie last year...she was 16. She was also in some really pitiful shape when I got her. I found out earlier this year that her back tendons had been cut for the show ring. She now has swelling from time to time whether she's being ridden or not. I now have her on two separate supplements for her joints, and she seems to be doing better. I ride her bareback in the ring, and my DH uses her for short trails (he's just learning to ride and has back problems). But to get to my point...I have had Rosie for less than a year. She gave me my confidence back after my accidents last year, and has been one of the most all around wonderful horses that has ever owned me. Someone said to me when we first starting noticing the problems in her back ankles that I should go ahead and sell her. Me, knowing just bits and pieces of what this horse went through before she came to me, refuses to let her go. The thoughts of her going somewhere and not being taken care of kills me. She's such a sweetheart and has found her forever home with me.
---
Honary "HFA" member...That's right, I'm admitting it!
BTW....That's NOT rain on your windshield!!!!
On one hand it sucks and I see it all the time. On the other hand I can understand. I've got 6ish acres for the horses. Keeping all my horses until they pass means I won't have room for rideable horses. So my options are finding them a home, not having a horse to ride or putting them down. I know I'll end up keeping them until they are so old they are melting but I understand how others see using the other options.
Definitely sounds like they just want to push the expenses on someone else. My favorite part is when they say they'll still be coming to check up on him and want to ride him. As though they don't understand that when you give away a horse, it isn't theirs anymore.

Poor horse.
You know what, crap like that makes my blood boil!
I've had him for 28 years, but don't want to be BOTHERED to retire him on my dime. I want someone else to take on his expenses, but want to able to visit and ride him whenever I want.
OH HELL NO!!!!
Please don't tell me where this is posted, because I'll go all medieval on her lazy, self-entitled ass! I HATE people who see their oldsters as being disposable. HATE THEM!!!
Hey we live in a society that does it to old people...stick granny in a home and visit her twice a year...why not your horse? It's not just these people...it's the lack of caring for something that becomes "useless" to us....it's a human fault. I understand sh#t happens in life, there are circumstances beyond our control...I don't think this is the case here...this is just someone dumping an old and faithful friend because he can't be "used" like before...that's sad. I feel depressed now :(
Herd, if it got to the point where I couldn't afford my horses anymore, I'd give away the young ones and put down the oldster.

A 33 y/o horse who has worked hard all his life doesn't deserve to be treated as disposable, and ripped away from the home he's had for 28 years. People who do this make me SICK. Ungrateful bitch. She used him up, and now doesn't think she should be responsible for his elder care.

I retired one of my horses at 19 y/o; he's now 24. I'll take care of him as long as he tells me that life has some meaning for him.
Banned
Join Date: Jul 2009
Location: In a land far far away, or so I wish.
Posts: 12,825
• Horses: 0
I am not sure how taking on the expense of granny living in a home is not caring and neglecting duties. In a world where most families have two people working full time to make ends meet it is pretty impossible to have granny at home if she needs constant care.

Oh, and what do you do when Granny lives several hundred miles away and refuses to leave the town, with absolutely no good employment opportunities that she lives in?

Your comments are very not related to topic at hand, herdbound, and very short sighted.


On the topic at hand, I totally agree with SR. Of course, someone else pay for this horse, but I still want to use it whenever I want. Puke.
It wasn't meant as seriously as taken, and I am sorry if it offended you. I was using it more as a word picture. Some people do use nursing homes as a place to stick elderly people, a sorta outta site outta mind scenario while they get to live their lives unburdened by the responsibility of taking care of the elderly person...SOME not all...I was making a comment about our "me" centered society...if something is going to cost us more money, or costs us a little extra effort...it has to benefit us in some way in order to be worth it. There isn't as much doing of good deeds just to do them anymore...there has to be a reward. Feeding and caring for an animal who has outlived it's use is asking too much of the above mentioned people...I think that is rather sad.