Lifetime..?
---
Does anyone have a horse they've owned for their whole live's or got as a youngster?(your whole life, or the horses whole life) just wondering, I plan on owning my mare for the rest of her life. Also if you have any opinions concerning this, good or bad, you should post em :)
---

/)___~~
<\ <\
I think it is incredible- I wish I could have kept my 1st horse, AQHA Play N Splash forever. I tried writing to his current owners and they never responded. His birthday is 05-02-91 so he will be 19 this year. Good for you for keeping your girl forever!!!
I promised Hoover when I rescued him he would be with me until one of us died...if it's me, he then becomes the property of the rescue where I board, so he never has to leave. They even gave me permission to have him buried there.
---
"Sit tall in the saddle, hold your head up high. Keep your eyes fixed where the trail meets the sky. And live like you ain't afraid to die...don't be scared, jut enjoy the ride." - Chris LeDoux
My mom owned this gelding for when he was about 10 till he was 35.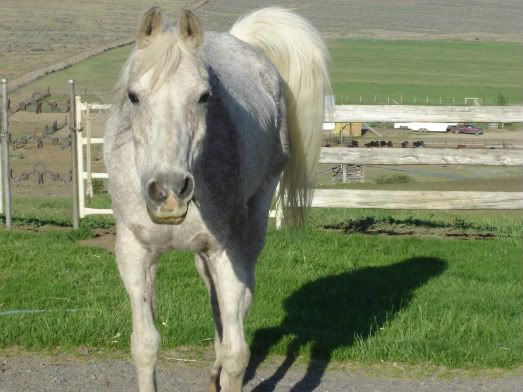 This I also my mom's mare. However, my grandparents bred her and she just turned 31. Been with us all the time. Pictured at 30 years
---
"Horses donít have hard mouths, they have hard, stiff bodies. The softer you can get the horse through his body, the softer he will be in your hands." Clinton Anderson





Good topic Dani. I have only owned my horse a couple of years but plan on owning him the rest of his life. I have even made arrangements for him in case of my early demise. It will be interesting to see how many people have owned a horse all of it's life.
I rode my old mare the first time when she was 4. Subsequently bought her and I was with her when she died at almost 37yrs of age. I bought my two geldings when they were 15mths old and they will be with me as long as I live or as long as they do.
wow BigGreyHorse, I didn't even know a horse could live to be 37!
yep, I will pull pictures when I am home. I've owned 3 horses who were with me for 16 years, and one for 11 years. One was put down because she lost all her teeth and she was going into renal failure, the one I gave away as a pasture buddy/family horse and the last one I sold as a beginner's horse.
My parents bought 2 TWH when I was about a 6 mnths to a year old and they got another a year later. We kept all of them until they died. One died in the pasture about 6 years ago, another was put down about 2 years ago, and the last is still alive. I just turned 29 and Flame is turning 30(?) this year. I've spent almost my entire life with that horse....