Me and Madhi
---
Hey all,
Let me start by telling you a little about myself. My name is Cara. I'm a little over weight, 210 and short, but it hasn't ever stopped me from doing things I love. The horse you are about to see is the gelding I am exercising for a friend and practicing on. I am taking summer horse back ridding classes through my college this year so he is my practice horse out of class. My ridding abilities are about as far as a horrible posting trot. I leased another horse back in September who was taller, and the same age but hadn't been played with in a few years. She was great on teaching me how to act for myself but I never did get any better with trotting. Pretty hard to focus on posting when you are worried about not being able to turn her away from trotting out of the arena! The only thing that I guess got better was that I did walk around the lot and explore the woods. Going through gates was something I tried to master, going down hills, and getting her to turn when I asked. She was VERY stubborn about turning on her right and pulled me through the woods a few times. Her owner didn't take care of the lot, or her horses and Tipi grew skinny when I didn't feed her So I left.
Okay! so let me tell you a little bit my new ride. Madhi is a 21 yr old Arabian Gelding that use to event, and in his later years be a school horse. He's a grey dappled boy that looked really good when his owner got him to leg yield at a canter and curve his neck over. ( no idea what that is official called .) He has lamanitis so he can't be pushed too hard.
He does a pretty good typical Quarter horse walk on his lazy days.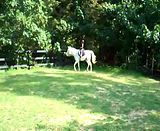 This is a video I took of Madhi and the owners 4yr old daughter ridding around the arena. She does good for being 4!
Right now I don't have any videos or photos of me ridding but I am going to make one this Saturday when I ride again. My plan is to try to leg yield on him since I haven't tried it successfully since my last lesson a year ago.
So how does he look? I am starting this thread to be kind of like a blog so that I can update it and ask for tips on things everything I ride. Figured it would save room by making one single thread instead of one for each question.
Hey all,

So I have a ridding question. Saturday I went out to ride him. Everything went smoothly. I lunged madhi up to a trot for about 5-10 minuets. Than I pulled him up to the fence and got on him.

The first time I got on madhi. He walked off not too happy but didn't do anything frisky. Second time was by myself and He did bunny bucks after getting on. It wasn't enough to unsettle me and He settled down after a bit. Today/Saturday He did bunny bucks a bit more than last time. I got my stirups settled, not wanting to fiddle with them while he had his episode, and he was fine for the rest of the ride. I tried leg yeilding for the first time in a few months. Got the right side good but he's not responding well to the left side.

I want to know why he would be doing the bunny bucks and if they will get better as I ride him more and more. Also, What can I do to bond with him more? I have been walking him around letting him eat grass, and grooming him on my off days just to spend time with him.
I think the best place to ask about the bucking issues is the horse training section of this forum. There are some very knowledgeable people on here that will try and help you. Unfortunately, I'm not one of them
. I'm not a horse trainer, nor do I have enough experience to be trying to help with the bucking.
I do have to ask one question though. Has the horse been cleared by a vet to be ridden? At the walk, trot and canter? It is my understanding that laminitis is a very painful and chronic condition. I'd keep a close check on that if I were you.
I'm no expert on bonding either, but I do have a little experience with that. With my own horse, bonding took a lot. I looked at him as the most beautiful creature on earth and he looked at me like a horse eating predator. I started out believing that bonding only occurred when we were doing something he liked...like hand grazing. I later learned that every time I'm with my horse we are forming our bond as long as I am kind and gentle. Grooming, petting, taking him on walks, hand grazing, hanging out with him in the pasture, ground work and riding are all things that make for great bonding time for me and my horse. Also, when trail riding, I really like to let my horse stand and rest with me as opposed to tying him somewhere and letting him rest...don't get me wrong, nothing wrong with tying your horse and taking a break...I just want to be associated with the rest time as well as the riding time. On our home trails, we even have places designated that we let our horses stop and graze. You just really need to keep a nice balance between work and play and a nice healthy dose of respect.
Thanks.

And yes he's been cleared. The old boy doesn't do a lick of harm to her daughters 4yr when she trots him around. All I'm asking is for a simple walk and a few fancy turns!

I figured that in this area I could post a few things to be looked at. I forgot my cam sat but when I do ride again I am going to take a video of him acting up, me ridding, etc.

At least now both him and onny the other horse in the barn nicker when I come by. I turn on music and onny nods his head and dances around. Madhi just acts normal but I figured it's a way that he can associate with me.
Boy, he's a handsome fellow, isn't he? I've got a soft spot for them Arabs, though. ;)
Didn't get the video to work as I'm on dial up and it'd take forever, but he looks like a nice mover from the pictures and collects good - he's got good training, it looks like.

How long or often was he rode prior to you getting him? There could be a few reasons for him offering crow hops.
If he wasn't rode consistantly until you got him, it could just be it's because he's acting fresh. 21 isn't that old for an Arabian and they can still act pretty spicy.
If could be your saddle isn't fitting proper, or your bridle (this is most often found on the brow band where it's too tight and pinches their ears) but if he settles down after a bit I'm not sure how much it could be attributed to tack.
Also if he's only been rode by kids lately, it could be some conditioning issues with his back and such with the weight change. I had a gelding in for training a few weeks ago and never had a lick of trouble with him, even when I took him out for a four hour trail ride. But his owner was bigger than I was and he only made it two hours before it started to strain his muscles and he needed a break. He's doing good now, but they had to start on small rides in order to get him into shape for her.
Or, it could be something that he's always done. Some horses are just cinchy and tend to argue a bit during the first five minutes to see if they can get away with not being worked. It could be a learned habit.
On the bright side, it doesn't seem like he's trying real hard to get you off so I don't expect (of course, he is a horse!) that you'll have some serious bucking problems in the future if he realises that crow hopping won't get you off.

As for bonding I just go out and see my girls all the time. Sometimes I bring treats, more often not. My treats often consist of some really good butt and shoulder scratching which they really enjoy!
---
Madhi is adorable. I've never ridden an Arabian and He feels like a safe height etc. Normally I would of been a little scared even thinking about a horse bucking but I just sit through his episodes and ride on. Doesn't phase me! So, I think he's a good catch for a free exercise horse that I get to ride when ever.

Madhi is an old lesson horse/eventer/etc. The owner had him since he was 1 and raised him from the ground up. He didn't get a saddle till he was 5. Recently he gets ridden by the owners 4 yr old at a trot once-twice a week. Last week none because the owner's allergies were acting up. I fill in the ridding schedule by trying to ride at least once a week, and groom twice a week.

I don't think it's the equipment because the bridle is big on him and is tightened to the last knot. Saddle looks just right and It takes me ten minuets just to tell myself the saddle isn't side ways and in the right spot.

The owner did tell me he's always walked off with the rider and she didn't want to push him to stop because he's more of a house pet now than a lesson horse. My first thought on the popping was just that he was being a brat about getting a heavier rider. He has a pad, and a foam pad under the saddle!

Yay! Than I am doing a good job at bonding him. With page, a horse I have known for about 5-6 yrs, I played with him on the ground before even ridding him. When I got on him, He acted like each step would make me fall off. lol He's still my favorite horse. Made me feel proud when they were all surprised he didn't act up. He use to buck, and be a bad bad boy but every time I rode was an slooow angel.