Meet Victory Meadows aka Vicor new pony! :-D
---
Hello everyone!
I am one of the horse.com refugees and I wanted to share the news and photos of my sister's new horse, Vicor. I was a little reluctant to post about him at first afraid of being ridiculed(sp?) about getting a new horse so soon after Hope's death. But Hope's passing left us open to take in another horse in need, and Vicor was in need of a new home.
Info about Vicor:
He is a 16+hh 3yr old off the track thoroughbred that only raced once. He injured his knee 6 months ago and even after the vet gave the all clear for him to go back into race training his owner decided she'd rather he went to a pleasure home then push him as a race horse.
I went with my sister to see him yesterday. We watched him on the hot walker, the lungeline then his owner rode him first. She had him w/t/c in both directions. He carries himself surpisingly well for a gangly 3yr old. I then hopped on him, first time on a horse in over 2weeks due to my back injury but he barely flinched at my weight. He was extremely responsive and relaxed. When her weanlings started tearing around in the paddock next to us he just looked at them. No spook. I only walked around 2x and trotted a lap before I had to dismount so not to hurt my back.
He is going to be work, but since Gracie's recent decision to be a cart horse rather then my dressage pony, we're hoping Vicor will be able to do some low level stuff with me.
PLEASE feel free to critique his confermation! I'd love to here other peoples view on his build keep in mind he still has at least 2 more years of growing to do!
Here are links to his photos:
(I didn't know if you could directly put up photos here so I posted direct links AND image codes)
http://i67.photobucket.com/albums/h3...tb/Vicor11.jpg
http://i67.photobucket.com/albums/h3...rConfoshot.jpg
http://i67.photobucket.com/albums/h3...orHeadshot.jpg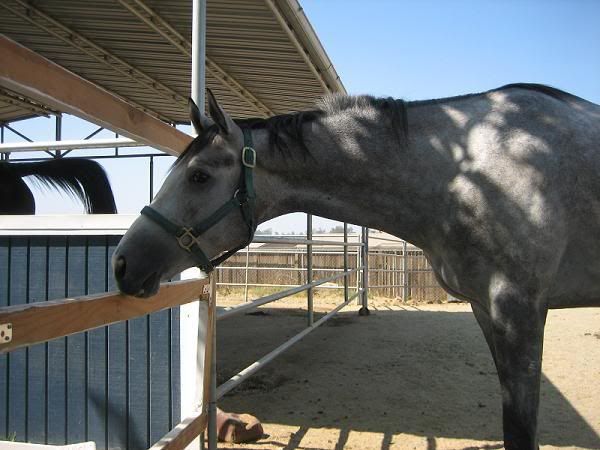 ---
In Loving memory of Leah the STB and Hope the Donkey. Hope to see you over the rainbow.
He's gorgeous!!!
---
-Horse racing is my passion-
Athena:15y Palomino QH & Shirley's Brittney:8y Bay OTTB
He's stunning, congrats to your sis!
I looove his coloring.
---
Ride more, worry less.
I love his color. He is very elegant. Congrats!
---
Our farm is home to 4 adopted draft horses
Please consider adopting and give a horse back it's life.



Oh Grace he is SOOOO PURDY!!!!!
Oh my gosh I love him! He is so gorgeous
I don't normally like greys or tb's BUT I LOVE HIM. What a stunning horse! Make sure to post regular pictures of him and he does with training
What a pleasant surprise to pop in here and see this new addition to your family.

And Don't worry. You didn't shock me. I expected it.

He is absolutely beautiful! I can't wait to hear about his adventures.
---
I am blessed.
Poor Gracie....can't shock anyone. I think we were all waiting for this!
This horse is absolutely STUNNING!! I LOVE grays! (I almost bought a fleabitten TWH.....) The dapples are beautiful!!
Makes your heart happy, doesn't it?
We can't wait to hear all about your (you and Vicor) adventures!
---
Congrats! He sounds as awesome as he looks!
---
Mercury - 2002 bay tb gelding
Cobalt - 2006 bay sw warmblood x QH gelding
Cricket- 1996 chestnut tb gelding

Bella Blues - 2007 Australian shepher/Blue heeler mix
Titan W. - 2008 Jack Russell Terrier
wow He is lovely!! Can't wait to see his progress!!! Good luck with him I am sure you two will really enjoy him :)