My gift pony
---
I asked about loaning a highland pony from a lady, I went to see her and fell in love with her, she had always been a brood mare but at some point had been backed. We discussed how long I would loan her for and what I intended to use her for I was planning to breed a highland foal from her. I arranged to pick her up for the loan in a small pony box when I got there the pony's owner said she would like to gift her to me for a nominal amount
Nashend Balblair or Belle came to live with us, she is the sweetest mare with such a wonderful temprement. She is a 14.1 cream dun ( but greyed out with age) She has become a firm favourite at the farm with friends and family. My daughter and young sharer rebacked her and brought her back into gentle work and now spring is her she is busy teaching my Other Half to ride..... not bad for a 20 year old lady and this summer will go to visit a handsome show winning highland stallion :) and maybe have a foal for us :)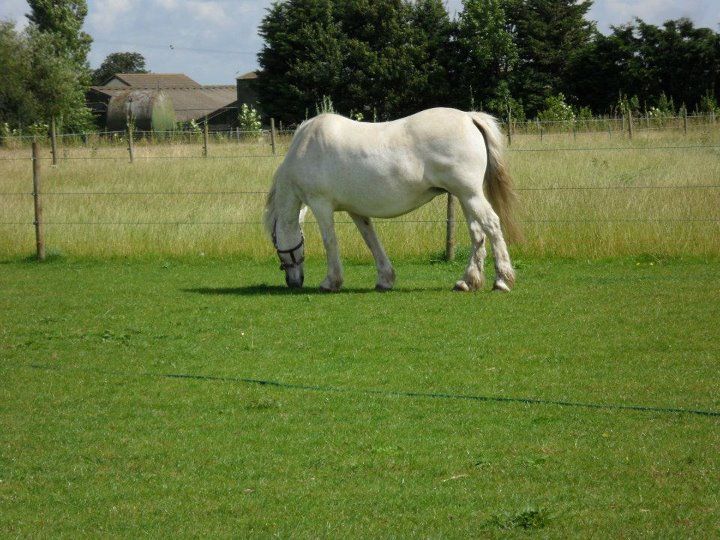 My other half getting to know Belle, riding her for the first time.
---
TRAIL RIDING HOURS IN THE SADDLE

..37 hours 20 mins totaĺ 2016 !!! .2017..7 hour 15 mins
---
Last edited by Fellpony; 04-07-2013 at

05:44 PM

.
Congratulations, what a cutie!
---
Live well, laugh often, love deeply...An' it harm none.
She is lovely! Congratulations!
Yearling
Join Date: Aug 2012
Location: On the golden coast of Michigan
Posts: 918
• Horses:
3
Oh boy does she look fuzzy! Very, very cute! Congrats!
---
For the wretched of the earth there is a flame that never dies.
Even the darkest night will end and the sun will rise.
What a lovely little mare-so glad you were able to bring her home as your own.
Yearling
Join Date: Sep 2012
Location: Central Western NSW, Australia
Posts: 1,120
• Horses:
4
Oooooooh I love her! So chunky...
She is lovely
congratulations
---
Country Woman


She's a beauty! Congrats :)
very pretty horse. Are they usually light colored like that? I know nothing about the breed.
Similar Threads
Thread
Thread Starter
Forum
Replies
Last Post
My Gift to ME!

GypsyLuvR

Horse Colors and Genetics

15

06-05-2012

06:33 PM

Gift for Equestrian?

Equestrienne92

Horse Tack and Equipment

7

06-02-2012

10:51 PM