My TB thinks he's a QH...
---
Disclaimer: This post is mostly for amusement. It should not be taken too seriously.

Reno is a 4 year old OTTB gelding. He has only ever been ridden in Thoroughbred races (five starts) and has been started under saddle as a Dressage prospect. Last Saturday we had a photoshoot at the farm. We did conformation shots of all the horses and action shots of whoever would run around. I'm still waiting on photos...so excited. When it was Reno's turn to be put out in the field and run around like his little self...he RAN. First he did a little buck and started galloping around. Then he started running towards me and the photographer by the gate. When he got close he did a sliding stop (it looked pretty legit from what I could tell, considering I had been watching Reining videos the night before).

Reno...you're a Thoroughbred...but that was awesome XD

I shall be posting pictures once I get them...oh I hope we got that shot...
---
ʀ ɛ ɴ ø ,-------------
"Who rescued who?"
---------ċ ᴀ ʀ ʅ ʏ
There ARE horses out there with severe identity crisis.....I've known a Haflinger gelding who would cut cows in pasture
My draft cross likes to pretend he's an arab. He even tries to flag his tail like an arab. It doesn't work, but he tries.
---
Do not tell me I can't...because I will
show
you that I can.
haha, sometimes my horse thinks he's a stallion. We'll be at a show, and he'll see a mare and start getting all stud-like. People actually went to the show booth to report "a minor riding a stallion" (it is illegal to show a stallion if you're under 19, at least where I show). He was gelded at a normal age, so that doesn't have anything to do with it. He's just weird!
---
Riders aren't 16 and pregnant. Riders are 16 and arthritic.
Oooh pictures, how exciting! Isn't it hard waiting for them!?! Be sure to share once you get them :)
Hahaha me being a Reiner wannabe, I think that if he wants to be a QH that's just fine!!! Love it!
What a silly boy!
Would love to see the photos once you get them.
Haha, how cute!
Truth be told, my boy thinks he is just a goofy yellow lab in a horse costume.
Really.
Ah yes! Casey wants to be a reiner as well- shes a Pintabian TB cross. (little bit of a blurry picture)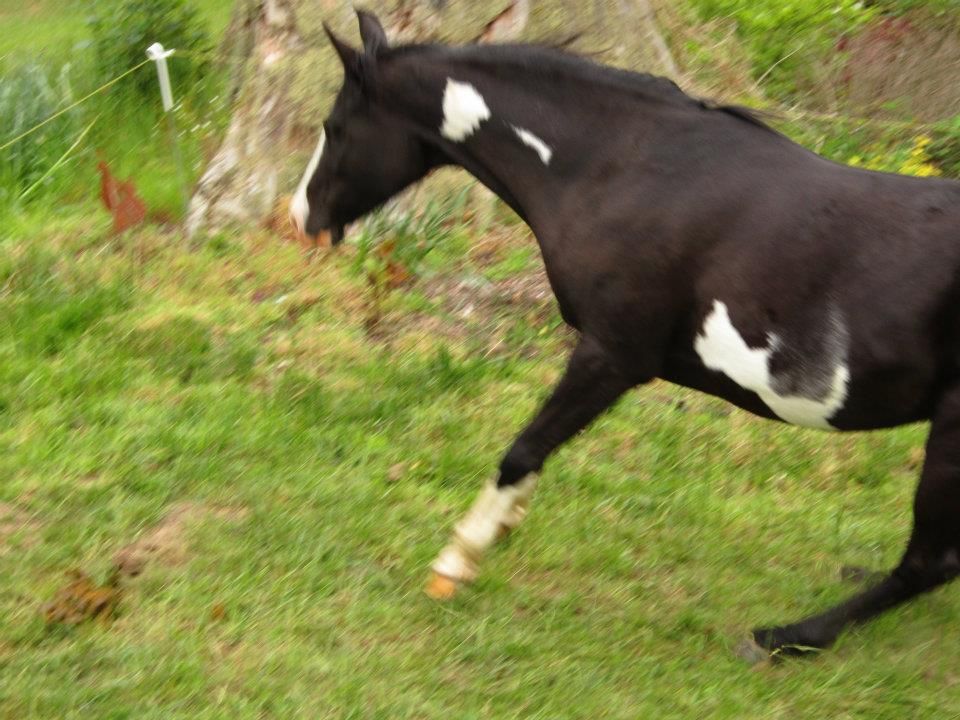 ---
"Good things come to those who wait… greater things come to those who get off their ass and do anything to make it happen." - Unknown
I watched my TB doing a sliding stop in the field the other day, I was horrified LOL. I'd almost rather see him jump the fence (I like him to be a jumper) than the thought that I might have to carry those 100lbs saddles to ride him.