Mystery Pony
---
Hey guys I have a question for everybody. At my barn they have a really cute pony named Nomar. I love to ride him and he is the most forward pont I have ever met. Although I have no clue what breed he is. Nomar has a yellowish mane with long brown fur covering his body. He is farely small and when you trim his coat you can see little yellowish polkadots. I have tried asking my friend and both of us have No idea.
sorry guys I meant to say pont when I typed pont
Wow. Very interesting. Pictures would definitely help because without them, I have absolutely no idea. ..................................... Maybe a chocolate palomino, or a rocky mountain horse....???? IDK
---
Always remember that feeling of looking at a big, open country over the ears of a good horse, seeing a new trail unwind ahead of you, and that ever-spectacular view from the top of the ridge!!! Follow my training blog:
http://robertsontraining.blogspot.com/
I just got a pic of him sorry he has he blanket on but the little fella was going out on a cold day!

[IMG]file:///C:/DOCUME~1/Guys/LOCALS~1/Temp/Practice%20Ride%203-1-09%20002%20-%20Copy.jpg[/IMG]
Does he look similar to this? If so i have been told she is a silver dapple. When she sheds out she turns this silvery brown color.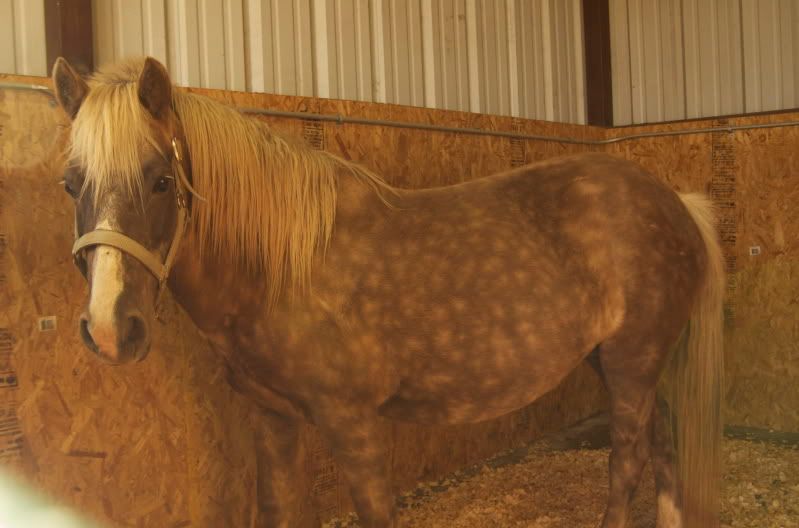 A pic of her all slick is in my horses tab her name is Little Luci
I had a pony that color that would shed out to chocolate brown almost black in the summer. He was part Rocky Mountain... We were told he was a roan, but I think they call that color a chocolate palomino now.

Cute pony stacieandtheboys! :)
thanks :) that was just a few days before she foaled that cute little thing in my avatar.
Aww... :)
My pony that had that coloring was named Tye Dye. How fitting... lol.
twinkie, could you upload your pic to flickr or photobucket? That way we can see it. Dapples are pretty though, and it seems like thats the color.
Thanks guys sorry about the pic I am trying to let you see them but have no clue how but I think Nomar is very similar to the silver dapple