Need AQHA info Please!
---
So the run down is this (new member by the way).
I have a TB and a smaller buckskin grade mare. I got married on June 1st 2012 and my hubby wants to ride with me on trails and organized rides. My TB is too "Hot" for his level of riding and the Buckskin mare in about 14.2 hands. Hubby is 6 foot 260lbs and just doesn't want to ride the mare. So I have been in search of a husband safe horse. I refused to jump on the first horse to come around...had to be a safe, sane, experienced horse for a beginner. I have finally found a QH gelding that is a bit over 15 hands, bay, very safe and in good health. After a visit with him and riding and watching him be ridden, I decided to buy him. I pick him up this weekend.
The couple I'm buying him from are getting a divorce and the husband is selling his horses off the farm. They have had the horse for about 3 years and bought him from friends that had him for many years before that. The horse is 19 years old (supposedly). He is a bay and has a freeze brand on his left hide quarter. They said he is reg. with AQHA but that they don't have his papers. They gave me a print out from All Breed Database with his info (or what they say they were told was his info.) The people seem honest enough but they were just unable to answer any question about the horse's past. However, I am please with being able to own the horse regardless of his breeding. He is an awesome big guy and is exactly what I have been looking for.
I tried to look up info on him (mainly interested in past owners info) but I'm not a member of AQHA. I'd love to know who he is reg. to and find a way to reg. him in my name.
Are any members here a member of AQHA? If so would you be willing to find out the info on this boy for me??
His name is Skip Hip Hooray "1993"
AQHA# 3214584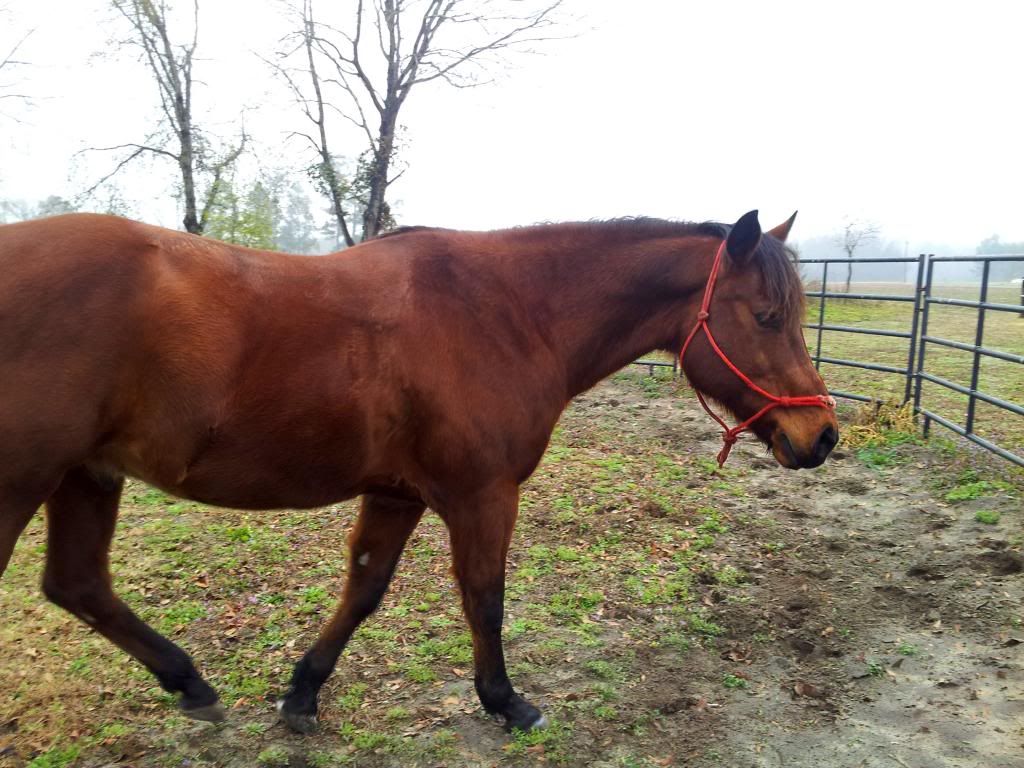 When I pick him up, I'll take a better pic of the freeze brand. I'm really curious where (what Farm) it is linked to.
I just want to say that I love his face. :)
Thank you! His head is rather large (thick). Could be because I'm normally face to face with Arabs and TB's!
Is the last recorded owner (the last one that has their name on the lost AQHA papers) available to you? You cannot get duplicate papers without a signed (notarized) affidavit from the 'owner of record', four photos of the horse (that match his markings) and DNA testing if AQHA thinks it is necessary to confirm that this is the horse. If you tell them that there have been other owners between that owner and you, they will require Transfer Forms and a transfer fee for each ownership change and will require a membership or you have to pay the highest transfer fee for 'non-members'.

If you can find this 'owner of record' and pursue this it will cost:

$30.00 for Duplicate Certificate ($70.00 for a non-member)
$15.00 for each transfer ($55.00 for a non-member)

If you think you want to do this, I will look up his last 'owner of record' and PM you that person's name and last address on AQHA records. The last time I did this, the person had moved, was no longer a member and even phone calls to the local Vets and Feed Stores came up empty.
Just curious..What does it cost to become a member of AQHA?



Good looking fella you got there...
Just a quick note - when registering a horse with AQHA for the first time, you receive free membership for a year, as with AHA. I bought both of my horses last year and wasn't a member of either organization, but have been for the last year since I transferred their ownership to my name. Now, my memberships are expiring, but it was interesting to explore my membership perks that came along with my registration transfer!