Need Costume Ideas
---
There's one costume show that I do every year at our local fair, and it's become quite a competition among some of the adults who do it year after year.

I would love to hear your ideas for costume for a horse and rider. In the past I've done Native American, Gypsy, Pilgrim, Skunk, Me as a cupcake and horse as a baker, me as a chicken and the horse as a 'chick magnet'...well that's all I can think of right now.

I need to incorporate horse and rider, but I don't have to be riding the horse in the class if the costume doesn't allow.

Thanks, can't wait to hear something new!

---
If you can't be brave, then be determined, and you'll end up at the same place.
How about Darth Vader and Luke Skywalker? Lol. Works better if the horse is black.
Or you could do a pimp and hoe? Always wanted to do that one, but not sure if that would be appropriate for a costum show. Hehe
Posted via Mobile Device
Sonny and cher
Mickey and minnie mouse ( my sons fav!!)
Cat chasing the mouse?
Croc hunter and make your horse a croc?
Hmmm thing 1 and thing 2?


Im sure after i post this, ill think of all the reallly good ones!
Posted via Mobile Device
thanks for the ideas!
---
If you can't be brave, then be determined, and you'll end up at the same place.
Paint it up with a wild animal pattern like leopard or giraffe or zebra then dress up as "Jane"

Warhorse and warrior (medieval)

Princess/fairy and unicorn

Dragon and princess
Posted via Mobile Device
i always wanted to do me as the Mad Hatter and my horse as the Chesire Cat!
He's black, so am trying to think of a wordplay on that.

Also, I will be 57 by the time of the show, so have to think accordingly.Not grown up per se,(because I'm not) but not a Disney character either.

I do have g'kids showing, so all ideas are appreciated.
---
If you can't be brave, then be determined, and you'll end up at the same place.
what a bout a Knights Tale
---
Country Woman


I did a Ghost Busters theme once wher I draped the horse in a sheet and cut eye and ear holes out for his eyes and ears. I made the ghost catching box out of a shoebox and attached it to the leadrope, and I got a ghostbusters outfit. Won first place.
Then I went as The Shredder and Donatello. I made blades out of an old pizza box and spray painted them silver and stuck them on my silver helmet. Made silver spike shoulder pads and wore black spandex. Also wore a silver mouth shield like the shredder. I put a green blanket and a green sleezy over the horse, cut out a felt shell and a belt, and gave him a purple bandana and knee/elbow pads. First place :)
My first costume show was this: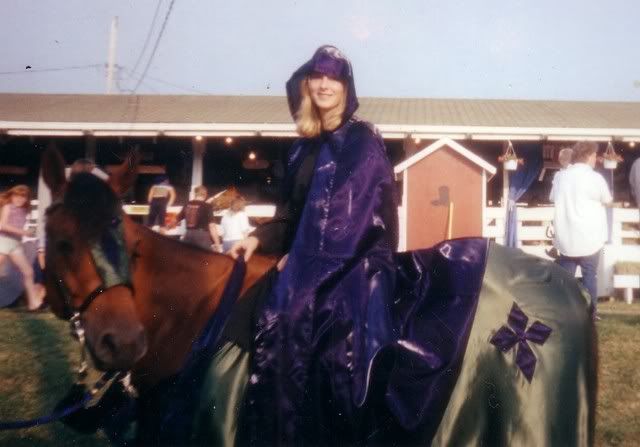 I was 17 and everything was handmade. We won best of show.
Whatever you do, knock 'em dead!
This is the only pic of "me" in the Ghost Busters outfit. We are in the background. Its actually my friend you can see, who dressed up with me, and I'm behind her (I'm a small person lol) You get the idea though!
Similar Threads
Thread
Thread Starter
Forum
Replies
Last Post
Costume ideas?

JaneyWaney9

Horse Talk

3

06-14-2012

05:09 PM

Costume Ideas??

crzyhrse

Horse Shows

7

01-26-2012

12:07 PM

Costume ideas?

FoxRidgeRanch

Horse Talk

0

09-30-2011

04:07 PM

costume ideas

Gidget

Horse Grooming

3

09-29-2010

09:38 AM

Costume ideas?

dynamite.

Horse Talk

5

10-13-2008

11:27 AM