Need honest, unbiased opinion on what to do regarding my new horse
---
I've had my new horse for about 5 wks now. To make a long story short, my daughter and I each bought a horse from someone local - when looking to buy a horse I was perfectly clear that I am not a super experienced rider and that I wanted a horse that was good on the trails and who enjoyed attention, etc. My daughter was looking for a hunter/jumper prospect as she had to retire her TB due to a hind leg injury which prevented her from jumping more than 2 ft.
Anyhow - I was told that the mare they had available sounded just perfect for me. She hadn't been out on the trail recently, but with 2 weeks of minor work (just being under saddle again, etc) that she'd be totally fine. We were told that my daughter's horse had not had as much training (basically green broke) but that her only bad habit was that her head carriage was a little high.
So - we get the horses home and my daughter's horse refuses to walk forward at all - she will only rear and continuously back up. After working with her for weeks, something seems to have finally clicked and she is doing so much better. They've made progress in various areas - and while I was initially really pissed off at the seller, I can see that this horse is at least WILLING to learn and work - and seems to enjoy herself now that she's figured out what is being asked of her.
Now - for my horse - the one who was supposed to be easy. She is extremely dominant and was so pushy (on the ground) when we first got her. We've made a lot of progress with that, but she still has some things that need tweaking even there. She started with the annoying habit of refusing to walk on when asked. When pushed (meaning with some coaxing with some leg) she eventually would walk a few feet only to start the whole thing over again. When she learned that we weren't giving up at that point she started head tossing. I took her out on the trails last weekend for an hour and at she started the head tossing maybe 5 min into it. By the time we were on our way back, it was getting ridiculous - she'd keep stopping and every time I'd ask her to move forward, she'd toss her head higher and higher. It ended with her rearing and with me getting off, because I admittedly do not have the confidence to fight with a horse that I do not entirely trust at this point.
I looked online and asked for advice here on this forum - switched her bit (to full cheek snaffle), switched the saddle (in case the other one was bothering her). Nothing worked. Instead, she is becoming increasingly difficult and is starting to act up as soon as she sees a saddle pad. Thinking that it could be the saddle, my daughter rode her with a bareback pad. Same thing. As a last resort, we tried a halter (with reins) AND a bareback pad - same thing. So it can't be her teeth - it seems like it's a habit becase she's in a pissing match w/ us and does not want to do something simple like walk in the ring for 10 minutes.
The head tossing was bad enough - but now she's started rearing (not full blown rearing in the sense that my daughter's horse had been doing, but her feet are still 6 inches or so up off the ground).
So, I spoke with the woman I bought her from last night and she's saying this has to be a new habit. She's swearing that it will be easy to fix and told us to tack her up, lunge the crap out of her, and then have my daughter get on her while still on the lunge line. As soon as she tosses that head to have my daughter get off of her and lunge the crap out of her (repeat as necessary). Now we did lunge her yesterday (before riding) and she suddenly stopped, faced my daugther, and reared in her direction. I thought it was a fluke, because she's been pretty good in the past when lunging. Went out there this morning, even though my daughter is in school (she's 18), and figured I'd at least be able to tack her up and lunge her for a while. Well that worked out OK for about 10 min and she suddenly stopped and did the same thing to me - faced me and reared at me.
In the meantime, I spoke to a local trainer yesterday who also happened to have a few horses for sale. We went by her barn, rode some of her horses and it was so amazing just to be able to get on a horses back without having to do battle. Her advice was to return the horse - she thinks (and my daughter does to) that once we fix one problem, that she is going to develop a new one because of her disposition. My question is - what do YOU think?
Before I went out and got on another horse's back I couldn't even stand the thought of placing Lollipop. Now I realize that it doesn't HAVE to be this much work and I honestly feel that I was misled (and yes, I admit that I am partly to blame because I was so eager to find myself the Paint that I have always wanted that the woman must have seen an easy target).
So I guess where I am now is wondering if it's worth investing even more $ into Lollipop for training (while missing out on all the trail riding I could be doing) or if it's smarter to cut my losses and return her and buy a horse that has more training (even if it's not a Paint
).
I guess I'm especially annoyed with myself because I could have taken my daughter's TB and had a great horse for what I wanted, but because I had my heart set on a specific breed that I made a costly (financial and emotional) mistake.
---
Nicole
It's hard to say without seeing a horse, but I don't think it's so much of just a disposition. Obviously she's very smart and understood she can take advantage of you (and your daughter). So she did. You either have to return her and get a horse, which would fit into your ability/experience, or send this horse to the trainer and then start taking lessons under the trainer to learn how to deal with her. She still can be way over your head though even with the training put in. Personally I'd vote to send her back and get something been there done that you can simply enjoy riding and messing with. I'm not trying to be mean here, but rearing is VERY dangerous, the last thing you want to be is ER!
I'd send her back and get a fun and easy to ride horse. I think she needs a more experience rider and you need a more experienced horse.
I appreciate all of the replies so far. This is what I'm leaning towards doing, it's just a sucky decision. :(

The woman we got her from did call me today and her suggestion now is to send her to a local trainer for a month (we'd be boarding her there) to see what we could do. I need to sit and think about it more - if there was a guarantee that she'd be "fixed" in a month that would be great, but as we all know there are no guarantees and I'm already out of the $ I invested in her.

For $600 less than what I bought Lollipop for, I could have a fully trained AQHA mare who is kid friendly, will jump if I ever decide that's something I want to pursue in the future, fully trained for neck reining, etc.
---
Nicole
Quote:
For $600 less than what I bought Lollipop for, I could have a fully trained AQHA mare who is kid friendly, will jump if I ever decide that's something I want to pursue in the future, fully trained for neck reining, etc.
This right here. I bet you money the former owner KNEW she had issues when she sold her.
Here's something to ask yourself. Even after she comes back from the trainer, are you going to trust her? Or are you always going to have those images in your mind? When I asked myself those questions, I knew what my answer was. I sold Stiffler and purchased 2 new girls who were MUCH more my speed!
I wish you the best with whatever you decide!
---
*Dreams are within reach, you just have to go that extra mile to catch them*
I would send her back, cut the losses and get a horse more your speed. This horse sounds pushy and defiant, which gets old.
---
"Equine-facilitated therapy employs a form of biofeedback for practicing self-awareness, emotional management, and relationship skills that human role-playing exercises and discussion groups cannot begin to access." Linda Kohanov (The Tao of Equus)
Id send her back, or else put a tiedown on her (either just from the halter to the cinch or a running martingale). This will prevent her from tossing her head (a running martingale will put pressure on the bit everytime she does it, but they can also interfere sometimes).
My friend has an 11-year-old gelding, awesome trail horse but if you push him past a trot when he doesnt want to run he rears or bucks. Now, the bucking isn't an issue it's the rearing. He almost came over on her the one time.
She so put a tiedown on him & he has settled alot! He'll bob on his front feet once or twice, but he cant get his head up high enough to really throw her off balance.
---
"If a horse fails to do something that is because he was not trained to do it. If a horse fails to do something properly that is because he was not trained properly."
www.wildestheartart.com
IMO the nicest looking horses on the trail are the best behaved horses on the trail. Not a horse that is rearing even only 6". :) I would by all means take the horse back and start over. If you are really looking for a paint, remember you can always find one that is broke the way you need it to be but you will not find it over night and the horse maybe more than you are willing to spend on one.
My daughter had her heart said on a b/w paint when we started looking for a new horse for her. She instead fell in love with a seal brown AQHA who is more beautiful to her than any horse she has owned.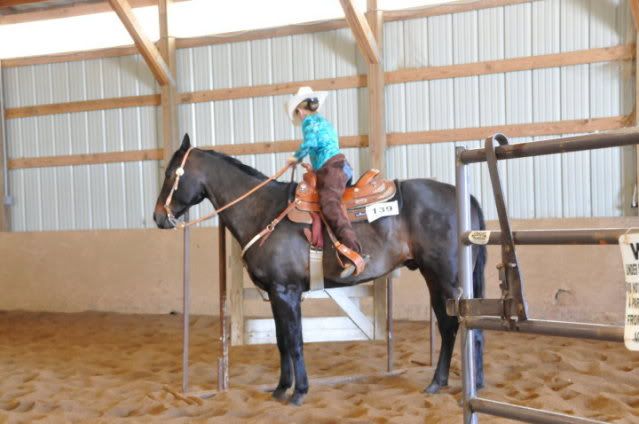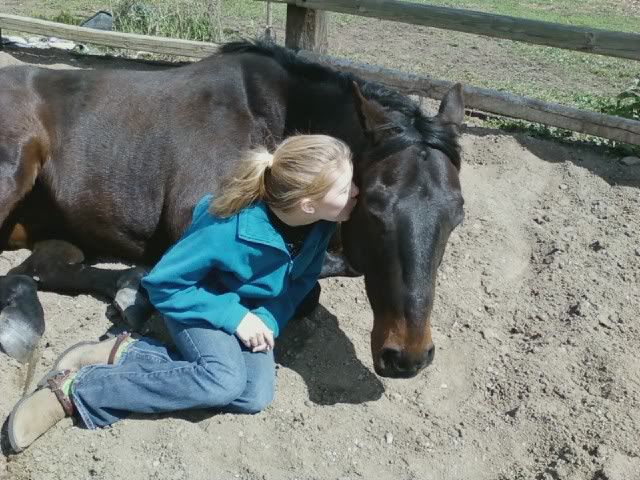 I also wouldn't be afraid to bring a whip with you. I'm not saying to use it for punishent by any means, but some horses respond better to whip pressure than leg. My mare for one used to have a real problem with going out on her own. She's balk & start walking backwards & no matter what i did or how hard i kicked she would not move out again unless we turned around.
I started bringing my whip with me & i dont even have to smack her with it. If she balks, i just give it a swing so she can see it's there or tap it against my leg & she steps right out.
---
"If a horse fails to do something that is because he was not trained to do it. If a horse fails to do something properly that is because he was not trained properly."
www.wildestheartart.com
Please keep in mind that a poorly fitting saddle can do deep muscle damage, so switching saddles and riding bareback won't do a lick of good if the tissues below are bruised. Videos would be helpful in determining behavioral problems; saying "the horse ran back and reared" is one thing, but maybe the saddle was pinching, or perhaps your daughter had a bit of a heavy hand. Did you get a complete vet check done prior to the purchase?
Posted via Mobile Device