Needing a little help please
---
We are thinking about moving into a house that a guy I know is wanting to rent out. On the property of 3 acres is 2 appaloosas Sunny and Precious. The guy that is wanting us to rent the house is really helping us and giving us a great deal on the rent payment...now Sunny and Precious have me worried and I dont know how to bring it up to this guy with out making him mad and not get the house and I dont want to report him then he just get rid of the horses He has the money to take care of them I knwo that for a fact But the horses dont have hay and I went into the barn today and I didn't see any grain nothing!!! The horses are very shy dont really want to get to close. Precious will get close enough to pet but 1 fast movement she is gone. Well today I also noticed them opening their mouth and like a huge thing of drool came out like straight water almost. Their hooves haven't had any attention they are nice and round very pretty no rain rot or bones sticking out. BUt How do I say something to him with out him getting mad at me and not let us get the house?I really dont want him to get rid of the horses which would be the best bet since he dont really do any thing with them..any suggestions would be awesome thanks!!
Green Broke
Join Date: Aug 2009
Location: New South Wales, Australia
Posts: 4,847
• Horses:
1
I don't understand the exact situation - do they look like they are not being fed? Are they skinny? Are their feet bad or not... Or did you just not see hay?

I'd just ask something about it, like if their feet look strong, you can say "oh she has strong hooves, what are you feeding her?" or if there isn't much grass because its been drought-y say something like "oh this drought is so difficult, my friend has to feed her horses hay three times a day, has it affected you?"

If you don't know him, for all you know they could just be his kids horses that he is looking after while they are on holiday or something, he may not know about horses. Give people the benefit of the doubt, but coming at him straight on isn't going to be good. Not everyone handles horses, I mean they should I guess but they don't. Just ask some questions about them, and see what you can figure, maybe he has a reason for whatever is going on.
Yes they are being fed that are pretty round...Sunny has 1 hoof that looks bad. he dont pay attention to the horses or anything on the property. He has 4 roosters kept in the barn i didn't know they were there until i heard them and went looking and they are in a part of the barn with no sun shine what so ever a 2 pans thrown in there for water n corn. He does have kids but the horses aren't theirs I've own this guy for bout 8 years. BUT I will deff use that drought one!! He's at the barn maybe 1 time every 3 wks if that. I really wanna help him out and make the animals feel better but i just don't know how to say something with out making him mad
---
Last edited by Toomey; 09-03-2009 at

08:37 AM

. Reason: misspelled a word
I'm not understanding this either. If there is no hay, no feed, no pasture, and they are not being paid attention to, how do they look fed and round? If their feet are neat, what do you mean by one hoof looking bad? How about some pictures?

As for what he does or doesn't do with them, as long as they are in good condition and have regular care such as farrier, worming etc, it really is his business. If all he wants is pasture pets, that is his concern. Your concern is just the condition of the horses. Pictures would help.
---
I'm not arguing with you, I'm just explaining why I'm right.

Nothing sucks more than that moment during an argument when you realize you're wrong.

It's not always what you say but what they hear.

---
Last edited by iridehorses; 09-03-2009 at

09:09 AM

.
Quote:
On the property of 3 acres is 2 appaloosas Sunny and Precious.
They are on 3 acres of land. Their hooves are jagged some part of the hooves go up higher than the rest. Theres no hay theres no grain. The water is nasty. Its hard to explain....I wont be able to do it today due to me having to work late tonight but Tomorrow I'm going to go out there and take pictures and then post them so you can see what I mean...I may not be able to get the horses hooves as they wont come to close. But I'll get pictures to show you guys.
I am heading to the house and to check on the horses i will get pictures for you
Sorry its been a few days my computer was down but here are the pictures of the horses and how both their hooves look. I have also talked to him more and the horses have never had shots dewormings nothing it took me about 5 mins to get sunny to come to me and Precious it took about 45 mins to come up to me and then i could pet them any where but precious didn't like the idea of me getting to close i could stick my arm out to pet her but thats it
This is Precious
This is Sunny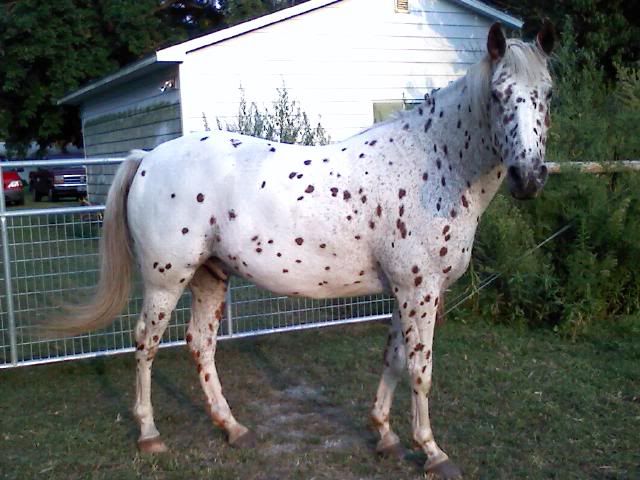 This is how both of their hooves look I was only to get a picture of Sunnys as Precious didn't care for my phone.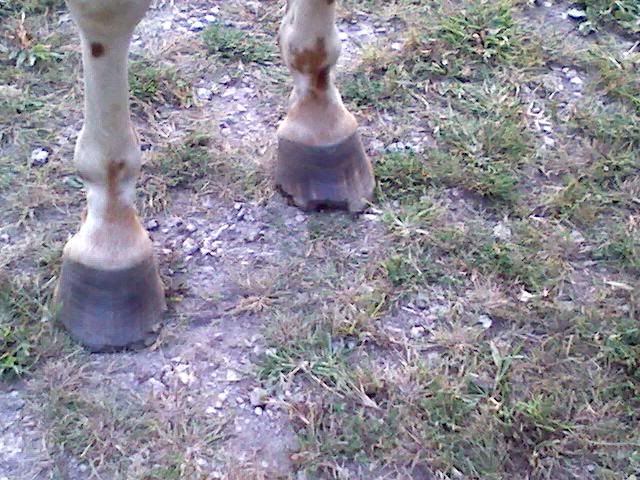 ---
Last edited by Toomey; 09-07-2009 at

06:59 PM

. Reason: For got some information
They look nice and fat to me. Actually Precious looks a little TOO fat. lol The grass looks decent in the pictures. They're probably just pasture pets, and not used to being handled everyday. Thus the reason they won't come up to you. Try bringing them an apple everyday, and you'll see a difference. Their feet don't look too great, but I've seen worse. They probably due to see their farrier. Try asking him about the farrier, and when he's coming out next.
Green Broke
Join Date: Aug 2009
Location: New South Wales, Australia
Posts: 4,847
• Horses:
1
To me they don't really look that bad. A lot people feed their horses purely of pasture, and often hay doesn't offer anything a good pasture doesn't.

I don't know what the soil is like up there but its common for horses not to be fed extra grains and minerals (even though I always do) if they aren't in work. The feet aren't ideal, but they aren't horrific or anything.

If he doesn't want much to do with them then that is his choice, as long as they are healthy and safe which they seem to be. Maybe you can have something to do with them, if you like them, if you move there are they staying on the property?

They are actually sweet looking horses. I quite like them, I have always wanted an appaloosa.
Yes if we moved in there they would stay.The day I went there and got the pictures they were way out in the pasture all i had to do was hold up an apple n they came right up n took it from me n allowed me in the pasture with them.