Never owned a horse, but i do now!! help!!
---
Oct of 2010 i bought a 5 month old Apaloosa. I've never owned a horse but have always been a horse lover. I don't know a lot about horses but have been reading a few books on how to care for her. Her name is Chica and i just love her, can't wait to have her broke and start riding. I'm just hoping i can get some advice from some of you more experienced horse riders. I have set up for her to be broke in May and i'm wondering about how long it will take to have a her broke?? I'm sure every horse is different but I'm looking for an estimate. The lady that is going to break Chica is also going to break me, as i don't know what i'm doing. I'm sure your all cringing by now but i so want to learn how to be a good horse owner. ANY advice from you would be greatly appreciated. Please just don't tell me that i have no business having a horse if i don't know what i'm doing.

Thanks
Shelly
Teen Forum Moderator
Join Date: Dec 2010
Location: South East Texas
Posts: 7,157
• Horses:
2
Wait, let me get this straigh. You have a five month old appaloosa... and you're HAVING HER BROKE IN MAY? So she's like this size?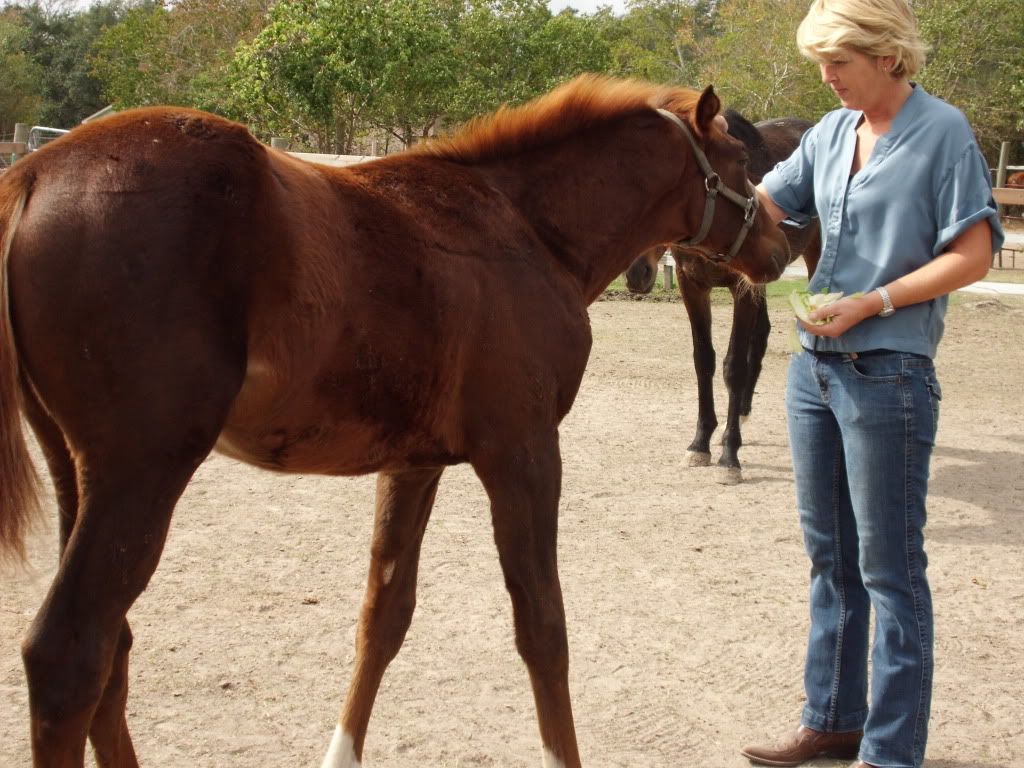 ._. if I didn't misunderstand you, you're about to make a HUGE mistake. A five month old horse is a baby. Not only a baby, but a baby that has just been weaned from it's mama. Not even NEARLY old enough to ride. If you ride her now, or even put a saddle on her, you could VERY SERIOUSLY injure her back, her legs, and all of her joints, or at worst- kill her.
But then I look at your signature and it says 'shelly45 is I am getting ready to have my 1 1/2 yr old apoloosa broke-first time having a horse!!!'
which is it? 1 1/2 years old is still FAR too young to start riding as horse, as she's right in the middle of her growth period right now. A horse should never ben broke before two years old, and most people wait until 3 or 4 because a horse doesn't stop growing and its spine/joints don't fuse until it is 5 or 6.
I'm not going to tell you that you have no business owning a horse but I am going to STRONGLY suggest that you re-think this. Horse care can be very complicated and dangerous, especially if you have a baby.
I really hope you have a GOOD trainer, and please
do not ride a baby horse.
---
Everyone in your life is meant to
be in your journey, but not all of
them are meant to stay till the end.
I think it was 5 months old when she got it in October 2010, which would still make it too young to start anytime in the near future regardless & even when she's started down the road if you've never ridden before the chance of you being able to ride her isn't very likely.
Posted via Mobile Device
You... read some books? Then went out and bought a filly?

Scary. Good luck to you x.x
Quote:
Oct of 2010 i bought a 5 month old Apaloosa.
Although I agree with the above poster, I just wanted to point out that the OP said back in Oct. 2010 the Appy was 5 moths old.....making her 20 months old now. Meaning she is not even 2 yet and in May of this year she would still only be 24 months (just at 2 years old) this still being too young to ride!
Please take this advice and give her AT LEAST another year before you or anyone backs her.
Take this year and take lessons and become a more knowledgeable horse person/owner/rider yourself before even worrying about training her. There is nothing wrong with doing ground work with her, that is actually about the best thing you can do with her right now, just love love love on her.
This is why we all recommend first time horse owners to get older horses that have been there done and seen that are dead heads and have no more training left, we NEVER recommend first time horse owners to jump in and get BABIES!!!
Showing
Join Date: Jun 2011
Location: Cariboo, British Columbia
Posts: 11,954
• Horses:
3
Your filly is too young to be ridden for another year, her body & mind are not mature enough to handle packing a rider. Which is really a good thing for you. This gives you enough time to take lessons on other horses for a year, so you will be ready to ride a greenbroke horse. Please be aware, even a year might not be enough time for you to be capable of handling a greenbroke horse. Your riding instructor will tell you if you ready for this. This is the best advise I can give, please heed it.
Wow, totally didn't expect this kind of backlash. Was hoping for some helpful advice in this chatroom. I haven't been in a chatroom in over 10 yrs and i see nothing has changed. I HAVE ridden before it's just been awhile. Why would i be advised to have her broke at the age of 2 from other "horse" ppl? I certainly don't want her broke too early and i though this chat room would be helpful.

Happy123-you don't seem to happy!! Reread my post, I'm not a total idiot!!

Endiko-I'm not going to ride a BABY horse. Reread the post.

Buttercup-i have ridden before and I will ride Chica in the future.
---
Last edited by tinyliny; 01-28-2012 at

09:11 PM

.
waresbear-thanks, you gave the best advise without putting me down. I appreciate it!!
I would also agree to wait until she is atleast 2 1/2-3 years old to be ridden. It will be a long process until she is literally dead broke but atleast it'll be rewarding in the end!
Posted via Mobile Device
Showing
Join Date: Jun 2011
Location: Cariboo, British Columbia
Posts: 11,954
• Horses:
3
You stated you didn't know a lot about horses. I can't speak for others, I wasn't trying to insult you, I was trying to help you & your filly. I have offered you my best advise that my 40 plus years of horsemanship can provide. You're free to take it or leave it. Enjoy your horse.