New Addition Coming Home Sunday
---
I recently sold one of my two fillies. I simply did not have the time and energy to devote to both of them to get them started plus my fiance's son has expressed an interest in learning to ride. To accommodate my desire to infect... erm encourage his youthful curiosity, I felt that I needed to find a small horse or large pony that already has some good training.
After looking for several weeks, I have found a really cute little black mare who seems to fit the bill. She is 7 years old and 13.3hh. She has spent the last couple months standing in the back yard because she was bought for a little girl who was too scared of horses to do anything but be lead around on her. What sold me on her was that when I went to go see her, I looked at her in the back yard while a boy played with a goat, jumping and carrying on, two girls jumped on a trampoline not 10 feet from us, and another little one was yelling and swinging. Through all this, she stood just as calm as you please and let me look her over and pick up her feet.
I have someone coming to ride her in a couple weeks who is very petite, but also very experienced so I can get a real idea of what she knows. I am so excited to get her home and start doing ground work and put a little weight on her. She is not in bad shape, but you can tell she needs some TLC.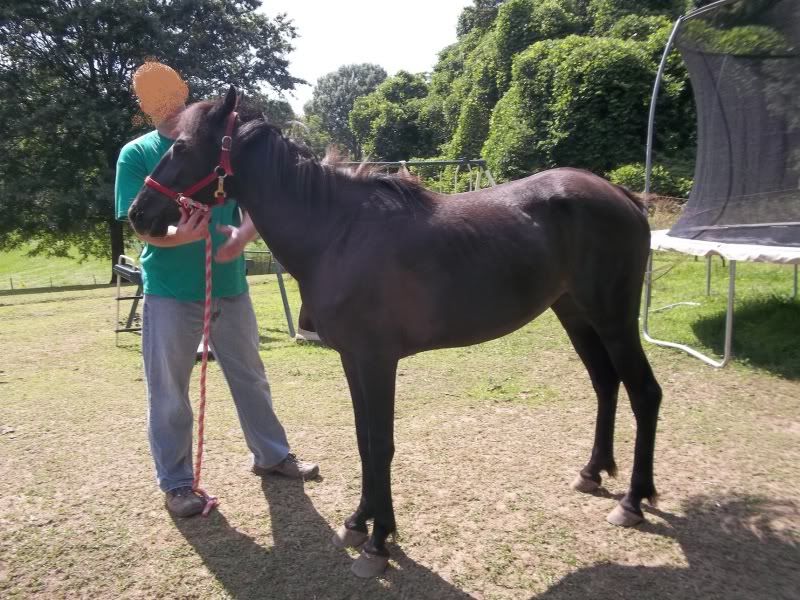 Congrats! She's really cute.
Good luck with your new pony!
She's such a cutie!!
---
"Strength is the ability to use a muscle without tension"

Thanks everyone! I am really excited to see what she does for me with the ground work. I have honestly never dealt with an actual pony in my life. Once I get her home and get her cleaned up, I'll try to get some better pics of her and post them.