Green Broke
Join Date: Aug 2009
Location: New South Wales, Australia
Posts: 4,847
• Horses:
1
New horse! Names, colour for chestnut, transport etc.
---
So I bought a horse about a week ago, and I have been very excited. This may be a bit long - but a few things I'd love your input on!
I've posted pics of her before but here is another from where she lives now, she's not in perfect condition but it will give you an idea of her.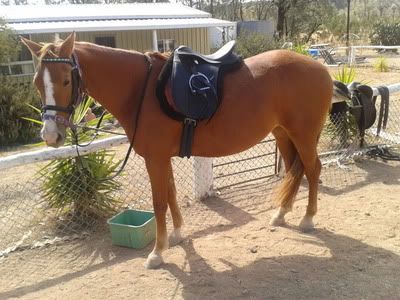 Now her current name is "Rosie" and while that is a good enough name, I know a few horses called Rosie already, and there are some at Pony Club called that so I'm not too keen on it. I was thinking about calling her Abigail, and "Abi" as her everyday short name, and I quite like this. Not sure though. I feel it's a little plain. Any suggestions or comments?
Being that she is smaller than my previous horses, I have to buy a whole new set of pretty much everything. So of course, I want everything to match. I'm not sure what colour to pick with her, I think chestnuts are hard to pick for. I would ideally love light blue, mint green or teal, but around my area its quite hard to come across things these colours, and some get dirty quickly. So I was thinking I'll have to settle on purple (of varying shades), bright/royal blue or green. What do you think? I don't want everything to be too like other horses. I want her to stand out a little. I was thinking green might be a little more unusual but I'm not sure. Again, I'd love opinions. If you have chestnuts/sorrels it would be pretty cool if you could post a picture here with your horses colours so I can see how they look!
It was a bit of a drama working out how to get her, she is 250km away from me which isn't too far, but she is too far of the major roads for any transport company to pick her up, and my car is a tiny 1.3L hatchback so that wasn't going to help. So I am hiring a big car (4WD 4L thing) on Tuesday and borrowing a friends float, and picking her up myself! Now I've driven car trailers before, but never a horse float, and certainly not with a horse in it. Not the ideal situation but I didn't have any other options. Now I know to go slow around corners, avoid the slope of the road, brake as slowly and gradually as possible. I plan not to reverse at all. Any other hints?
Do you think I should give her hay on the float? I've heard conflicting opinions on this, but in the past I have.
I would go for a minty green! That would look great on her
As for the name, I think Abi is sweet. I can't think of any names right now, but maybe I will later... If you haven't stuck with Abi that is
She is gorgeous by the way.
I just thought of a name Sweet Alibi
---
Country Woman


Try a zebra print color? Zebra/teal or pink or purple or lime would all look awesome!
Posted via Mobile Device
She likely knows her name so you might think about changing to something that sounds close - Nosey, Posey, Josey. I tried to change a name and it didn't work.
Showing
Join Date: Jun 2011
Location: Cariboo, British Columbia
Posts: 11,775
• Horses:
3
She's lovely, congrats. Yes, go slower when hauling, about 10km slower than the posted speed, no & absolutely NO braking during corners, that is the worst thing you can do. If the trailer is fairly open, meaning breezy inside, hay can blow around, I would put a fly mask on her to prevent hay particles in her eyes but she still might be able to breathe it in. I personally don't like feeding hay while in transport, gives them something to look forward to after the trip.
I think Abi is an adorable name for such an adorable mare! It would be cool to have a more unique show name though. Just my opinion
As for colors, blues and greens always look great on chestnuts. My boy is a chestnut and his colors are royal blue and aqua and he looks quite nice in them.
Here he is from an XC school a few week agos and a show recently.
491.jpg
XC 3 - 7.JPG
Really cute little mare by the way!
What about Adelie? :) one of my old HS teachers got pregnant with a baby girl, which was pretty much a miracle. and she named her Adelie Grace, and ever since i've thought it was a really pretty name.
back to your new horse, congrats by the way!
i've always like Riley for girl

her color almost reminds me of the desert? i love it!
---
Having horses means: There is
always
hay in your bra. And you're never quite certain on how it got there.
You realize that you just
clucked
at the
dog
Started
Join Date: Jan 2012
Location: An English Girl living in beautiful Alberta, Canada
Posts: 1,606
• Horses: 0
Yes, feed hay on the trip. A horse should always have access to forage as their digestive system is compromised if there is nothing going through. Also, if the horse is used to travelling, a hay net will give him something to occupy himself with on the journey and make the trip more pleasant for him.

My mare was called Rosie which I manages to lengthen to Rosie Posie.

In the UK we consider it unlucky to change a horses name, don't you have the same thing there?
---
Get up, get going, seize the day. Enjoy the sunshine, the rain, cloudy days, snowstorms, and thunder. Getting on your horse is always worth the effort.
Quote:
Originally Posted by
Shropshirerosie
View Post
In the UK we consider it unlucky to change a horses name, don't you have the same thing there?
I'm in the UK (staffordshire actually so very close to you) and I've never heard that, strange the little quirks that can be different in such a small area.
That mare is gorgeous, she is very similar in colour to my boy, his colour is bright purple (with brown tack) which really suits him (can't get photos as I'm on my phone) but I find most bright colours look lovely on him.
And yes I would always hay feed when transporting.
Posted via Mobile Device