A nice example of how much a horse can change
---
Hi all,
I thought I'd post this story to illustrate what a big change can occur in a short time, with proper worming and feeding.
I bought an 18 mth old filly in February this year. She was underweight and about 13 hands high. I was expecting her to remain pony sized. Here is a pic the day I got her:
After being wormed (twice) she improved dramatically in weight, here she is about a month later:
The little white mini in the foreground is 9hh, so she has filled out but not up. Still 13ish hands.
Today, I measured her with a proper measuring stick, and she is now 14.2! That's in 6 mths. I was quite surprised. Here's a pic from today (it's winter here, so she's wooly):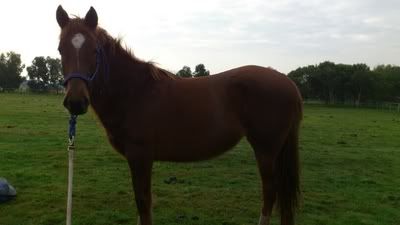 I wouldn't be surprised if she grows even more before she's ready to break in :) She could end up 15hh!
Good job! You should be proud being responsible for a filly rescued from being underfed and undersized!
Thank you! I have bought horses before who needed weight put on, but this girl has really surprised me with how much she's changed. I had a vet tell me that she may stay undersized because of the worm burden she had, possibly stunting her permanently. But I've noticed her head is bigger (that halter in the 1st pick no longer fits), her colour is darker (although it is winter) and, well, she just looks like a different horse.
Even her face marking has changed, I've noticed, looking at the photos.
Posted via Mobile Device