The odd Couple(s)
---
Just for shares and giggles ... lets see some pictures of some cute horsey best friends!
I'll start with Drifter and his friend Mack. Mack first came to our boarding barn last August with his owner. Mac got scared when it came time to be released into the herd, and he came back through the fence
Thankfully, no injuries but I volunteered to have Drifter go in a small paddock with Mac to make friends. Within 20 minutes they were best friends and they have never looked back. Mack went home with his owner this summer but returned a few days ago. They were both so excited to see one another and they are inseperable again
The stable hands call them Mutt and Jeff because Drifter is 16.2 while Mack is around 15.1
What "best friends" groups are at your barn?
Here are some of my favorite pictures of Drift and Mack.
OPT1.jpg
OTP2.jpg
OTP5.jpg
OTP6.jpg
OTP7.jpg
1185076_10153116783965058_382718820_n.jpg
Trained
Join Date: Sep 2011
Location: Hour and a Half from Town!
Posts: 6,324
• Horses:
2
Awww!!! They are totally adorable!
My buddies are ornery, but totally dig one another! Cowboy (grey) is between 16-18 and is the joker/instigator, Rick is 7 but he's the boss and calls time out when necessary. Cowboy has even taught Rick how to swim in the pond, prior to Cowboy he never got in, now I can't keep either out!
Halters mean play time, not lead time.
"I'll get it off..."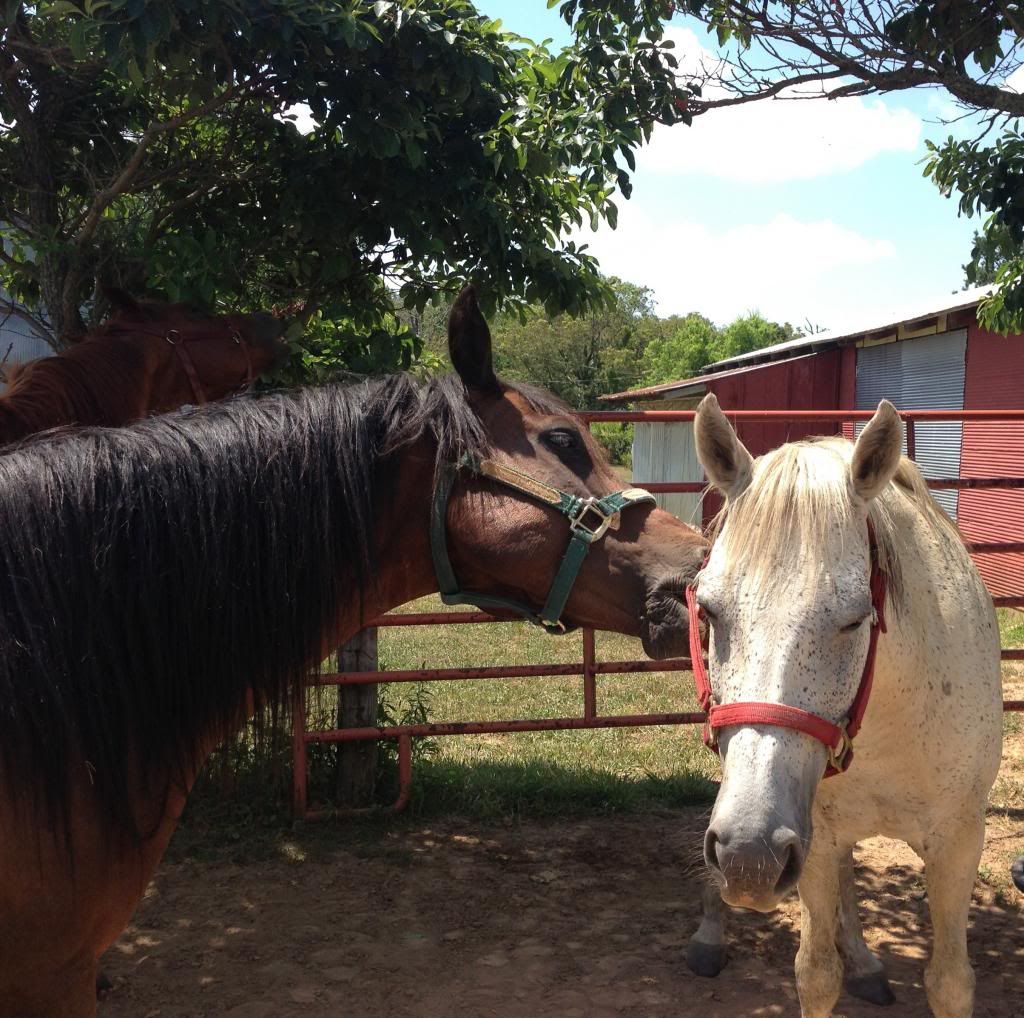 "NO, I'll take YOURS off..."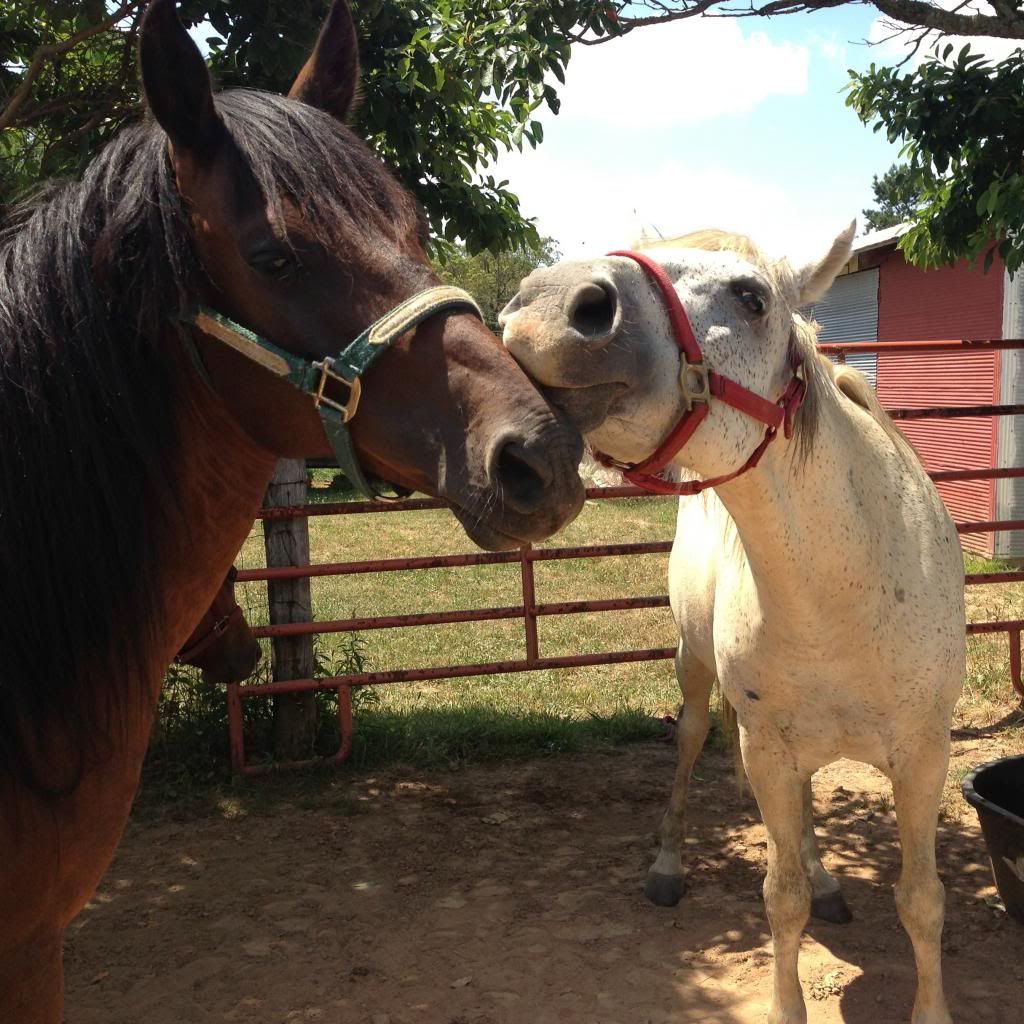 "No, NO I'll get YOURS!"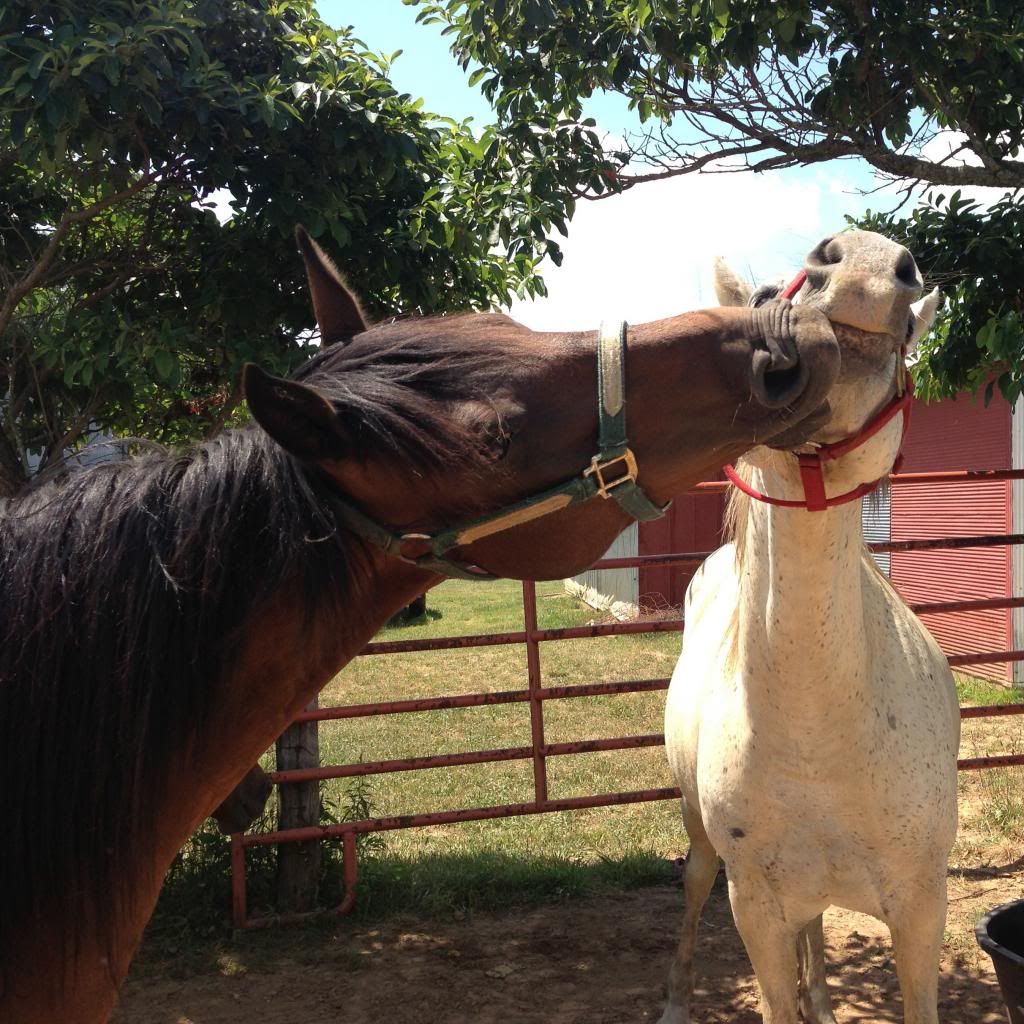 Me: "GUYS! STOP IT!"
Cowboy: "Sorry Mom... Hey Rick you think she's still watching?"
Rick: "Ummmm, yeah."
Rick: "You take the first lick."
Cowboy: "Oh no, after you."
Rick: "Please be my guest"
Cowboy: "Oh, no no I couldn't..."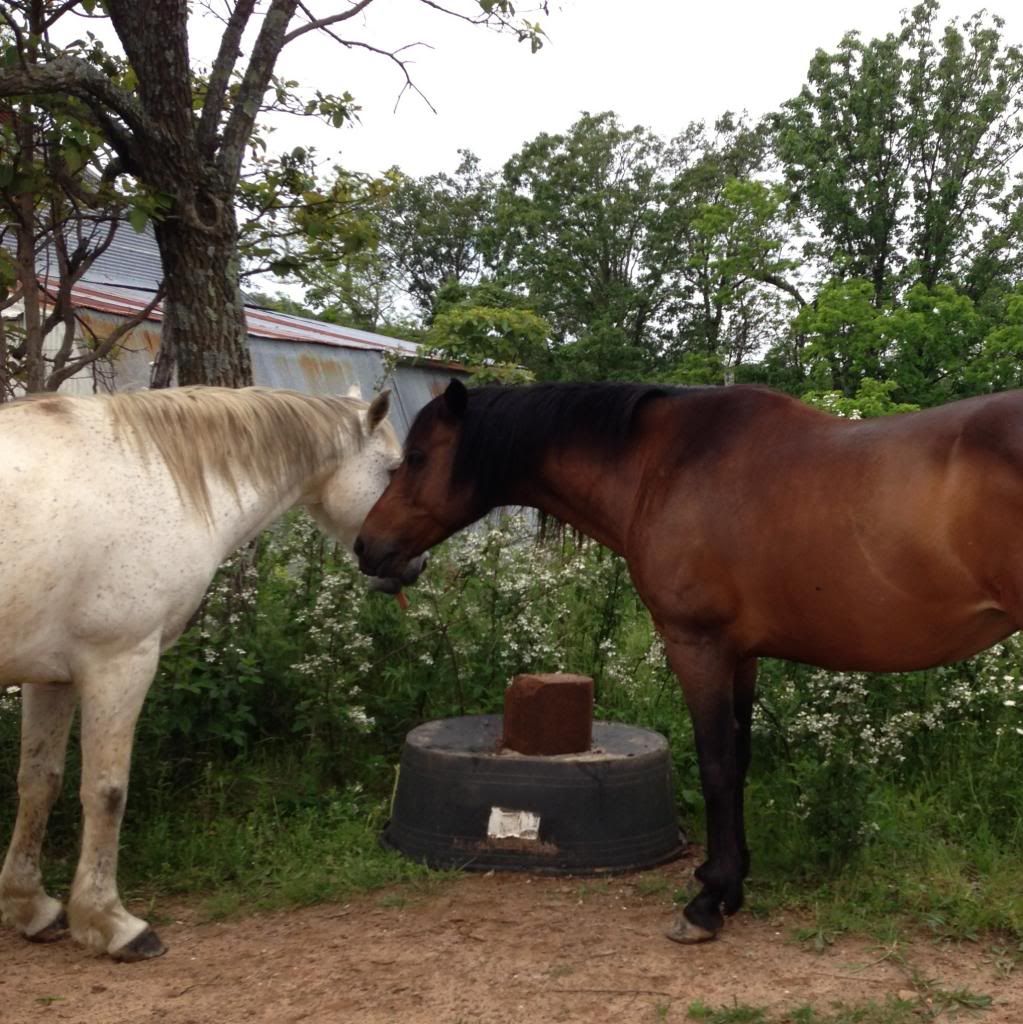 Me: "JUST LICK IT ALREADY!!!"
---
You can get a lot further with a ladder than you can with crutches!!
What do you mean what do I mean?
My boys don't stand around grooming each other or anything all day but they love each other, everyone thinks so
.
They are always together no matter whether other horses are around or not. The rope was only around Apache's neck so Sammy wouldn't follow me.
IMG081.jpg
Standing under their favourite tree together.
IMG051.jpg
Apache wanting to join in my ride with Sam as always. They both do this every time.
IMAG0137.jpg
I was going to add more photos my computer wouldn't let me
.
---
My two horse Apache and Sammy are my world
along with our dogs Patch and Bear.
But I will always love you Jimmy R.I.P
Green Broke
Join Date: Jan 2010
Location: south of nowhere, north of nothing
Posts: 4,643
• Horses:
6
Yearling
Join Date: Sep 2012
Location: Central Western NSW, Australia
Posts: 1,120
• Horses:
4
My horses best friend happens to be a staffordshire terrier xD

Excuse the horrible quality of this video, I took it on my phone. Plus, the battery died before the cutest thing happened, which was Dozer (horse) lipping at Jess (dog) through the gate.


Oh my gosh! All of these pics are so cute and adorable! Especially the puppy and kitten. I love that drift and Mack are friends because Mack's owner and I are pretty dang close as well! So it works out great :)
This is my best friends horse, i remember going over to her house one day because she wanted to get some shots of her and her horse so i brought my camera and i happened to see this.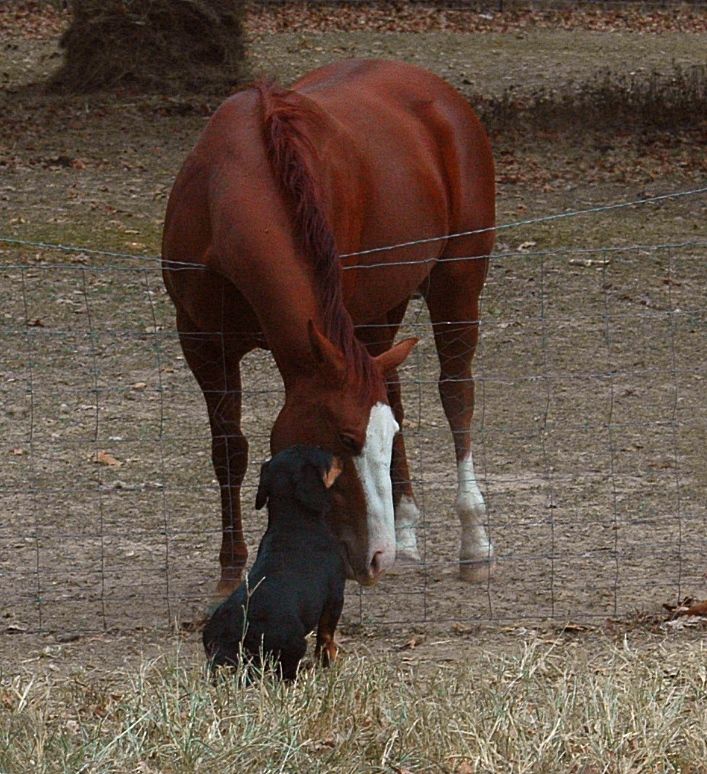 It was the cutest thing I had ever seen.
unfortunately i didn't get any photos, but when i first moved my lease horse Eddie to my barn there was a little 11 hand black pony in with him that got 'claimed' by Eddie, lol. Eddie wouldn't let this lil gelding anywhere near the other horses, would herd him around, and would call for him every time i took Eddie up to the barn. about a week later, the pony moved to a different barn. Eddie now acts like a normal horse instead of a mother hen, lol.
Wonderful pictures!
Posted via Mobile Device